I was debating back and forth with myself on whether I would write anything about George Carlin after his death this past Sunday (June 22nd). I was just staring at my autographed movie poster for Dogma hanging on the wall which proudly includes Carlin's signature and I decided that, yes, I should write something.
Carlin
has always been one of my very favorite comedians and I am quite sad that he has passed away somewhat unexpectedly (at 71 years of age). At least we will always have his outstanding comedy and a few movie appearances to remember him by. Here is a link to watch a CNN report on the death of the comedy legend.
I do not use the word 'legend' lightly but Carlin was a truly legendary comedian. In fact, he was ranked second (only behind Richard Pryor) on Comedy Central's list of the greatest stand-up comedians of all time. Carlin is probably best known for his "Seven Dirty Words" routine which actually got him arrested for violating obscenity laws here in my home city of Milwaukee back in 1972. Here is a link which allows you to listen to this infamous comedy routine... WARNING - This link includes obscene language, so if that bothers you, please do not click here.
Marking his prominence at the time, Carlin was the first-ever host of NBC's Saturday Night Live back in October of 1975. He still remained prominent all the way until the end with an HBO special which aired back in March of this year. Carlin provided the voice for the antiestablishment hippie Fillmore, a VW Microbus in the Disney/Pixar film Cars (which ranks on my list of best animated feature films). He made appearances in three outstanding movies by writer/director Kevin Smith including Dogma (one of my very favorite films which I mentioned earlier) and a more serious turn in
Jersey Girl (which ranks on my list of most underrated movies).
Another one of my favorite Carlin routines is his comparison of baseball and football. Here is a link to that very funny and actually pretty factual comparison of two of my favorite sports. Another one of my favorite parts of Carlin's comedy was his keen observations. The one that always comes to mind is "Why do we park on a driveway and drive on a parkway?" Here are others that may or may not be Carlin originals, but I am sure they were inspired by the great one...
> Why does the sun lighten our hair, but darken our skin?
> Why can't women put on mascara with their mouth closed?
> Why doesn't glue stick to the inside of the bottle?
> Why don't you ever see the headline Psychic Wins Lottery?
> Why is abbreviated such a long word?
> Why is a boxing ring square?
> Why is it considered necessary to nail down the lid of a coffin?
> Why is it that doctors call what they do practice?
> Why is it that rain drops but snow falls?
> Why is it that to stop Windows on your computer, you have to click on Start?
> Why is it that when you're driving and looking for an address, you turn down the volume on the radio?
> Why is lemon juice made with artificial flavor and dishwashing liquid made with real lemons?
> Why is the man who invests all your money called a broker?
> Why is the third hand on the watch called a second hand?
> Why is the time of day with the slowest traffic called rush hour?
> Why isn't there a special name for the tops of your feet?
> Why isn't there mouse-flavored cat food?
> If you throw a cat out of the car window, does it become kitty litter?
> If you take an Asian person and spin him around several times does he become disoriented?
> Is it OK to use the AM radio after noon?
> What do people in China call their good dishes?
> What do you call a male ladybug?
> What hair color do they put on the driver's license of a bald man?
> Why do they sterilize the needle for lethal injections?
> Why do they call it a pair of pants, but only 1 bra?
> Why is it called tourist season if we can't shoot at them?
> Why isn't phonetic spelled the way it sounds?
> Why are there Interstates in Hawaii?
> Why are there flotation devices in the seats of planes instead of parachutes?
> Why are cigarettes sold at gas stations where smoking is prohibited?
> Have you ever imagined a world without hypothetical situations?
> How does the guy who drives the snowplow get to work?
> If the 7-11 is open 24 hours a day, 365 days a year, why have locks on the door?
> You know that indestructible black box that is used on airplanes? Why don't they make the whole plane out of that stuff?
> If a firefighter fights fire and a crime fighter fights crime, what does a freedom fighter fight?
> If they squeeze olives to get olive oil, how do they get baby oil?
> If a cow laughs, does milk come out of her nose?
> If you are driving at the speed of light and you turn your headlights on, what happens?
> Why do they put Braille dots on the keypad of a drive-up ATM?
> Why is it that when you transport something by car it is called shipment, but when you transport something by ship it's called cargo?
> Why don't sheep shrink when it rains?
> Why are they called apartments when they are all stuck together?
> If con is the opposite of pro, is Congress the opposite of progress?
> If flying is so safe, why do they call the airport the terminal?
Like I said, I am not sure if those are all really from Carlin himself, but they are pretty funny either way. I thought tblog's own surrogate had a nice post on Carlin's passing, so here is a link to his take on it.

Just four days before his Carlin's passing the Kennedy Center for the Performing Arts in Washington DC announced that George Carlin would be the 2008 honoree for the Mark Twain Prize for American Humor which will be awarded in November. It was special that he lived long enough to receive that news, but a shame that he will not be able to accept the award in person. He will be missed by many, many fans at a time in this world where we can all use a little more humor in our lives but, like I said earlier, we will always have his comedy to remember him by. Rest in peace, George, and thank you sincerely for all the laughs.
That will wrap up this issue of Kickin' it Old School. Thanks, as always, for reading. If you missed any of the past articles, please go to the archives in the upper left hand column and where they are organized by month. Peace and much love.
Check this out: I thought this picture was funny. Either this guy is trying to invent a new form of fuel or this is the elderly form of road rage...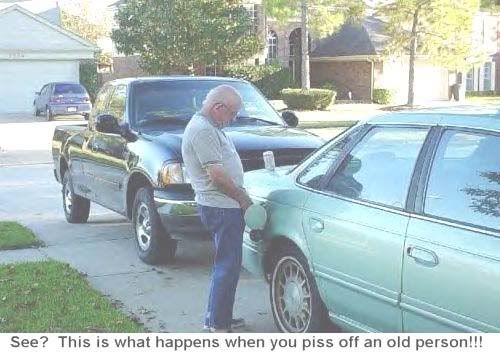 Quote of the day: "Think of how stupid the average person is and realize half of them are stupider than that." - George Carlin
Here's another one... "The very existence of flame throwers proves that some time, somewhere, someone said to themselves, 'You know, I want to set those people over there on fire, but I am just not close enough to get the job done.'" -George Carlin
Download this: "Earth Stopped Cold At Dawn" by Hootie & the Blowfish