I was just made aware of a somewhat surprising story regarding Eddie Murphy. He and his wife of just over 2 weeks, Tracey Edmonds, have already broken up.

According to the story reported by Access Hollywood on MSNBC (link to story: www.msnbc.msn.com/id/22689574), the couple was never officially married, so there is no need for a legal divorce or annulment. They began dating in fall of 2006, were engaged in July of last year and had a spiritual ceremony on January 1st. They planned on having a legal ceremony, but that now seems like it won't be taking place. Murphy made news back in April when it was reported that he fathered the child of Scary Spice (Melanie Brown).
That's all well and good, but I don't want to talk about that. I think Eddie Murphy is one of the funniest people in the history of this planet. His years on Saturday Night Live (1980-1984) produced some of the funniest sketches that show has ever seen. If you don't believe me, go find and watch The Best of Eddie Murphy: Saturday Night Live. His two feature stand-up comedy performances, Delirious (1983) and Raw (1987), are some of the funniest material I have heard from any comedian. His comedy was ground-breaking and genius. He has made so many funny movies over the past 25+ years for which he does not get enough recognition or credit. I have been waiting for a chance to do a Top 10 list on his movies and today's news gives me an excuse to do it. So here's OLD SCHOOL'S TOP 10 LIST OF EDDIE MURPHY MOVIES:
Honorable Mention. Dreamgirls is not really considered an Eddie Murphy movie, but the 2006 film earned Murphy his first Oscar nomination for his role as James "Thunder" Early. Very good movie with a great Eddie Murphy performance.
10. Daddy Day Care (2003) as Charlie Hinton - Very amusing film showed that Eddie Murphy still has it. This spot could have gone to either The Distinguished Gentleman or The Golden Child, both of which have some very funny moments.
9. 48 Hrs (1982) as Reggie Hammond - This was Murphy's first feature film role and its success helped skyrocket his career. His interaction with Nick Nolte is priceless. There was a sequel in 1990 called Another 48 Hrs which also had its moments, but does not compare to the original.
8. Life (1999) as Rayford Gibson - A very under-rated movie that co-stars the very funny Martin Lawrence. Murphy and Lawrence play two guys who spend 65 years in prison for a murder that they did not commit. They age 65 years over the course of the film and the interaction between them is very entertaining to watch. If you have never seen Life, you may want to check it out.
7. Boomerang (1992) as Marcus Graham - This movie has an outstanding cast, including a young Halle Berry, and some incredibly funny scenes. Murphy is credited as one of the story writers. Eddie Murphy plays a character that is not usually the source of comedy, but the film revolves around him and is very entertaining.
6. Harlem Nights (1989) as Quick -
This movie also has an outstanding cast, featuring Richard Pryor. Yes, Eddie Murphy and Richard Pryor in the same movie together. While the film is not as laugh-out-loud funny as you would expect with those two stars, it is a surprisingly entertaining movie nonetheless. More impressive is the Murphy is both the writer and director of this film.
5. Trading Places (1983) as Billy Ray Valentine -
This was just Murphy's second feature film role after 48 Hrs. He teamed up with fellow SNL alum Dan Aykroyd and director John Landis to make a very funny movie. Murphy was actually nominated for a Golden Globe for his performance.
4. Shrek (2001) as the voice of Donkey -
In my opinion, Eddie Murphy's Donkey surprisingly stole the show in this film. He went on to reprise the role in Shrek 2 (2004) and Shrek the Third (2007) with all three films having huge commercial success. I am not as much a fan of the Shrek films as I am of the Murphy's performance in them.
3. Bowfinger (1999) as Jiff & Kit Ramsey - This is a very under-rated comedy written by and co-starring Steve Martin. It is a story of a desperate movie director who gets a movie star's goofy twin brother to star in his movie. It is not your conventional Eddie Murphy movie, but it has always appealed to my sense of humor. If you are a fan or Murphy and/or Martin, I would highly recommend this film.
2. Beverly Hills Cop (1984) as Axel Foley -

This was Murphy's first real blockbuster film. I also enjoyed the sequel Beverly Hills Cop II (1987), but did not feel Beverly Hills Cop III (1994) met the standard the first two set. Fantastic performance by Murphy earned him another Golden Globe nomination. I just watched this film within the last month and it is still very, very, very funny. If you have not seen it in a while, please do, you won't regret it.
1. Coming to America (1988) as Prince Akeem & others -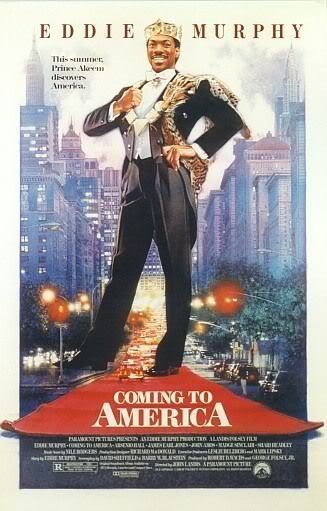 I feel this is one of the funniest films of all time. It was the first time where Murphy played multiple characters within the same film even sometimes interacting with himself on screen. Though the movie has sort of a cheesy premise, it makes up for it with pure comedy. I love this film and highly recommend it to any Eddie Murphy fan (though if you are a fan, you should have seen it many times already).
There's my top 10 for Eddie Murphy. You will notice that I did not include any of the three The Nutty Professor films or either of the Doctor Dolittle films. Though his performances in those movies were excellent, I just did not enjoy them as much as the ones listed above. What do you think? Leave your comments regarding the order or contents of this list. It seems that Eddie Murphy has had some strange encounters in his private life, but that does not change the fact that the man is a comic genius who has made some fantastically entertaining films. That will do it for today. Thanks, as always, for reading and please be sure to come back often (subscribe or at least bookmark).
Check this out: Since we are talking about Eddie Murphy, here's a link to a very funny segment from Delirious (warning: there is some cursing)... www.youtube.com/watch?v=2JfMCBh1sJQ
Quote of the day: "We are what we pretend to be, so we must be careful about what we pretend to be." -Kurt Vonnegut (American novelist & journalist)
Download this: "Already In" by Jon McLaughlin - I just enjoy this song quite a bit and felt it might go unnoticed by many. Go check it out and let me know what you think.