Today was the first limited release date for the new AIR JORDAN XX3 shoe by Nike. It is the 23rd anniversary and #23 is the number that Michael Jordan made famous. These are the shoes that he made famous as well.
The first AIR JORDAN was released in 1985 to great acclaim during his rookie basketball season and instantly became the industry's best selling basketball shoe. Over the next 22 years, the AIR JORDAN has been one of the world's most recognizable franchises known for its signature Jumpman logo, innovative technology in basketball and forward thinking fashion. The new AIR JORDAN (blue version shown in picture)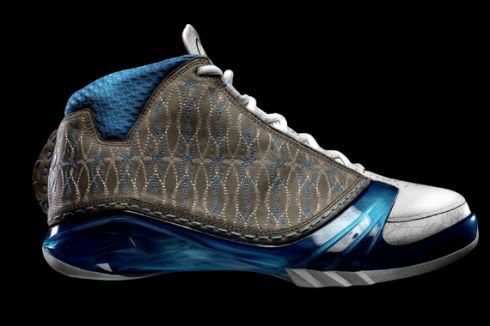 will sell for $230 during this limited release where only 23 pairs of shoes were available at just 23 retail locations. That might seem expensive, but they are already selling for much more on ebay. Looking very quickly, I saw a pair that had a high bid of $1025 with two days of bidding left and I saw pairs with "buy it now" options from $1800 to $2500. There will be two more release dates in February (16th and 23rd) where the shoes will be made available for the bargain price of $185
(black, white & red version shown in picture and also a black version not shown here). Still very expensive shoes! One interesting aspect is that this is the first high performance basketball sneaker that takes the environment into account. With out creating a completely "green" sneaker, the AIR JORDAN XX3 has done everything possible to create less waste and use none toxic materials without giving up performance. At least Nike is making an attempt in this regard to be a little more environmentally conscious. It is rumored that this 23rd edition will be the last, but neither Nike or Jordan will confirm that fact. Did I mention they were $185?

Speaking of shoes... I hope you heard the story about college basketball coach Ron Hunter. If not, here is a quick summary. Hunter is the 43 year old basketball coach at IUPUI (Indiana University-Purdue University Indianapolis)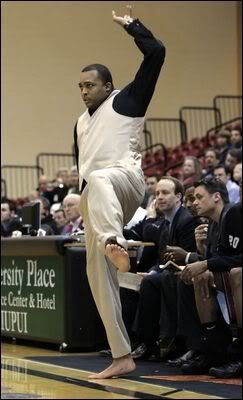 and he coached his team's game last night in bare feet as part of his efforts to collect shoes for impoverished children in Africa. His original goal was to collect 30,000-40,000 pairs of shoes for Samaritan's Feet, a non-profit, Christian based charity that's goal is to put shoes on people all over the world that cannot afford them. By game time with the help of some large corporate donations, Hunter had collected a staggering 110,000 pairs of shoes! "When we started this I thought 40,000 was going to be tough. When they told me before the game we already had 100,000, honestly, I almost broke down in tears," said Coach Hunter. IUPUI went on to win the game last night 82-69. Hunter drew national attention with his efforts and will be able to deliver them to Africa himself this July. I am sure the number of shoes donated will continue to increase over the next 5 months. What a fantastic story! In this time when we are constantly bombarded with horrible stories, it is so nice to see someone using his position to make a positive impact. If you want to read more, click here for a nice article on espn.com: http://sports.espn.go.com/ncb/news/story?id=321 4029" title="http://sports.espn.go.com/ncb/news/story?id=321 4029" target="_blank"http://sports.espn.go.com/ncb... If you want to donate shoes to Samaritan's Feet, you can find them at www.samaritansfeet.org or (866) 833-SHOE.

That will wrap things up for today. Thanks for reading and have a wonderful weekend.

Check this out: Here's another optical illusion. Is this even possible???
Quote of the day: "Do what you can, with what you have, where you are." -Theodore Roosevelt (26th President of the United States)

Download this: "I'll Be Your Water" by Keb'Mo' - Very soothing song. Let me know what you think.