It is not very often that new albums are released that I eagerly anticipate. As I look at my calendar, there are two albums being released within the upcoming two weeks that I am actually a little excited about. This Tuesday, Jack Johnson's new release titled Sleep Through the Static will become available.

I am a big fan of Jack Johnson's sound and I have been looking forward to his 5th studio album for some time. My musical tastes have evolved over the years and I have really come to love acoustic music. I have a deep appreciation for melody and harmony. Johnson's music is very mellow and soothing which is often the style of music that appeals to me. He blends several different musical styles (including folk, blues, soul, island and pop) to create his own sound.
His 2005 In Between Dreams is amazing and it is one of those albums you can listen to from start to finish and enjoy every single track. I highly recommend this entire album and in particular either of the songs "Better Together" or "Sitting, Waiting, Wishing." If you like that, let me know and there is a lot more Jack Johnson I can recommend. In the meantime, I will be anxiously awaiting his new album coming next week.
The following week, on February 12th, the new Michael Jackson Thriller 25 album is due for release.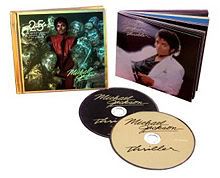 As you should know already from reading my posting way back on January 7th, I have always been a big fan of Jackson's music (though not necessarily the person he seems to have become). This album is to mark the 25th anniversary of the truly iconic Thriller album (though that was originally released in 1981 which would now be 26-27 years ago). The original Thriller is the single best selling album worldwide and second in the United States to The Eagles Their Greatest Hits (1971-1975). Thriller 25 will include the 9 songs from the original release, but will also include one newly released song and five new remixes that feature current artists like Akon, Fergie and Kanye West (*see the track list below). One of the new remixes was released last week (January 23rd) and "Wanna Be Startin' Somethin' 2008" was available to download on iTunes. This was the first new music from the King of Pop in nearly 5 years.

The album will also include a DVD which includes 4 videos including the revolutionary "Thriller" video and the infamous Motown 25 performance from 1983 where he unveiled the moonwalk for the first time. It is amazing to think back to that time when he exploded into a cultural icon and phenomenon and see now how the mighty have certainly fallen in this case. Either way, he continues to be a musical genius in my opinion. I will purchase Thriller 25 when it is released in a couple weeks and I hope he goes back into the studio to record more new material soon. *Here is the track listing for the album and DVD:
Thriller 25
1. "Wanna Be Startin' Somethin'"
2. "Baby Be Mine"
3. "The Girl Is Mine" with Paul McCartney
4. "Thriller"
5. "Beat It"
6. "Billie Jean"
7. "Human Nature"
8. "P.Y.T. (Pretty Young Thing)"
9. "The Lady in My Life"
10. "Voice-over Session from Thriller with Vincent Price"
11. "The Girl Is Mine 2008" with will.i.am
12. "P.Y.T. 2008" with will.i.am
13. "Wanna Be Startin' Somethin' 2008" with Akon
14. "Beat It 2008" with Fergie
15. "Bille Jean 2008" with Kanye West
16. "For All Time"
DVD
1. "Thriller" video
2. "Beat It" video
3. "Billie Jean" video
4. "Billie Jean" Motown 25 performance
I recommend you read my January 7th posting again. It included my Top 10 Michael Jackson songs of all time. You can click on that link to take you there.
That will do it for Kickin' it Old School today. Thanks for reading and please pass the word on to others. If you are a pop culture junkie like I am, I came across a website that might interest you. Though I am more of an 80's nostalgist, this site goes back much further than that. Click on this link to take you to Retro Crush. If you go, let them know that Old School sent you.
Check this out: I am going to include some interesting tidbits, nuggets and other useless knowledge that you might find interesting:
"I am." is the shortest complete sentence in the English language.
111,111,111 x 111,111,111 = 12,345,678,987,654,321
The first couple to be shown in bed together on prime time television were Fred and Wilma Flintstone.
Hawaiian alphabet has 12 letters.
Percentage of Africa that is wilderness: 28%
Percentage of North America that is wilderness: 38%
The world's youngest parents were 8 and 9 and lived in China in 1910.
The San Francisco Cable cars are the only mobile National Monuments.
Only two people signed the Declaration of Independence on July 4th, John Hancock and Charles Thomson. Most of the rest signed on August 2, but the last signature wasn't added until 5 years later.
The term "the whole 9 yards" came from W.W.II fighter pilots in the South Pacific. When arming their airplanes on the ground, the .50 caliber machine gun ammo belts measured exactly 27 feet, before being loaded into the fuselage. If the pilots fired all their ammo at a target, it got "the whole 9 yards."
The phrase "rule of thumb" is derived from an old English law which stated that you couldn't beat your wife with anything wider than your thumb.
The only two days of the year in which there are no professional sports games (MLB, NBA, NHL, or NFL) are the day before and the day after the Major League all-stars Game.
Quote of the day: "Before you criticize someone, walk a mile in their shoes. Then when you criticize, you will be a mile away and have their shoes." -Not sure, but sounds like something Steven Wright would say. Either way, it is a pretty funny quote.
Download this: Could easily have used a Jack Johnson or Michael Jackson song here based on the topic today, but I will give you something different. "You Give Me Something" by James Morrison - This is featured on the album Undiscovered which was released in the U.S. last year. I came across this album before it was released here (since it was released in Britain back in 2006) and I really liked it a lot. If you like the one song, definitely get the entire album.