As I was traveling this week, I read an article in USA Today's Life section (February 5th) titled "John Schneider in driver's seat." The subtitle read "Bye-bye, 'Dukes'; hello, new roles." The article was all about how Schneider, who played Bo Duke on the early 80's television show The Dukes of Hazzard, is getting more roles and that people might actually stop stereotyping him as the good ol' boy he played back on that popular show.
Schneider is currently playing a role in the FX series Nip/Tuck and starring on Broadway as slick lawyer Billy Flynn in Chicago. The article goes on to discuss everything he will be doing and he has been doing since The Dukes of Hazzard with the goal of seeing him as someone more than Bo Duke. It had the exact opposite effect on me. I immediately started to think about The Dukes of Hazzard show and how Bo and Luke Duke were two of my favorite television characters when I was growing up back in the 80's. I decided that I should publish a Top 10 list of my favorite television characters from the 80's. This list will be slightly different than my favorite television programs since it will be primarily focused on the characters. It will obviously be impacted by my favorite shows of that time since it would make sense that my favorite characters would likely come from my favorite shows. So here it goes, OLD SCHOOL'S TOP 10 FAVORITE TELEVISION CHARACTERS FROM THE 80s:

Honorable Mention:
"Crockett & Tubbs" from Miami Vice (84-89 NBC played by Don Johnson & Philip Michael Thomas) - Believe it or not, I was not a huge fan of Miami Vice. As you will see, I was much more into sitcoms, but you cannot deny the pop culture impact that the show and these characters had especially in terms of fashion. I felt I needed to at least give them honorable mention for that.

10. "Dan Fielding" from Night Court (84-92 NBC played by John Larroquette) - This character comes from one of my favorite shows and interestingly is not the main character in this case. Dan Fielding should not be likable, but for some reason you did. That is what makes him a special character.


9. "K.I.T.T." from Knight Rider (82-86 NBC voiced by William Daniels uncredited) - Though David Hasselhoff's "Michael Knight" was technically the star, I always felt it was the talking car that made the show. The car was a Pontiac Trans Am and his name was short for "Knight Industries Two Thousand." There is a remake of this show scheduled to premiere later this month on NBC where K.I.T.T. is now a Mustang and, in an interesting casting choice, voiced by Val Kilmer.


8. "Mork from Ork" from Mork & Mindy (78-82 ABC played by Robin Williams) - The character first appeared on an episode of Happy Days and proved popular enough to garner his own series. This was thanks in large part to the one and only Robin Williams who is a comedy genius and brought this character to life. He had his trademark rainbow suspenders and phrase "Na-nu, Na-nu." I always remember him saying "Mork calling Orson, come in Orson."

7. "Arnold Jackson" from Diff'rent Strokes (78-86 NBC played by Gary Coleman) - Another one of my favorites as a kid, where Arnold and his older brother Willis are adopted by a rich white man. He had the popular catch phrase "What you talkin' about, Willis?" which always made you laugh. Simply perfect casting because nobody could have played Arnold as well as Coleman did.


6. "David Addison & Maddie Hayes" from Moonlighting (85-89 ABC played by Bruce Willis & Cybill Shepherd) - It is all in the casting in this case. Bruce Willis was relatively unknown at the time, but ended up making an amazing David. Cybill Shepherd was already well known, but who could play Maddie better than her? It was really a very entertaining show that was primarily driven off of the relationship of these two characters. I still enjoy it just as much when I am able to catch it in syndication somewhere.

5. "Arthur 'The Fonz' Fonzarelli" from Happy Days

(74-84 ABC played by Henry Winkler) - He was not meant to be a central character at the beginning of this show, but his popularity resulted in many episodes revolving around him. He became such a breakout that the network even pushed to change the show's name to Fonzie's Happy Days at one point. He could turn on the juke box with his elbow, he could get a pretty girl by his side with a snap of his fingers and his trademark "Heyyy" with his thumbs up made him an icon so much so that they are very close to erecting a bronze statue of the character here in Milwaukee (where the show was to have taken place).


4. "Bo & Luke Duke" from The Dukes of Hazzard (79-85 CBS played by John Schneider & Tom Wopat) - As I mentioned at the beginning of this post, this was one of my favorite shows as a kid. I loved how they raced around in their souped up Dodge Charger called "The General Lee" and how they always seemed to foil "Boss Hogg" and "Sheriff Rosco P. Coltrane." It was fast-paced and often funny. I will probably never be able to see either actor as anybody other than them good ol' Duke boys. Yeee-haaaa!

3. "Jack Tripper" from Three's Company

(77-84 ABC played by John Ritter) - This is one of my all-time favorite television shows. The character ends up moving in with two women who are in desperate need of a roommate, but he has to pretend to be gay around the landlord in order for him to allow them to share an apartment. Nobody would barely blink an eye if something like this would happen today, but back at that time it made for a very funny premise. John Ritter was one of the truly funny physical comedians of all time and he was able to show this off through this great character. Anybody want to meet at the Regal Beagle for happy hour?

2. "Dr. Heathcliff Huxtable" from The Cosby Show (84-92 NBC played by Bill Cosby) - Everybody loved this show at least through the 80's and it was mostly due to the comedy genius of the great Bill Cosby. It was the #1 most watched show on television for 5 straight seasons 1985-1990. The other characters on the show helped make him great, but he made everybody else even greater. It was a truly wonderful show in so many ways and sadly nothing really like it has ever come since.

1. "Alex P. Keaton" from Family Ties (82-89 NBC played by Michael J. Fox) - Similar to many of the characters on this list, the actor really made them what they were. Michael J. Fox helped create a very special character in Alex who was the politically conservative son of two liberal parents. Similar to Fonzie, this character was not originally supposed to be as central to the show as it became. The audience reacted so positively to him that the focus had to be shifted to Alex more so than the rest of the family. This was a very good show, but a truly great character.
Those are my favorites. There are many that did not make the top 10. There are some obvious characters missing like "J.R. Ewing" from Dallas, Magnum P.I., "Jim Rockford" from The Rockford Files and "Hawkeye Pierce" from M*A*S*H, but those were not shows that I watched regularly as a kid. There are others that just missed the list like "George Jefferson" from The Jeffersons, "Sam Malone" from Cheers, "Kevin Arnold" from the Wonder Years, "Alf" and Laverne & Shirley. Who were your favorites from that era??? As I was going through these shows, I automatically remember the theme songs for each of them. Many of those were pretty good, so I think I will do a Top 10 list of TV theme songs some time soon. Also, please check out my list of the top Female TV Characters from the 80's which was necessary because of the lack of women represented on the list above. Television shows and, more importantly, television characters don't seem to be nearly as strong as they were back in the 70's and 80's.
That's going to do it for this issue of Kickin' it Old School. Thanks, as always, for reading and please click on the archives to make sure you have not missed any past posts. Peace and much love.
Check this out: In case you cannot read the caption on the photo, it says "Ladies and gentlemen, this is the captain speaking. Firstly, I would like to thank you for choosing to fly Mandarin Airlines. As we taxi out to the runway please make yourself comfortable... and for those of you sitting on the right side of the plane, please look to your LEFT!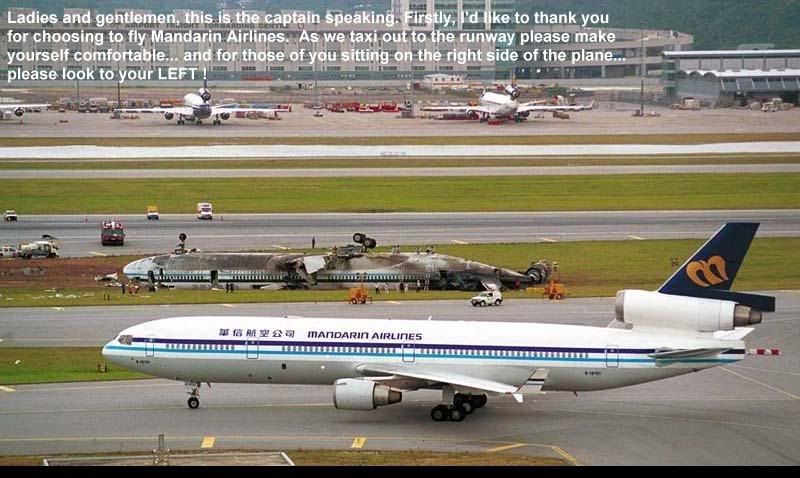 Quote of the day: "Common sense ain't common." -Will Rogers
Download this: "Ooh Child" by Daryl Hall & John Oates - This amazing song originally performed by The Five Stairsteps appears on the album titled Our Kind of Soul