I made my daily trip into iTunes and noticed something that impressed me. Over on the right side of the main page there is a list of the Top Songs downloaded that week from iTunes which is a headquarters for music downloads. On this list on Wednesday (3/5/08) and still there as I write this now ranked #2 is the song "Hallelujah" by Jeff Buckley. This is a great song and one of my personal favorites, but this version of this song was released back in 1994- 14 years ago.
Now this list is usually filled with the latest released and hottest radio hits and it is very rare to see a song show up that is this old. Why would the late Jeff Buckley's cover of the 1985 song originally released by Leonard Cohen suddenly show up on the iTunes Top Songs list??? Two words... American Idol.
Idol contestant Jason Castro performed the song on Tuesday night (3/4/08) and here is a link to a video of that performance.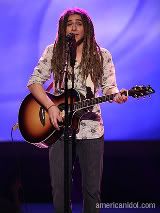 Castro seems to be one of the fan favorites in Season 7's competition thus far. After the performance, the judges applauded the effort and specifically mentioned how much they loved the version by Jeff Buckley. The judges acknowledgement combined with Castro choosing a song many viewers (especially the younger viewers) might never have heard before directly led to this song's immediate boost in popularity. That is pretty powerful influence (and I love when an "old school" song can return to prominence). Incidentally, the current #4 song on that list is "No Air" by Jordin Sparks who was the winner of Idol Season 6.
Another excellent example of this powerful influence happened back in Season 5. Katharine McPhee

, who eventually would finish in second place, performed a little known song called "Black Horse and the Cherry Tree" by K.T. Tunstall. At the time, this song ranked #79 on the Billboard Hot 100 chart, but immediately jumped all the way up to #23 the following week. The song ultimately raised a couple more spots to #20 on this chart and its popularity is directly related to McPhee's Idol performance. Here is a link to her performance of this song at that Season's finale. K.T. Tunstall owes McPhee and American Idol a debt of gratitude.
Those are less obvious examples of the American Idol influence. The show is a true cultural phenomenon and gets between 25-30 million viewers to tune in to every show. There is no other regular television series ever that gets near the number or consistency of audience.

American Idol has also created some legitimate stars as well. Kelly Clarkson was the winner of Season 1 and her three albums have combined to sell 9.5 million copies. Her second album Breakaway was released at the end of 2004 and went 6 times platinum by itself. Carrie Underwood

was the winner of Season 4 and has become a country music superstar with her two albums selling a combined 8.2 million copies. Her debut album Some Hearts went 7 times platinum. Chris Daughtry only finished 4th in Season 5, but he has gone on to great success with his band's debut album Daughtry already selling 3.8 million copies.
Clay Aiken finished in second place back in Season 2, but his three albums have combined to sell 4.7 million copies. Those four artists alone have collectively sold 26.2 million albums over just the past 5 years. Even William Hung, who was rejected during the Season 3 auditions after a horrible rendition of "She Bangs," has gone on to some relative success selling over 300,000 copies of his albums.
I realize I am not providing breaking news with the fact that American Idol has become a cultural phenomenon with tremendous musical influence.
I guess I just wanted to point out that it is one thing to generate pop stars that can sell millions of albums, but to me it might be even more impressive when you can take a song that is 23 years old and a version of it released 14 years ago and make it hot again. It might be even more remarkable when you can take a song and move it 50 spots on the Billboard Charts in one week just by performing it on your show. Each season continues to discover incredible talent and celebrate that skill and uniqueness on a weekly basis. It is a machine and, lucky for us, it does not look to be slowing down any time soon.
That will wrap up this issue of Kickin' it Old School. Thanks for reading and please subscribe or come back often. In my constant search for great sources of pop culture information, I came across a great blog from the makers of Pop Culture Madness. Please check it out when you have the chance and let them know that Old School sent you. Peace and much love.
Check this out: Here is some more interesting trivia. As in the past, I have not checked all of these to be fact, but I am assuming them to be true...
>No piece of paper can be folded in half more than seven times.
>Mosquito repellents don't repel. They hide you. The spray blocks the mosquito's sensors so they don't know you're there.
>Donkeys kill more people annually than plane crashes.
>Oak trees do not produce acorns until they are fifty years of age or older.
>The first product to have a bar code was Wrigley's gum.
>The king of hearts is the only king without a mustache.
>Venus is the only planet that rotates clockwise.
>The plastic things on the end of shoelaces are called aglets.
>The first owner of the Marlboro Company died of lung cancer.
>Marilyn Monroe had six toes.
>Pearls melt in vinegar.
>It is possible to lead a cow upstairs, but not downstairs.
>A duck's quack doesn't echo, and no one knows why.
>The reason firehouses have circular stairways is from the days when the engines were pulled by horses. The horses were stabled on the ground floor and figured out how to walk up straight staircases.
>Richard Millhouse Nixon was the first US president whose name contains
all the letters from the word "criminal."
>The second was William Jefferson Clinton.
>Turtles can breathe through their butts.
>Butterflies taste with their feet.
>Elephants are the only animals that can't jump.
>Women blink nearly twice as much as men.
>It's physically impossible for you to lick your elbow.
>The Main Library at Indiana University sinks over an inch every year because when it was built, engineers failed to take into account the weight of all the books that would occupy the building.
>A snail can sleep for three years.
>No word in the English language rhymes with "MONTH."
>An ostrich's eye is bigger than its brain.
>"Go." is the shortest complete sentence in the English language.
>Almost everyone who reads this trivia will try to lick their elbow.

Quote of the day: "No student ever attains very eminent success by simply doing what is required of him (or her); it is the amount and excellence of what is over and above the required that determines the greatness of ultimate distinction." -Charles Kendall Adams
Download this: "Hallelujah" by Jeff Buckley - Mentioned above as performed by Jason Castro, this version appeared on the 1994 album titled Grace. The original appeared on the 1985 Leonard Cohen album titled Various Positions.