While I was in New York this week, I had the opportunity to see actor/comedian Tracy Morgan during his special appearance at Carolines on Broadway.
I think Morgan is very funny as "Tracy Jordan" on the NBC sitcom 30 Rock and always enjoyed him when he was on Saturday Night Live.
I was really looking forward to the show, but even though he had some very funny moments during his set, overall I was often uncomfortable and was ultimately left a little disappointed. I am far from a prude and I expected that he could be a little crude and offensive, but nearly his entire set was shockingly explicit. Sometimes that can be funny and entertaining in small doses, but this continued the entire set. I did laugh quite a bit, but this was often because I was almost in shock and did not know what else to do. It was somewhat entertaining, but not as fun as I had hoped.
Morgan was a member of the Saturday Night Live (SNL) cast from 1996 to 2003. His most popular skits included "Brian Fellow's Safari Planet," "Astronaut Jones" and "Woodrow the Homeless Guy" as well as his impressions like Mike Tyson. SNL is one of my all-time favorite television programs and I started thinking about who my favorite cast members have been over the past 33 years since the show began back in 1975.
Tracy Morgan would not be included in my Top 20, but I will let you know exactly who is. My rankings are based solely on the work done while on the show and does not take into account any success or lack of success outside of SNL. I will also include the years they were part of the cast and some of my favorite characters that each actor portrayed while on the show. Here is OLD SCHOOL'S TOP 10 ALL-TIME FAVORITE SATURDAY NIGHT LIVE CAST MEMBERS (+ Bonus 10):
Honorable Mention: Chevy Chase (1975-76)

- He was a member of the inaugural cast, but only stayed for a year and a half. He became the most recognized member because in all but one episode of the first season he was the one who said the famous line, "Live from New York, it's Saturday Night." He was the original anchor for the Weekend Update segment and began those with "I'm Chevy Chase and you're not" and always ended with "Good night and have a pleasant tomorrow." He was in one of my all-time favorite skits interviewing Richard Pryor and performing "word association" with him (here is a link to watch it - WARNING does include some racial comments). If he would have stayed on the show longer, he would definitely be higher on this list, but at least deserved honorable mention.
20. Jan Hooks (1986-91) - I remember her most for her portrayal of Hillary Clinton as well as her "The Sweeney Sisters" skits she did with Nora Dunn. This spot could have easily gone to several others including Tim Meadows, Rob Schneider, Darrell Hammond, Rachel Dratch or Fred Armisen.
19. Dennis Miller (1985-91) - He was the Weekend Update anchor for his years on the show and ended that segment each time with "That's the news, and I am outta here."
18. Adam Sandler (1990-95)

- He was never used properly in skits, but I remember him best for his Opera Man and Cajun Man characters as well as his song performances like "The Chanukah Song," "Red Hooded Sweatshirt," "Lunch Lady Land" and "The Thanksgiving Song."
17. Amy Poehler (2001-present) - She is the only current cast member to make the list. My favorite characters include "Kaitlin," the hyperactive little girl often tormenting Horatio Sanz, and "The Needlers" as half of the always arguing couple with Seth Meyers.
16. (tie) Molly Shannon (1994-2001), Cheri Oteri (1995-2000) and Ana Gasteyer (1996-2002) - They were known as the "SNL Female Power Trio" during the late 90s and held their own with the male cast members during those years.
One of my all-time favorite skits, "Delicious Dish," featured Shannon and Gasteyer playing NPD radio hosts with guest Alec Baldwin discussing his recipe for his "Schweady Balls." I also remember Gasteyer for her music teacher "Bobbie Moughan-Culp" character that she played opposite of Will Ferrell. I remember Shannon for her portrayal of Monica Lewinsky and her Catholic school girl "Mary Katherine Gallagher" skits. I remember Oteri for her impression of Barbara Walters as well as "Arianna" in the "Spartan Cheerleaders" skits with Will Ferrell.
15. David Spade (1990-96) - My favorite skits for Spade include the Flight Attendant saying "Buh-bye" and Dick Clark's receptionist saying "Any you are?" I also enjoyed his "Hollywood Minute" segment as well.
14. Chris Parnell (1998-2006)
- I feel he was a very under-rated cast member who did many funny characters, but my favorites included "Merv the Perv" and "Sean DeMarco" who was an interpretive dancer with his brother played by Chris Kattan.
13. Bill Murray (1976-80) - My favorite Murray skits included "Nick the Lounge Singer" and "Todd" the nerd who played opposite Gilda Radner. Though off this topic, here is a link to my Top 10 Bill Murray movies.
12. Jon Lovitz (1985-90) - He was part of a very strong cast in the late 80s. My favorite characters included "Hanukkah Harry," "Master Thespian" and "Tommy Flanagan" who was the pathological liar with the line "Yeah, that's the ticket."
11. Kevin Nealon (1986-95)

- He did a great job as the Weekend Update anchor taking over for Dennis Miller. Some of my favorite characters included the "Subliminal Message Man" and "Franz" from "Hans & Franz" with Dana Carvey.
10. John Belushi (1975-79) - He could be funny without even trying no matter what character he played. Some of my favorites included the "Samurai," "Pete from Olympia Café" and "Joliet Jake Blues" from The Blues Brothers with Dan Aykroyd.
9. Phil Hartman (1986-95)
- He was one of the most versatile performers ever to be part of the cast. His portrayal of Bill Clinton was very funny and I also enjoyed the "Anal Retentive Chef" and when he played "Ed McMahon" with Dana Carvey.
8. Mike Myers (1988-95) - My favorites included "Dieter from Sprockets," "Philip" the hyper-hypo kid and of course "Wayne Campbell" from Wayne's World.
7. Chris Farley (1990-95)

- Another guy who was just funny no matter what he was doing. My favorite was "Matt Foley" the motivational speaker who lives in a "van down by the river." He was "Todd" in the Chicago "Super Fans" skit where they proclaimed their love for Ditka and "da bears." One of the all-time best skits was when Farley was auditioning for Chippendales against Patrick Swayze.
6. Gilda Radner (1975-80)
- She was part of the inaugural cast and has to be one of the funniest women that I have ever watched. She had many funny characters including "Roseanne Roseannadanna," "Baba Wawa," "Emily Litella" with elderly editorials and "Judy" the nerd opposite Bill Murray.
5. Jimmy Fallon (1998-2004)

- He would later be an anchor for Weekend Update, but I liked him better as characters. Some of my favorites include "Sully" the Boston guy with his girlfried "Zazu" played by Rachel Dratch, "Nick Burns" your company's computer guy and "Barry Gibb" on the "Barry Gibb Talk Show" with Justin Timberlake playing his brother Robin.
4. Will Ferrell (1995-2002)
- He might be the most versatile cast member of all time and never afraid to make a fool out of himself to get the laugh. One of my all-time favorite skits is the "Blue Oyster Cult Behind the Music" with Ferrell's character providing "more cowbell" (here is a link to this hilarious video which hopefully will not be removed). His portrayals of George W. Bush, Alex Trebek on Celebrity Jeopardy and James Lipton from Inside the Actors Studio are hilarious. He also was "Craig" the Spartan Cheerleader with Cheri Oteri and music teacher "Marty Culp" with Ana Gasteyer.
3. Eddie Murphy (1980-84) - His Best of Eddie Murphy Saturday Night Live is hilarious from beginning to end. One of my favorite skits was always "Mr. Robinson's Neighborhood." His portrayal of James Brown was always great as was the skit where he portrayed Stevie Wonder doing a duet with Frank Sinatra played by Joe Piscopo. His "Buckwheat" and "Velvet Jones" characters were funny and many people remember his "Gumby" too. Though it has nothing to do with this, here is a link to my Eddie Murphy Top 10 movies.
2. Dan Aykroyd (1975-79) - Another one of the original cast members, Aykroyd had many funny characters from "Beldar Conehead" to "Elwood Blues" from The Blues Brothers to "George from Olympia Café" yelling cheeseburger to the slimy "Irwin Mainway" on such skits as "Consumer Probe" (here is a link to a poor quality recording of one of those "Consumer Probe" skits). One of the funniest skits was those "Two Wild and Crazy Guys" which he played with Steve Martin.
1. Dana Carvey (1986-93)

- He did so much brilliant stuff that it is difficult to list it all here. Of course he was well known for "The Church Lady" and "Garth" on Wayne's World. I always enjoyed some of his lesser know roles like "Massive Head Wound Harry." His impressions were very funny including George H. W. Bush, Johnny Carson, Ross Perot and Jimmy Stewart among others. I think my favorite skit is where he played British musician "Derek Stevens" who is pressed to come up with a new song and gives a hilarious rendition of "Choppin' Broccoli." I wish I could have found a link to that skit.
There is my list of favorites. I wish I could have given you more links to videos, but NBC is very strict on not allowing videos out there for their products. There are also many former cast members that might surprise you. I decided to give you another quick list of those that might surprise you the most:
17. Chris Rock (1990-93)
16. Jim Belushi (1983-85)
15. Jay Mohr (1993-95)
14. Michael McKean (1993-95)
13. Martin Short (1984-85)
12. Billy Crystal (1984-85)
11. Janeane Garofalo (1994-95)
10. Gilbert Gottfried (1980-81)
9. Laurie Metcalf (1980-81)
8. Damon Wayans (1985-86)
7. Sarah Silverman (1993-94)
6. Joan Cusack (1985-86)
5. Anthony Michael Hall (1985-86)
4. Julia Louis-Dreyfus (1982-85)
3. Randy Quaid (1985-86)
2. Ben Stiller (1988-89)
1. Robert Downey Jr. (1985-86)
Most appear on this list because they were either only cast members for a brief amount of time, they were members during less popular seasons and/or they were not featured in many skits during their time. They still do count as members of the extremely impressive SNL alumni.
That will wrap up this issue of Kickin' it Old School. Thanks for reading and hope you enjoyed it. As always, I appreciate your comments and feedback. Peace and much love.
Check this out: Here is a picture I thought was humorous since the sign kind of contradicts itself...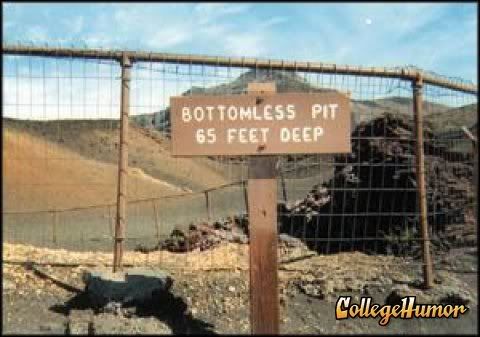 Quote of the day: "Failures want pleasing methods... successes want pleasing results." -Earl Nightingale
Download this: "What About Now (Idol Gives Back Performance)" by Daughtry - This was featured during the Idol Gives Back show this week and is available for download on iTunes with the proceeds going to charity