You have probably heard by now that actor Wesley Snipes

was sentenced to 3 years in prison for failing to file a tax return over three separate years. Here is a link to one of the many articles with some of the details. It is no coincidence that this sentence was handed down so closely to the April 15th tax day and I also feel that Snipes' celebrity status made him a perfect candidate to make an example of.
I am not sure how many years of that sentence he will actually have to serve, but three years is a fairly significant punishment. It seems as though Snipes will take an involuntary hiatus from his acting career. I thought this might be a prime opportunity to publish my Top 10 list of my favorite Snipes movies, so that is exactly what I will do here. So, here is OLD SCHOOL'S TOP 10 WESLEY SNIPES MOVIES:
Honorable Mention. Blade (1998), Blade II (2002) and Blade: Trinity (2004)

- Though I am not a big fan of these movies based on a comic book character, they are probably his biggest commercial successes. The first Blade movie grossed over $150 million worldwide. These films have developed quite a cult following, so I decided to at least give them an honorable mention here. Jungle Fever (1991) could have also garnered an honorable mention.
10. The Fan (1996) as "Bobby Rayburn" - Snipes stars opposite of Robert DeNiro as a star baseball player who deals with an obsessive fan. Had potential to be better than it actually ended up being.
9. Liberty Stands Still (2002) as "Joe" - This is a lesser known film with an anti-gun message. Snipes plays a man who holds the wife of a gun manufacturer hostage as he seeks some sort of revenge for losing his daughter in a high school shooting incident.
8. Wildcats (1986) as "Trumaine" - Snipes made his film debut playing a minor role in this funny 80s film starring Goldie Hawn who takes over coaching a high school football team.
7. Rising Sun (1993) as "Lt. Webster Smith"

- This film is based on the novel by author Michael Crichton. Snipes teams up with Sean Connery and provide an entertaining performance together.
6. Murder at 1600 (1997) as "Det. Harlan Regis" - Snipes plays a detective called to investigate a murdered body of a young woman at the White House. It also stars Diane Lane as a secret service agent. The movie is not that special, but it does include some intense thrilling moments and Snipes puts in a solid performance as usual.
5. U.S. Marshals (1998) as "Mark Sheridan" - This is somewhat of a sequel to the Harrison Ford film The Fugitive. Speaking of Ford, here is a link to my Top 10 Harrison Ford movies list. Snipes plays the escaped convict and is being chased down by Tommy Lee Jones.
4. Demolition Man (1993) as "Simon Phoenix"
- This is a big budget action film with Snipes starring opposite of Sylvester Stallone. Snipes plays a criminal who is frozen and then thawed out in a future world where crime has been mostly eliminated. The film is actually very campy and cheesy, but has its moments.
3. New Jack City (1991) as "Nino Brown"
- I really enjoy this movie starring Snipes as a drug lord in New York City. I feel Snipes puts in a tremendous performance. The film also stars Mario Van Peebles, Ice T, Judd Nelson and Chris Rock. The film portrays an uncomfortable reality including drugs and violence, but ultimately tells a positive message.
2. White Men Can't Jump (1992) as "Sidney Deane"

- This is one of my favorite sports movies of all time. Snipes teams up with Woody Harrelson to tell an interesting and entertaining story of two basketball hustlers who are just trying to make it. Woody and Wesley tried to rekindle this magic in the 1995 film called Money Train, but this film (which also starred Jennifer Lopez) just did not do it.
1. Major League (1989) as "Willie Mays Hayes" - Here is a link to my Top 10 Baseball movies list because this film ranked #1 on that list. Much of that was due to Snipes' breakthrough performance as the speedy centerfielder on team of misfits that catches lightning in a bottle. Go to the link to read more about this movie which is also one of my favorite comedies of all time.
There is my list for Wesley Snipes. He really has not done much of interest to me in recent years (with 2002 being the latest film to actually make my list), so maybe I won't miss him all that much during his time away. After all, I can always pop in Major League or White Men Can't Jump if I ever get the urge to watch his work.
That will wrap up another issue of Kickin' it Old School. Thanks for reading and please continue to spread the word to anyone you think might enjoy it. Have a good weekend. Peace and much love.
Check this out: Here is something I was forwarded via email that I thought was interesting enough to share. Not sure who figured this out, but seems pretty incredible...
1) Fold a NEW PINK $20 bill in half, like below...

2) Fold the back left up, taking care to fold it exactly as below

3) Fold the back right up, like image below

Result: The Pentagon ablaze

5) Now, simply turn it over, like below...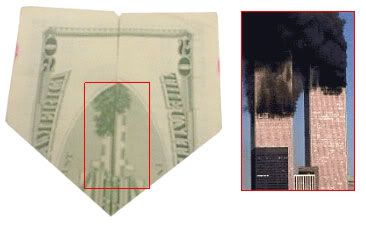 Result: The Twin Towers ablaze

What an eerie coincidence! A simple geometric fold creates a catastrophic premonition printed on all $20 bills!!!
COINCIDENCE? YOU DECIDE.

Quote of the day: "For everything you have missed, you have gained something else; and for everything you gain, you lose something." - Ralph Waldo Emerson
Download this: "Human" by Jon McLaughlin - From his album Indiana released in May of 2007