Today (June 7th) is the birthday of one of the truly unparalleled musical geniuses, Prince.
Believe it or not, his royal purpleness turns 50 years old today. It has been 24 years since he released what is in my opinion easily one of the top 10 albums of all time, Purple Rain. I cannot believe it has been that long.
He released his first album, For You, back in 1978. Since then he has released a total of 24 studio albums, 5 soundtracks, 2 live albums, 3 instrumental albums and 3 hits compilations.
Even though I admit he is quite eccentric, Prince is one of the best pure musicians and performers I have ever seen. His guitar solos and stage dancing are legendary. He is also an accomplished song-writer authoring most of his own music, but also writing many songs for other artists. He has won several Grammy awards and even an Oscar.
His music is not as mainstream as it once was back in the 80s. Prince will be celebrating his 50th birthday by publishing a book going behind the scenes of his record-breaking, sold out 21 concerts in 21 nights in the summer of 2007 at London's 02 arena. 21 Nights will be a multi-media volume released in September. It will feature poetry by the artist, live CD sessions with new music from after parties at the O2's Indigo Club and 124 never-before-seen full color photos by Hollywood's Randee St. Nicholas.
Judith Curr of Atria books commented that "21 Nights is an innovative multimedia book project created by a musical visionary and uncompromising artist, an invitation to experience a side of Prince has not revealed until now." Sounds interesting enough to me that I will definitely purchase it when it comes out later this year.
I thought I would take this opportunity to publish my Top 10 favorite songs by Prince. I have more than enough, so I decided to give you a Top 20 instead. I would have liked to put some links to videos, but Prince is very protective of his music and does not allow it to even be posted on YouTube. Most of these songs appear on his greatest hits compilations. So here are OLD SCHOOL'S TOP 10 PRINCE SONGS (+Bonus 10):
Honorable Mention. "Nothing Compares 2 U" - This song was actually written by Prince back in the early 80s, but came to prominence when Sinead O'Connor recorded a cover in 1990 and it became a #1 hit on the Billboard Hot 100. In 2004, Rolling Stone magazine ranked the song 162 on their list of 500 Greatest Songs of All Time. Prince began to perform the song in concert, and included a live rendition on his 1993 compilations The Hits/The B-Sides as a duet between himself and Rosie Gaines. I love Prince's live version, so I wanted to at least recognize it with an honorable mention.

20. (tie) "Musicology" and "Call My Name" both from Musicology (2004)
19. "Song of the Heart" from Happy Feet soundtrack (2006) - Happy Feet ranked on my Top Animated Movies list
18. "When You Were Mine" from Dirty Mind (1980)
17. "I Wanna Be Your Lover" from Prince (1979)
16. "The Most Beautiful Girl In The World" from The Beautiful Experience (1994)

15. "7" from Love Symbol (1992)
14. "The Arms of Orion" from Batman soundtrack (1989) - Ranked #47 on Old School's Top 50 Songs from 80s Movies list
13. "Sign O' The Times" from Sign o' the Times (1987)
12. "Why You Wanna Treat Me So Bad?" from Prince (1979)

11. "1999" from 1999 (1983)
10. "Purple Rain" from Purple Rain soundtrack (1984)
9. "Baby I'm a Star" from Purple Rain soundtrack (1984)
8. "Raspberry Beret" from Around the World in a Day (1985)
7. "U Got the Look" with Sheena Easton from Sign o' the Times (1987) - Ranked #8 on Old School's Top 30 Duets from the 80s list
6. "Let's Go Crazy" from Purple Rain soundtrack (1984) - Ranked #22 on Old School's Top 50 Songs from 80s Movies list

5. "When Doves Cry" from Purple Rain soundtrack (1984)
4. "I Could Never Take the Place of Your Man" from Sign o' the Times (1987)
3. "I Would Die 4 U" from Purple Rain soundtrack (1984)
2. "Little Red Corvette" from 1999 (1983)
1. "Kiss" from Parade: Music from the Motion Picture Under the Cherry Moon (1986) - Was #1 on the Billboard Hot 100 in April 1986 and is ranked #461 on the Rolling Stone list of Top 500 Greatest Songs of All Time. Ranked #9 on Old School's Top 50 Songs from 80s Movies list.
There's my list. If you like Prince, I encourage you to give those songs a try. Not all of them were big radio hits, but those are my favorites. Let me know if I missed any of your favorites. I also encourage any Prince fan to see him in concert at least once. I have only seen him in concert once myself, but it is still one of the best live shows I have ever seen to date. From what I hear, each performance is a unique experience and you really get to see his outstanding guitar playing and dance choreography which is each worth the price of admission alone.
That will wrap up another issue of Kickin' it wishing Prince a happy 50th birthday. Thanks for reading. Prince was a big part of the 80s, so if you are looking for more 80s related articles, click here for a list. If you want more of my Top 10 lists, then click here for the list. If you have missed any past issues of Kickin' it Old School, please click on the Archive buttons in the upper left hand column. If you like what you read, please consider subscribing and/or forwarding the link on to others. I appreciate it. Peace and much love.
Check this out: Here is another optical illusion...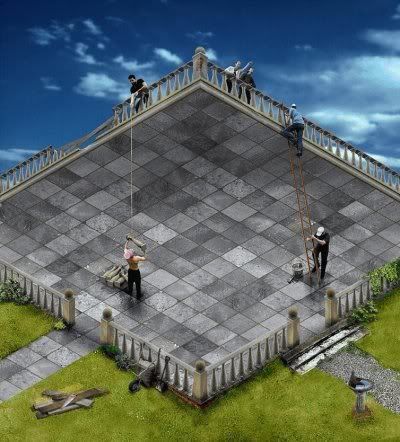 Quote of the day: "When people hear good music, it makes them homesick for something they never had and never will have." -Edgar Watson Howe
Download this: Since it is #1 on the list, I am going to have to go with... "Kiss" by Prince