I recently read this article about Shigeru Miyamoto

who is the video game designer who invented some of the best classic video games of all time. His list includes the original Donkey Kong in 1982, the original Mario Bros. in 1983 and the original Legend of Zelda in 1987. These are some of the best video games of all time. Well, it turns out this same guy is also behind the hottest video game system on the market right now, the Nintendo Wii, as well as the game Wii Fit which is revolutionary because it requires physical activity in order to play the game. Here is the link to the article on Miyamoto who is now 55 years old.
I have been critical of how kids seem to be less active that they used to be and that computers and video games are big cause of this epidemic. I give Nintendo a lot of credit for addressing this problem in their own way by creating a game system that requires physical activity which can sometimes even be intense enough to be considered healthy exercise. The Wii is family friendly encouraging games to be played as groups. I say that if kids are going to play video games, they might as well be a positive and healthy experience. The Wii is one of the most sought-after consumer products on the market right now.
I published my list of the Top 20 Classic Arcade Games and if you have not seen that yet, I suggest you click on that link and check it out because it seems to be one of my most popular. The first in-home video game systems were Atari, Intelevision and ColecoVision, but it was really Nintendo and the original Nintendo Entertainment System (NES)
which set a new standard and took it to the next level beginning in 1985. I remember pretty vividly when I received my first Nintendo NES. It included the games Duck Hunt and Super Mario Bros. and my brother and I played those games obsessively. Then over the following years, several other games would come along that would become similar obsessions (though we always seemed to still spend quite a bit of time outside playing, too).
I thought it would be fun to go back down memory lane and recall some of my favorite Nintendo games from back then and create a Top 10 list similar to what I did for the classic arcade games. So here is OLD SCHOOL'S TOP 10 FAVORITE CLASSIC NINTENDO GAMES (+Bonus 5):
Honorable Mention: Duck Hunt (1985) -
Like I said, this game came with NES when I got it and you played it with a gun. You aimed the gun at the ducks as they flew across the screen and tried to shoot them down. Simple game that increased in difficulty as you progressed round to round. Technically my first game, so I thought I would at least give it honorable mention here.
15. Track & Field (1985) - I always enjoyed games where you could compete directly with others. This game, as well as Track & Field II (1989), tracked all player results and awarded medals at the end of the game. You needed fast hands to win at this game.
14.(tie) Karate Champ (1986) and Pro Wrestling (1987) -

Two more games which were fun because you could play head-to-head fighting a friend or simply test your skills against the computer.
Both have limited moves and are not nearly the best graphics, but that did not seem to matter back then when we played. This is a list of what were my favorites, not necessarily the best.
13. Ninja Gaiden (1989) -

One of the many level conquering martial arts related games which was one of my brother's very favorites at the time

12. Ice Hockey (1988) - The original Nintendo version was fun because you could play head-to-head against your friends. It even included the most entertaining part of hockey which is the fights. Interesting note, this game was seen being played in one of my all-time favorite movies, Swingers (which starred Jon Favreau and Vince Vaughn).
11. Double Dragon (1988) -
Was fun because two players could play at the same time working together. It had many sequels. I think this game inspired some a cheesy movie as well as an animated series in the 90s.
10. Castlevania (1987) - Armed with a whip, you are placed in the middle of a horror movie, loosely based on the Dracula novel. You can find other weapons along the way as you fight creatures and your beasts on your way to confront the vampire himself. The game kept you wanting to continue playing until you accomplished the goal.
9. Mega Man (1987) and Mega Man 2 (1989) -

There were many additional sequels, but the first two are the ones I remember best.

8. Baseball Stars (1989) - This game was ahead of its time and was my favorite baseball game for Nintendo for a few reasons. First, it kept track of your team's statistics over the course of a season. Second, it allowed you to create your own team and name all of your players. Third, for each victory you were awarded points/dollars which could be used to improve specific skills on each player on your team. We loved this game because there were longer term goals than just winning the particular game you were playing. Loved this game.
7. Metroid (1987) -
One of the first nonlinear games for Nintendo allowing you to explore its entire world as you wanted. This game also had many sequels, but I will always be partial to the original. One cool thing about this game is that it was one of the first games which used a password system for saving your game information in between times you played.
6. Contra (1988) - A great feature to this game was that two players could play together simultaneously as you lead a commando unit attempting to prevent an invasion. There was a code for this game which you could enter through a series of controller moves which would provide you with unlimited lives in the game (this made it much easier to progress in this very difficult game). Scary thing, I can still remember the code now 20 years later! Up, Up, Down, Down, Left, Right, Left, Right, B, A. That's taking up some valuable space up in my brain, but must be engrained pretty solidly for me to still remember.
5. Kid Icarus (1987) -

I have lots of fond memories of playing this game which combined many different playing aspects including jumping, shooting and collecting items as you attempt to defeat Medusa and rescue the goddess. It came out the same time as Metroid, but I enjoyed this game a little better.

4. Mike Tyson's Punch-Out! (1987) - Glass Joe. King Hippo. Soda Popinski. Bald Bull. Don Flamenco. Mr. Sandman. Super Macho Man. Mike Tyson (before he went off his rocker). 'Nuff said.
3. Tecmo Super Bowl (1991) -
This game actually obtained the license from the NFL Players Association to use the actual player names which had not been seen before. This game also kept records and stats over the course of a season which is really what made it even more special. It allowed you to control as many teams as you wanted on a season schedule, so you could have 20+ people all controlling their own team (which we actually did on the floor of my college dorm). We had way too much fun playing this game, so even though there have been many more realistic football games that are more technically advanced, I will always have a soft spot for Tecmo Super Bowl.
2. The Legend of Zelda (1987) & Zelda II: The Adventure of Link (1988) - Zelda was a revolutionary game which also included an internal battery for data saving. You control Link who is trying to save Princess Zelda and the game incorporates elements of action, adventure, roll playing and puzzle games. I was obsessed with solving these games and spent many, many hours in that effort. The game was so different than anything I had played previously because you moved at your own pace and 2 different players could get to the same place by taking 2 completely different paths. I remember getting the original game for Christmas (in its metallic gold cartridge case) the same year we received Mike Tyson's Punch-Out! It is amazing to think that was over 20 years ago now.
1. Super Mario Bros. (1985), Super Mario Bros. 2 (1988) and Super Mario Bros. 3 (1990) -

The original ranked #1 on my Top 20 Classic Arcade Games list, but it became even more popular when it was one of the original games for the NES. I grouped them all together for the purposes of this list because

I just feel the entire series ranks as the best video games of all time. Each was revolutionary in its own way and really deserve credit for making the video game industry what it is today. The original Super Mario Bros. is reportedly the best selling video game of all time (over 40 million copies to date) and it was designed by legendary Shigeru Miyamoto who is the subject of the article I mentioned at the beginning.
There's my list. I think I still have calluses on my thumbs from playing those games back in the day. I did not say they were necessarily the best games, just my favorites as I remember them. You will notice most of these games are from between 1985 and 1989 which are the years which I probably played the games the most. Technology continued to improve as we entered the 90s, but my favorite games remain the classics from the 80s. Miyamoto is responsible for many of those great classics, so it is pretty impressive that he is still going strong over 25 years later.
That wraps up this issue of Kickin' it Old School. As always, thanks much for reading. If you enjoyed this article, please tell a friend and also check out the Archives in the upper left hand column for all of the past articles. To find more Old School Top 10 lists, please click here. To find more 80s related articles, please click here. Peace and much love.
Check this out: I am not a surfer, but if I was, seeing this as I am paddling out would scare me enough to give up the hobby...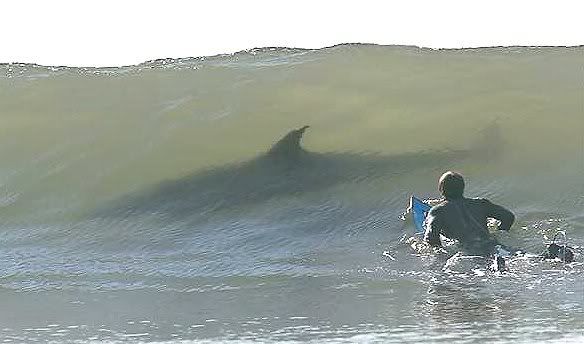 Quote of the day: "It is a thousand times better to have common sense without education that to have education without common sense." -Robert Green Ingersoll
Download this: "One" by U2 - One of the greatest songs of all time in my opinion, but also in the opinion of many others. From their 1991 album Achtung Baby.