This is a special issue of Kickin' it Old School. This marks my 100th issue,
so I felt that deserved a proper celebration. To that effort, I decided I am going to give you a sneak peek at a couple of my BIG 80s lists. What kind of sneak peek you may ask??? Since this is issue #100, I am going to tell you what ranks #100 on each of my three BIG 80s lists.
These are three lists that I have yet to publish

, but are some of the lists which I receive the most requests for and interest in reading. The three lists include my top 100 movies from the 80's, my top 200 songs from the 80's and my top 100 pop culture icons from the 80's. I am not sure quite how or when I will be publishing the rest of these lists, but for now I hope you enjoy #100 from each of them.
These BIG lists are significant undertakings that I take very seriously.

The lists are really based on my FAVORITES and not necessarily the best. On the movies list for example, I am not ranking them on the critical acclaim and/or quality of each film, but rather the entertainment value. I also am ranking them based on my current perspective and not necessarily how I felt during that decade. I expect that the last 20-25 years have enriched my perspective, though that perspective may also be affected by nostalgia. You will have to wait to see the complete lists, but here are your sneak peeks at the #100's.
OLD SCHOOL'S TOP 100 POP CULTURE ICONS OF THE 80s (1980-1989):
100. Max Headroom –
Max was a character that came on the seen around 1985 who gave the appearance of being a futuristic computer-generated talking head. He was a head inside of a computer monitor that featured characteristics such as stuttering, distortion and an electronically sampled voice. There was not enough technology at that time to really have computer-generated characters such as Max Headroom. Max was actually performed by actor Matt Frewer who wore a latex mask and foam rubber prosthetic makeup while being superimposed over a moving geometric background. Here is a link to video which describes how Max Headroom came to be, the culture phenomenon he developed into and includes some fun footage of the man himself.
The character originated in 1985 as an announcer for a British music video program called The Max Headroom Show. He caught on quick and a television series was developed, but that only last 14 episodes in 1986-87.
In 1986, musical group The Art of Noise released the song titled "Paranoimia" which featured the voice of Max Headroom. The character really took the U.S. by storm when Max Headroom was made a spokesperson for Coke and successfully generated interest in the cola brand. He would even be honored as the coverboy on an issue of Newsweek officially announcing his pop culture status. Here is a link to one of the Max Headroom New Coke commercials from that time (very cool & brings back fond memories). I have always been partial to Pepsi, but back in the mid-80's I was actually convinced to "catch the wave" and choose Coke over Pepsi for a short period of time. I attribute that decision almost solely to the charisma of one Max Headroom. I don't feel I am that easily swayed nowadays, but you never know. …TO BE CONTINUED…
OLD SCHOOL'S TOP 200 SONGS OF THE 80's (1980-1989):
100. "Jungle Love" (1984) by The Time – "My jungle love (OH WE OH WE OH), I think I wanna know ya (know ya)." I admit that the lyrics are nowhere near prolific poetry, but the band jams and it is a fun catchy song. Here is a link to a video for the song featuring footage from the movie Purple Rain.
"Jungle Love" was written by lead singer Morris Day and band member Jesse Johnson. The song, which only peaked at #20 on the Billboard Hot 100 list, was on the album Ice Cream Castle by The Time. It really gained popularity when it was performed in Purple Rain which also starred lead singer Morris Day in a somewhat prominent role.
The Time was actually assembled by Prince and that is why they were featured in Purple Rain as well as other Prince movies. Surprisingly, the original songs are mostly performed by Morris Day on vocals and Prince playing the instruments.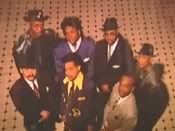 The band members, which included now superstar producers Jimmy Jam and Terry Lewis, only performed the songs during live shows. The Time broke up in 1985 when Day went on to pursue a solo career. Portions of the band, including Morris Day, reunited in 1995 and still tour together today. "Jungle Love" was performed by The Time at the end of the 2001 Kevin Smith film Jay and Silent Bob Strike Back. I am a big Kevin Smith fan, so here is a link to the movie performance. The video features the famous dance that Morris Day always does during this song and Jay & Silent Bob coming up on stage. The Time also performed "Jungle Love" at the 50th Grammy Awards earlier this year (February 10, 2008) as part of medley joined by Rihanna. "OH WE OH WE OH" …TO BE CONTINUED…
OLD SCHOOL'S TOP 100 MOVIES OF THE 80's (1980-1989):
100. ¡Three Amigos! (1986) –
This movie stars three of the funniest actors of the 80's with Steve Martin (as "Lucky Day"), Chevy Chase (as "Dusty Bottoms") and Martin Short (as "Ned Nederlander"). The movie is a story about three out-of-work silent film stars who are recruited by an oppressed Mexican village to help save them because the villagers assumed the "amigos" were really the characters they played on screen. Comedy ensues as the misunderstanding makes for several hilarious moments. It was written by Steve Martin, musician Randy Newman and SNL mastermind Lorne Michaels. Michaels was also the co-producer, so there were several SNL connections in the film including Chase and Short as well as small parts played by Phil Hartman and Jon Lovitz. Here is a link to a video which features some of the highlights from the movie.
¡Three Amigos! was directed by John Landis

who also directed some other great comedies including Animal House, The Blues Brothers, Trading Places and Coming to America as well as the music video for Michael Jackson's "Thriller." It is rumored that Steve Spielberg originally considered directing the movie, but ended up choosing to do E.T. instead (good choice). It is also rumored that Spielberg had wanted Bill Murray to play the character that Chevy Chase played and Robin Williams to play the character that Martin Short played. That may have been an even funnier cast if that would have happened. The "three amigos" has been referenced often as a nickname for other famous groups of three. Here is a link to a recent reference to the film in this ESPN commercial featuring the three Boston Celtics stars Kevin Garnett, Ray Allen and Paul Pierce. They even perform the trademark move of the amigos (funny stuff). You may ask the question, "If this movie is so funny, why is it ranked only at 100?" Well, it is a funny movie with moments of brilliance, but for me it should have been even better considering the potential of the tremendous cast. That is why it only ranks at #100 for me. …TO BE CONTINUED…
So there is your sneak preview of those three BIG 80's lists and that will wrap up the 100th issue of Kickin' it Old School. Thanks so much for reading and I hope you enjoyed this special issue. I want to send a special THANK YOU to all the tblog community who reads & supports Kickin' it as well as all of my other regular readers. I appreciate it more than I can tell you! Keep an eye out over the coming months for the rest of these BIG 80's lists to be published. These lists will not all include this much detail with each selection, but I figured I would include a little extra in this special 100th issue. Looking for more of my 80's-related issues? Click here for a summary of those. Looking for my published Top 10 lists? Click here for a summary of those. If you like what you read, please spread the word and be sure to bookmark this site in your favorites so you can come back often. Peace and much love.
Check this out: I came across another sign which made me chuckle. I can't imagine any situation when a sign like this would be necessary. Can you?

Quote of the day: "You can't always get what you want, but if you try sometimes, you just might find you get what you need." -The Rolling Stones from the 1969 song "You Can't Always Get What You Want"
Download this: I think I have to go with the obvious choice for this issue… "Jungle Love" by The Time… but I will also include "You Can't Always Get What You Want" by The Rolling Stones (since it was the quote of the day)