This is the second part of a two-part issue. The first part was the Top 10 Best "Singing" Scenes from 80's movies. If you have not read that one yet, be sure to click on that link and do so. This part will cover the best "dancing" scenes from 80's movies.

I guess "dancing" can be interpreted in different ways, so in this list you will see many different variations. I used a loose definition of dancing especially with a couple of the choices, but thought they were close enough to include. With that, I am going to jump right into the list. Here is OLD SCHOOL'S TOP 10 DANCING SCENES FROM 80's MOVIES (+ Bonus 14):

Honorable Mention. Goonies (1985) -
In this movie, the other kids are a little hard on the chubby kid. They make "Chunk" played by Jeff Cohen shake his belly around in a dance they refer to as the "Truffle Shuffle." It is a short dance, so I thought I would at least give it an honorable mention. Here is a link to watch the scene.
24. (tie) Stripes (1981) & Cocktail (1988) - These two met what I considered the very loosest definition of the dancing. First, one of my favorite scenes from any movie in the 80s is in Stripes when the platoon oversleeps and go to perform at their graduation led by "John Winger" played by Bill Murray. The choreographed routine could be considered dancing (I guess) and here is a link to watch the scene. Second is another scene from Cocktail where "Brian Flanagan" (Tom Cruise) and "Doug Coughlin" (Bryan Brown) perform a choreographed drink mixing routine set to "Hippy Hippy Shake" by The Georgia Satellites. Again, this could be considered dancing (I guess) and here is a link to watch this scene. The rest of the scenes are pretty legitimate dancing.
23. (tie) Blind Date (1987) & Best Defense (1984) - These two are linked together because they feature dancing at gun point. It's not surprising that someone shooting a gun at your feet will make you start to dance quicker than anything else. In Blind Date, Bruce Willis gets John Larroquette's character to show some moves. In Best Defense (which is a pretty awful movie despite having Eddie Murphy in it), Murphy's character fires a gun instructing the guy he's shooting at to give him some Michael Jackson and James Brown.
22. White Nights (1985) - From a technical standpoint, this scene should probably rank near the top of this list, but I've never been a huge fan of this film. Directed by Taylor Hackford, the performance of Mikhail Baryshnikov and Gregory Hines still deserve recognition especially for this scene. Here is a link to watch it.
21. The Karate Kid Part II (1986) - This is the sequel to one of my personal favorites and guilty pleasure movies, the 1984 original. There is a scene in this where Daniel-san swing dances to Bill Haley & the Comets' "Rock Around the Clock" with his new love interest Kumiko. Here is a link to watch this scene. There is also a scene which would technically qualify from the original The Karate Kid when Daniel-san goes to the school costume party dance dressed as a shower. He ends up getting a short slow dance with Ali. Unfortunately, I could not find a video on that scene.
20. Earth Girls Are Easy (1988) - This is not a very good movie, but it did have a fantastic cast including Jim Carrey, Damon Wayans, Geena Davis, Jeff Goldblum, Julie Brown and Michael McKean. There is a silly dancing sequence featuring Damon Wayans' "Zeebo" character and the song "Baby Gonna Shake" by Royalty. Here is a link to watch this scene.
19. The Big Chill (1983) - This movie stars an outstanding cast including Tom Berenger, Glenn Close, Jeff Goldblum, William Hurt and Kevin Kline among others as baby-boomer college friends who reunite years later to attend the funeral of a friend. The film features an outstanding soundtrack of 60s Motown classics including the song featured in this particular scene. The friends are making dinner together listening to "Ain't Too Proud To Beg" by The Temptations and can't help but start dancing. Here is a link to watch this scene.
18. Beetlejuice (1988) - This already ranked on my Best Singing Scenes list with "Day-O" but I also thought the ending scene of the movie deserved to be included on the dancing list. This scene features "Lydia" played by Winona Ryder dancing to "Jump in the Line (Shake Señora)" by Harry Belafonte along with some of the other characters. Here is a link to watch the entire scene.

17. Caddyshack (1980) - I had to include this short scene from one of my all-time favorite comedies. This features "Al Czervik" played by Rodney Dangerfield saying "So What? So, let's dance" before cranking up Journey's "Anyway You Want It" from a radio built into his golf bag. Love this scene and here is a link to watch it.
16. National Lampoon's European Vacation (1985) - As the Griswolds travel across Europe they make a stop in Germany. Trying to immerse themselves in the culture, they attend an Oktoberfest type of party where a group of dancers ask for "Clark" played brilliantly by Chevy Chase to join them. Comedy ensues and here is a link to watch this scene.
15. Coming to America (1988) - This is one of my favorite comedies of the entire decade. It features a scene early in the film when "Prince Akeem" is to meet his betrothed "queen-to-be" but before that there is a tribal dance performed. Here is a link to watch this scene, but the only video I could find was not an English version. You can still see the dancing.
14. Girls Just Want to Have Fun (1985) - This lesser known film stars Sarah Jessica Parker and Helen Hunt. Parker plays "Janey" who disobeys her father and auditions to be on a dance television show. She makes it to the audition finals and here is a link to watch this scene which begins with the song "Dancing in Heaven (Orbital Be-Bop)" by Q-Feel.
13. Airplane! (1980) - This is one of the funniest movies of all time and it happens to include a dancing scene. "Ted Striker" (Robert Hays) and "Elaine Dickinson" (Julie Hagerty) perform a scene reminiscent of Saturday Night Fever but only it takes place in an unexpected location. Here is a link to watch this scene.
12. Fame (1980) - This film follows young students and their teachers trying to make it at a High School of Performing Arts. These students are focusing on drama, music and dance. Irene Cara is one of the stars of the movie as "Coco Hernandez" and she also sings the title song, "Fame." This song won the Oscar for Best Original Song. It would later become the theme song for the TV series (inspired by the film) which ran from 1982-87. The song is featured in my most memorable scene from the film where the students flood out of the school to dance in the streets. Here is a link to watch this scene.

11. Teen Wolf (1985) - Michael J. Fox stars as "Scott Howard" who is a high school student that suddenly discovers he is a werewolf. Fox does an admirable job with this material and creates a film that is at least somewhat entertaining. In one scene after he embraces his werewolf persona, the wolf arrives at the school dance and proceeds to impress almost everyone with his dancing abilities. Here is a link to watch this scene.
10. She's Having a Baby (1988) - In this film written, directed and produced by John Hughes, Kevin Bacon's character is prone to his imagination running away a little. In one such scene, the suburban neighborhood breaks out into a choreographed dance number centered around lawnmowers and cutting the grass. Here is a link to watch this scene.
9. Dirty Dancing (1987) - "Nobody puts Baby in a corner." This whole movie is about dancing and it all culminates in the final scene where "Baby" played by Jennifer Grey and "Johnny" played by Patrick Swayze dance to "(I Had) The Time of My Life" by Bill Medley and Jennifer Warnes. Here is a link to watch this scene.
8. Can't Buy Me Love (1987) - In this underrated 80's teen comedy, Patrick Dempsey plays "Ronald Miller" a nerd who tries to buy his way into the popular crowd at his high school. In preparing to attend a school dance, he thinks he is watching Dick Clark's American Bandstand, but is instead watching a PBS special on the "African Anteater Ritual." He masters these new moves and performs them at the dance where, due to his sudden popularity, everybody else joins in. Here is a link to watch this scene.
7. Pee Wee's Big Adventure (1985) - This is a strange film since it is based around the Pee Wee Herman character, but it has developed its own cult following. On a side note, this happens to be director Tim Burton's first full-length film. There is a great scene where Pee Wee ends up in a biker bar and to get out of trouble performs a very interesting dance to the song "Tequila" by Chuck Rio. Here is a link to watch the entire scene, but the actual dancing starts at about the 2:30 mark within the video.
6. Rain Man (1988) -

In a touching moment during this film which won the Best Picture Oscar, "Charlie" (Tom Cruise) takes time to teach his autistic brother "Raymond" (Dustin Hoffman) how to slow dance. I have always liked this movie very much and this is one of my many favorite scenes. Later, "Raymond" gets a chance to dance with "Charlie's" girlfriend in an elevator while listening to music from a Fred Astaire & Ginger Rogers movie. Unfortunately, I could not find a link to allow you to watch this scene, but highly recommend you watch this entire movie again.

5. Flashdance (1983) - Jennifer Beals stars in this movie about a blue collar worker who really just wants to be a dancer. It's not a good movie no matter how you look at it, but it was very popular and does feature a good soundtrack as well as some great dancing scenes. We have this movie to blame for the leg warmer fashion trend from the mid-80s. One of those dancing scenes, performed to "Flashdance...What a Feeling" by Irene Cara, ends the film with a feeling of triumph. Here is a link to watch that scene.

The best dancing scene in the film takes place to Michael Sembello's "Maniac" and here is a link to watch that iconic scene. I am not a fan of the film, but I can always watch that scene.
4. Footloose (1984) - The film revolves around "Ren" played by Kevin Bacon who moves to a new town that has outlawed dancing. He makes it his mission to find a way to change the rules and bring dancing back. He tries to teach his new friend "Willard" played by Chris Penn how to dance in an entertaining montage. But the whole movie culminates in the final scene when they are finally allowed to have the school dance which is appropriately set to "Footloose" by Kenny Loggins. Here is a link to watch this scene. "Hey, hey, I thought this was a party. Let's dance!"
3. The Blues Brothers (1980) - This is a hilarious movie based on the SNL characters created by John Belushi and Dan Aykroyd. As funny as the guys were, the music they made was legit. The film features many great music scenes and a couple that could qualify for this list. The best might be a scene featuring Ray Charles and his song "Shake A Tail Feather." Here is a link to watch this scene where the dancing in the street really makes it special. You could also include the church scene featuring James Brown.
2. The Breakfast Club (1985) - This movie is one of my all-time favorites from any decade and has ranked highly on a few other lists including Best John Hughes Movies of the 80s. Later in the movie after the group gets to know each other better and begin to relax, there is a scene when they play music and just let loose dancing. This scene is set to a little known song "We Are Not Alone" by Karla DeVito. Love this one (which could have easily ranked #1) and here is a link to watch it.

1. Breakin' (1984) - This movie features some of the worst acting, but showcases some of the best dancing. I could also have included Beat Street (1984) which also featured the art of breakdancing. Breakin' includes several scenes with "Turbo" and "Ozone" performing outstanding routines. It is a cheesy movie, but worth watching for the dancing. Here is a link to watch one of the battles between rival dance groups. Here is also a link to watch one of my favorite scenes from early in the movie featuring "Turbo" dancing with a broom. This movie really allowed this type of amazing street dancing to receive some mainstream exposure and attention. I have great memories of pulling out the cardboard myself and poppin', lockin' and breakin' with friends.
BONUS: "Turbo" has another great dance scene in the sequel Breakin' 2: Electric Boogaloo (1984). It includes some trick photography allowing him to literally dance on the ceiling (like Lionel Richie talked about). Here is a link to watch this great dance scene (it starts at about 0:55 mark).
There's my list. I am sure many of you would rank them differently, so let me know what you think. Let me know if I missed any of your favorites! Many 80's movies featured high school dances (Sixteen Candles, Better Off Dead, Fast Times, etc.), so I did not really include those unless there was a specific scene that stood out. Between the "singing" scenes on my last list and the "dancing" scenes on this list, you have some of the best scenes from 80's movies all together.
That will wrap up this special two-part issue of Kickin' it Old School. Thanks, as always, for reading. Hope you enjoyed reliving those great scenes through the video links. If you are interested in reading more of my 80's related issues, please click there for a summary. If you are interested in reading more of my Top 10 lists, please click there for a summary of those. You can also always click on the Archives in the upper left hand column or use the Google Search Box at the top of the right hand column to find any other issues you may have missed. If you are a fan of Kickin' it, PLEASE CLICK ON THE FACEBOOK LOGO in the upper right hand column. This will take you to the Fan Page where I ask you to then click on "LIKE". Even if you are not a Facebook member yet, please consider joining and registering as a fan at that page. You can also follow Old School on Twitter by clicking on the FOLLOW ME ON TWITTER LOGO also in the upper right hand column. This will take you the page and you can just click on the box that says "Follow". I am sending daily 80s tweets, so sign up to get those. Let other 80s fans know about it as well! Peace and much love..
Check this out: I came across this picture which I thought would have been the definition of "frustration" for a guy in the 80's...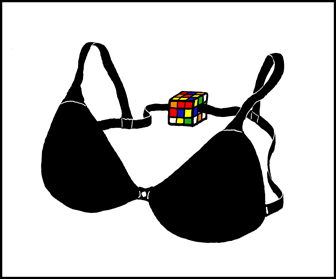 Quote of the day: "Change is the law of life. And those who look only to the past or present are certain to miss the future." -John F. Kennedy
Download this: I am going to recommend a song that is included on the soundtrack for the movie Breakin'... "Ain't Nobody" by Rufus with Chaka Khan