Well, 2008 has now had the honor of celebrating the 50th birthday of three of music's biggest icons. I have already had issues of Kickin' it Old School commemorating the events for Prince and Madonna.

If you missed either of those, be sure to click on the names and it will take you to those issues. Now, I must add Michael Jackson to this group. The King of Pop's birthday was on August 29th and he turned 50 years old.

I am still a big fan of Jackson's

music. One of my very first issues of Kickin' it Old School touched on the subject of separating art from the artist. This issue specifically referenced Tom Cruise and Michael Jackson including top 10 lists for both of them. The Jackson top 10 list included songs from his entire career (and did not include any links to videos), so I thought this time I would focus solely on his music from the 80s like I did for Madonna.
Jackson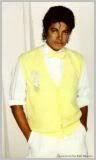 is a double-inductee of the Rock and Roll Hall of Fame, once as a member of The Jackson 5 in 1997 and later as a solo artist in 2001. Jackson was also an inductee of the Songwriters Hall of Fame in 2002. His Thriller album (1982) spent an incredible 37 weeks at #1 on the US album charts. His Bad album is the only album ever to have five #1 singles in the U.S.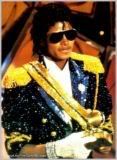 He revolutionized the music video industry and helped put MTV on the map. His awards include multiple Guinness World Records, 13 Grammy Awards, a total of 13 number one singles in his solo career (more than any other male artist in the Billboard Hot 100 era) and the sale of over 750 million units worldwide. His generosity and humanitarianism have been second to none over the years. Yes, he is a weird dude, but moreso an amazing entertainer and musical genius.
Here is OLD SCHOOL'S TOP 10 MICHAEL JACKSON SONGS FROM THE 80's (+ Bonus 6):
Honorable Mention. "We Are The World" (1985) by USA For Africa

- This song was written by Michael Jackson and Lionel Richie. It features performances by 37 artists and Jackson sings a portion of a verse as well as prominently in the bridge and chorus. The sales of the single were intended to help famine-relief efforts in Ethiopia. It was the best-selling single of 1985 and hit #1 on the Billboard Hot 100 staying there for four weeks. I thought this song at least deserves honorable mention and here is a link to watch the video for this song.
16. "Bad" (1987) from Bad
15. "Thriller" (1982) from Thriller - I like the video much more that I like the actual song. The video ranked #1 on my Top Music Videos of the 80s which I highly recommend you check out if you haven't already. There is a link to watch the famous video (short length film) for this song there.

14. "The Girl is Mine" (1982) with Paul McCartney from Thriller - The first of two duets with McCartney on this list
13. "Dirty Diana" (1987) from Bad
12. "State of Shock" (1984) with Mick Jagger from Victory by The Jacksons - This song was originally written by Michael Jackson and Freddie Mercury (of Queen) and there are bootleg copies of a demo of the two singing it together out there. The final version would be sung with Mick Jagger. [link to song playing]

11. "Beat It" (1982) from Thriller - Features a great guitar solo by Eddie Van Halen. [link to video]
10. "Another Part of Me" (1987) from Bad - Actually this song was originally recorded as part of Jackson's 1986 3D film Captain EO which played at Disney World. [link to video of a live performance]
9. "P.Y.T. (Pretty Young Thing)" (1982) from Thriller [link to song playing]
8. "Say Say Say" (1983) with Paul McCartney from McCartney's Pipes of Peace - This song hit #1 on the Billboard Hot 100 and held that spot for 6 weeks. It has a pretty entertaining video as you might expect. [link to video]
7. "The Way You Make Me Feel" (1987) from Bad [link to video]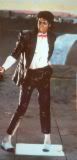 6. "Billie Jean" (1982) from Thriller - Jackson performed this at the Motown 25 anniversary celebration where he first demonstrated his infamous "moonwalk." It is now considered an iconic performance and here is a link to watch it (moonwalk happens at about the 3:30 mark of the video). This song also had a popular music video which was one of the first by a black artist to receive heavy rotation. This was pivotal in the evolution of MTV. [link to video]
5. "Smooth Criminal" (1987) from Bad - This is a very cool song, with an even cooler video. The video is about 9 minutes long and is well worth watching in my opinion. [link to video]
4. "Wanna Be Startin' Somethin'" (1982) from Thriller [link to live performance]

3. "I Just Can't Stop Loving You" (1987) with Siedah Garrett from Bad [link to live performace with Sheryl Crow (instead of Garrett) who actually was back-up singer on Jackson's Bad Tour]
2. "Human Nature" (1982) from Thriller [link to song playing]
1. "Man in the Mirror" (1987) from Bad - Love the message of this song as well as the song itself. [link to video]
There's my list which includes links to at least the top 12.

The videos are great because in most of them you get to see Jackson's amazing dancing talents. I ranked them based on how I like them and not necessarily the pop culture impact or popular success (which should be obvious based on where "Beat It" and "Billie Jean" rank). What do you think? Did I miss any of your favorites? These songs still sound amazing to me 20-25 years later. Hope you also like the pictures that show Jackson when he still looked relatively normal. Happy 50th Birthday to the King of Pop!
That will do it for another issue of Kickin' it Old School. I don't think there are any other major pop culture icons celebrating their 50th birthdays this year, but if they are we will do a special Kickin' it just for them, too. Thanks for reading and if you enjoy it please come back often and/or tell some friends. If you are interested in reading more of my 80's related issues, please click there for a summary. If you are interested in reading more of my Top 10 lists, please click there for a summary of those. You can also click on the Archives in the upper left hand column or use the blogbar Search Box in the right hand column to find any other issues you may have missed. Peace and much love.
Check this out: I saw this picture and had to agree with the statement. There are not many things you could do to be as cool as this dude...

Quote of the day: "If you enter this world knowing you are loved and you leave this world knowing the same, then everything that happens in between can be dealt with." -Michael Jackson
Download this: I would obviously recommend anything from the list above, but will specifically choose "Human Nature" by Michael Jackson for this issue.