With the season upon us, I thought I would do a special issue of Kickin' it Old School devoted to a Christmas song from the 80's.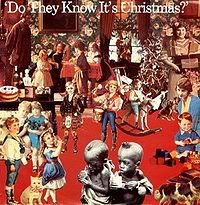 For this issue, I chose the song "Do They Know It's Christmas" by Band Aid.

This song was written by

Bob Geldof (Boomtown Rats) and Midge Ure (Ultravox) in 1984 specifically to raise money for famine relief in Ethiopia. Geldof had a scheduled interview on a popular BBC radio station to promote his new album, but instead he selflessly used his airtime to publicize the idea for the charity single. By the time the musicians were recruited to record "Do They Know It's Christmas" there was already intense media interest in the subject.
Geldof put together a group which they called Band Aid, consisting of leading Irish and British musicians who were among the most popular and recognized of that era. What resulted was a literal who's who of UK 80's musicians. Highlighting this impressive list were Paul Young, Boy George (Culture Club), George Michael (Wham!), Duran Duran, Sting (The Police), Bono (U2), Phil Collins, Spandau Ballet, Bananarama and more. They recorded this iconic song on November 25, 1984.
The only UK stars of that time who were obviously absent recorded messages that were used on the b-side of the album. Those artists include David Bowie, Annie Lennox (Eurythmics), Paul McCartney, Big Country and Holly Johnson (Frankie Goes to Hollywood). Even without these musicians, Geldof had recruited enough star power to make his song special. One thing to keep in mind is that this song preceeded "We Are The World" which was a similar charity benefit song which was the American equivalent released in 1985.
Here is the video for "Do They Know It's Christmas" which was taped during the studio recording of the song:

Other than Bono's famous line "Well, tonight thank God it's them instead of you," I think my favorite part

of this song is Phil Collins drum playing. He did not have any solo lines to sing, but his drumming along with the African rhythm that opens the song (taken from a sample of "The Hurting" by Tears for Fears) really gave this song its soul. Here are the lyrics to the entire song and also specifying who was responsible for singing the solo lines:

(Paul Young)
It's Christmas time
There's no need to be afraid
At Christmas time
We let in light and we banish shade


(Boy George)
And in our world of plenty
We can spread a smile of joy
Throw your arms around the world
At Christmas time

(George Michael)
But say a prayer
Pray for the other ones
At Christmas time it's hard
(Simon LeBon)
But when you're having fun
There's a world outside your window


(Sting) And it's a world of dread and fear
Where the only water flowing is
(Bono joins in)

The bitter sting of tears
And the Christmas bells that are ringing
Are clanging chimes of doom
(Bono only) Well, tonight thank God it's them instead of you.

(Everyone)
And there won't be snow in Africa this Christmas time.
The greatest gift they'll get this year is life
Where nothing ever grows
No rain or rivers flow
Do they know it's Christmas time at all?
Feed the world
Let them know it's Christmas time
Feed the world
Do they know it's Christmas time at all?
(Paul Young)
Here's to you
raise a glass for everyone
Here's to them
underneath that burning sun
Do they know it's Christmas time at all?
Chorus (Everyone)
Feed the world
Feed the world
Feed the world
Let them know it's Christmas time again
Feed the world
Let them know it's Christmas time again
Feed the world
Let them know it's Christmas time again
Repeat
To me the lyrics are a bit pretentious, but I am willing to overlook that since the purpose of the song is well-meaning. The song would not have been nearly as powerful had these fantastic artists not lended their voices and talents to the cause. Still Geldof, Ure and all of Band Aid deserve a lot of credit for their selfless efforts and generosity.
The single was released on November 29, 1984, and
went straight to #1 on the UK pop charts, outselling all the other records in the chart put together. It became the fastest selling single of all time in the UK, selling a million in the first week alone. It stayed at #1 for five weeks and ultimately sold more than three million copies. The single was released just before Christmas with the aim of raising money for the relief of the famine. Geldof's somewhat cautious hope was for £70,000. Ultimately, however, the song raised many millions of pounds and became the biggest-selling single in UK chart history. (It has since been passed by Elton John's tribute to Diana, Princess of Wales, "Candle in the Wind 1997.")
"Do They Know It's Christmas" still ranks as the second best selling single in the UK with 3.51 million copies sold. It ranks ahead of Queen's "Bohemian Rhapsody" (2.13 million) and now behind "Candle in the Wind 1997" (4.8 million). That is quite impressive for an impromptu Christmas song.
"Do They Know It's Christmas" exemplifies the true meaning of Christmas as it promotes "peace on earth and goodwill to all." The song not only raised much needed money for those less fortunate and in need, but maybe just as important, raised awareness to the issue which is still continues to be an issue even today. It is not the lighthearted and whimsical Christmas classic that most of us love, but it is an important part of pop culture in the 80's and still receives airplay each and every holiday season.
That will wrap up this issue of Kickin' it Old School. Thanks as always for reading. Feel free to leave some of your favorite Christmas songs from the 80's in the comments section. If you are interested in reading more of my 80's related issues, please click there for a summary. You can always click on the Archives in the upper left hand column or use the Google Search Box at the top of the right hand column to find any other issues you may have missed. While you are up there in the upper right hand column, please take a moment to rate/vote for Kickin' it (I appreciate it). Peace and much love.
Check this out: I came across a very cool bit of 80's nostalgia. It is called A BetaMaXMas and is definitely worth clicking on that link to check it out. It is a TV which plays 80s holiday programming and it allows you to change channels to find all sorts of fun stuff. Everything from the Grinch and other TV specials to music videos to commercials. The screen is a little fuzzy (on purpose) since this stuff is at least 20 years old, but still very entertaining. Being the 80's fiend that I am, I found this to be one of the coolest things I have come across in a while. Hope you agree.
Quote of the day: "Remember, if Christmas isn't found in your heart, you won't find it under a tree." -Charlotte Carpenter