I came across an interesting 80s fashion trend that might just be on its way back into style.

On December 29th (2008), People.com published a "StyleWatch" featuring some of the latest looks and one was titled "cuffed jeans." This was called different things back in the 80s like "pegged" or "tight-rolled" and was a common trend for jeans for several years that decade.
Below you can see that Amanda Peet, Katie Holmes and Rachel Bilson (from left to right respectively) take a casual cue from the 80s in their distressed and pegged jeans.
Could this 80s trend be coming back into vogue? Looks like it might to me.
I came across this sort of odd video by the musical group Relient K which demonstrates how to tight-roll your jeans. It was appropriate for this topic, so here it is:
That started to make me think of the other 80s fashions that could start to come back:
- Shoulder pads

- Blue eye shadow, mascara and/or eyeliner
- Converse All-Star Chuck Taylor shoes
- Neon colors
- Teased hair (lots of Aqua Net)
- Collar up on your polo shirt
- Swatch watches (I still wear mine sometimes)
- Leggings or stirrup pants
- Jelly sandals
- Slouch socks or no socks
- Acid wash, stone wash, ripped jeans
- Fat/thick laces for your shoes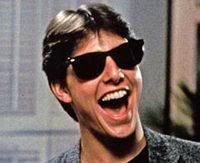 - Rayban Wayfarer sunglasses
- Michael Jackson Thriller jacket


- Leg warmers
- Side pony tail
- Parachute pants and Flight pants
- Polka dots
- Spandex shorts or pants under skirts
- Jelly bracelets and slap bracelets
- Guess jeans, Jordache jeans, Calvin Klein jeans
- Skinny ties (for men or women including knit with squared off bottom)
- Run-DMC Adidas shoes
- Ocean Pacific (O.P.)
- Vaurnet, Esprit, Benetton


- Off-the-shoulder sweatshirts or blouses
- Members Only jackets
- Banana clips


- Checker-board Vans shoes
- Mesh shirts
- Kangol hats
- Suede Puma shoes and Puma windbreakers
- Oakley Frogskins
- Clothing with Japanese symbols and/or writing on them
- Long dangling earrings and mismatched earrings

- Fingerless gloves or lace gloves
- Clipping or tying an oversized t-shirt up on one side
- Aviator jackets and sunglasses (Top Gun)
- Docksiders (Sebago, Eastland, Sperry) and Penny-loafers


- Miami Vice look
- Comb sticking out of back pocket
- Button-fly jeans
- Hard Rock Cafe t-shirts
- Coca-cola Branded clothing
- Crimped hair
- Bandanas tied around leg
- Jams shorts
- Friendship pins
- Argyle socks


- Buttons/pins on your jacket
- Denim jackets
- Feather roach clips
- L.A. Gear
- Units Knit clothing
- Vision Street Wear and Airwalk
- Z Cavaricci pants
That's all I could think of right now. Did I miss any that you feel were memorable? As much of an 80s fan as I am, believe me, I am NOT condoning that any of these fashion trends come back in the near future. I love everything about the 80s, but fashion was definitely not one of that decade's strong points. What do you think?
That will do it for this issue of Kickin' it Old School. I need to go practice tight-rolling my jeans (if I remember how). Thanks as always for reading. If you are interested in reading more of my 80s related issues, please click there for a summary of those. You can also click on the Archives in the upper left hand column or use the Google Search Box at the top of the right hand column to find any other issues you may have missed. If you are a fan of Kickin' it, PLEASE CLICK ON THE FACEBOOK LOGO in the upper right hand column. This will take you to the new Fan Page where I ask you to then click on "Become a Fan". If you are not a Facebook member yet, please consider joining and registering as a fan at that page. Peace and much love.
Check this out: I thought this picture was a little ironic. What do you think?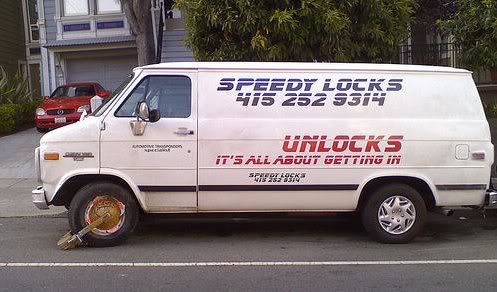 Quote of the day: "I am only one, but I am one. I cannot do everything, but I can do something. And I will not let what I cannot do interfere with what I can do." -Edward Everett Hale