I think most people know that actor Patrick Swayze
is battling pancreatic cancer. Most are pulling for him to win that difficult battle and some signs pointed to that happening with a new television series, The Beast, set to debut soon. Now, there is a recent story that Swayze needed to be hospitalized. Here is that story from newsday.com (which has a video to watch too if you click on the link for the original article).

Actor Patrick Swayze hospitalized for pneumonia
Los Angeles Times
5:45 PM EST, January 10, 2009


HOLLYWOOD -- Patrick Swayze, who has been undergoing treatment for pancreatic cancer, checked into a hospital Friday morning.

Swayze, 56, was supposed to appear on a panel at the Television Critics Association Press Tour in Los Angeles to promote his new A&E show, "The Beast." But when introducing the panel, A&E's Abbe Raven announced that Swayze has pneumonia as a result of the chemotherapy treatments he has been receiving.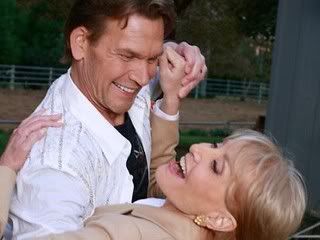 Earlier this week, Swayze appeared on "20/20" in an interview with Barbara Walters, his first TV appearance since he was diagnosed with the often deadly cancer last March. He told Walters that statistically he might have two years left to live. "You can bet that I'm going through hell," Swayze told Walters of his treatment. "And I've only seen the beginning of it."

As that article mentioned, this hospitalization came on the heels of his emotional and inspirational interview with Barbara Walters. I know there are thousands of people out there going through a similar battle, but there is something about this Swayze story that really inspires and seems to put things into perspective. Here is video of a portion of the Barbara Walters interview with Patrick Swayze:

Now, I figured I would include a Top 10 list for

Patrick Swayze in this issue. As usual, I think I will just focus on the 80s for this list, so films like Ghost and Point Break won't be eligible. The only problem is that I do not have 10 movies to put on the list just for the 80s, so I am only going to give you my top 5. So, here is OLD SCHOOL'S TOP 5 PATRICK SWAYZE MOVIES OF THE 80s:
5. Uncommon Valor (1983) as "Kevin Scott" - A minor role in this film which starred Gene Hackman
4. Red Dawn (1984) as "Jed" - This movie was a result of the Cold War and depicted a World War III situation. It also starred other young actors like Lea Thompson, C. Thomas Howell, Charlie Sheen and Jennifer Grey.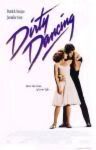 3. Dirty Dancing (1987) as "Johnny Castle" - This is obviously more of a chick flick and if a female was making this list it would no doubt rank at #1. Swayze sings on the soundtrack with the song "She's Like the Wind" which was surprisingly a success hitting #3 on the Billboard Hot 100. The soundtrack album was #1 on the charts for 19 weeks. The iconic dance scene at the end ranks on my popular Best Dancing Scenes from 80s Movies list.

2. Road House (1989) as "Dalton" - This movie has always been sort of a guilty pleasure of mine because it is not very good, but I have still seen it more times than I would like to admit. It has all of the components of a cheesy 80s action drama. Here is a link to watch a trailer for this movie.

1. The Outsiders (1983) as "Darrel 'Darry' Curtis" - This is one of my very favorite movies of the 80s and will rank highly on that list when it is published. The film is based on the fantastic novel by S.E. Hinton. Swayze plays the older brother who has to take on the responsibility at a young age of raising his two younger brothers after their parents die in a car crash. Here is a link to watch a promotional trailer and you can see the tremendous cast that worked with Swayze to make this special movie.
There's my list.

It does not include his critically acclaimed work as "Orry Main" in the 1985 television Civil War mini-series North and South. His work in the 80s was memorable, but probably my most memorable Swayze moment was in the 1990 episode of Saturday Night Live which he hosted. The skit was a Chippendale's Dancer Audition against the late Chris Farley. I start laughing just thinking about it. I don't know how Swayze is able to keep a straight face through the skit. I could not find a video online which shows the original skit which was set to "Working for the Weekend" by Loverboy, but I did find a video which shows a short portion. Here is that video below (by way of Anderson Cooper) though you lose some of the funniest parts and Swayze's monologue at the end:

I will continue to pull for Patrick Swayze in his battle against cancer. If you want to find out more about pancreatic cancer, here is a link to the Pancreatic Cancer Action Network. I truly hope they find a cure to all cancers in my lifetime.
That will do it for this issue of Kickin' it Old School. Thanks as always for reading. If you are interested in reading more of my 80s related issues, please click there for a summary of those. If you are interested in reading more of my Top 10 lists, please click there for a summary. You can also always click on the Archives in the upper left hand column or use the Google Search Box at the top of the right hand column to find any other issues you may have missed. If you are a fan of Kickin' it, PLEASE CLICK ON THE FACEBOOK LOGO in the upper right hand column. This will take you to the new Fan Page where I ask you to then click on "Like". Even if you are not a Facebook member yet, please consider joining and registering as a fan at that page. Let other 80s fans know about it as well! Peace and much love.
Check this out: One of the most iconic pieces of pop culture from the 80s is the music video (short film) for "Thriller" by Michael Jackson. It ranks #1 on my popular Top Music Videos of the 80s list - which, incidentally, you should check out if you have not before. I came across a video from 2007 featuring Philippines prison inmates performing the dance from the "Thriller" video. I thought I would share it here in case you have never seen it yourself. Enjoy!
Quote of the day: "It's amazing...The love inside. You take it with you." -Patrick Swayze as character "Sam Wheat" in Ghost (1990)