Since my Grammy recap from last year was a surprisingly popular issue, I thought I would do another quick recap this year of the 51st Annual Grammy Awards held last night (February 8, 2009). I have made no secret that I am not all that impressed with the quality of music out there these days, so you can imagine that I am not all that impressed with the Grammy nominated tunes. That is true, but the show they put on is a different story.

I was actually quite impressed with the show last night. Last year's show was celebrating the 50th year for the Grammy's and had some very nice moments. This year's show was even better (though my favorite part of last year's show was Alicia Keys and she was sadly not involved in this year's show at all). I am only going to hit the highlights and point out anything that I felt was particularly noteworthy. Depending on your taste in music, your views of noteworthy might be different than mine, but hopefully you will enjoy this anyways.

As I said, the actual awards were not that important to me.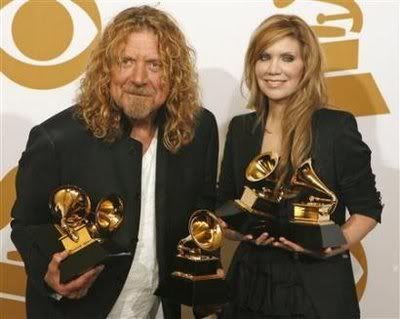 The big winners were Robert Plant & Alison Krauss with their collaboration picking up five awards including Record of the Year and Album of the Year. Coldplay won Song of the Year among their three awards. Rapper Lil Wayne swept through most of the rap categories taking home four awards. I was happy to see John Mayer win two awards including Best Male Pop Vocal. If you want to see all of the nominees and winners, click on this link to see that list.
The performances are what I really enjoyed.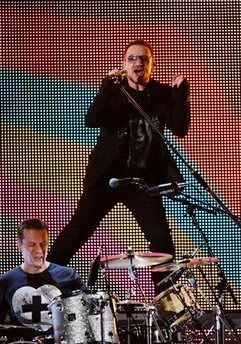 The show opened with U2 performing their latest single "Get On Your Boots" which is expected since they are promoting the new album, but I would have much rather seen them perform one of their classics too. Afterwards, Whitney Houston walked out to present the first award to a mostly standing ovation including Sir Paul McCartney among others.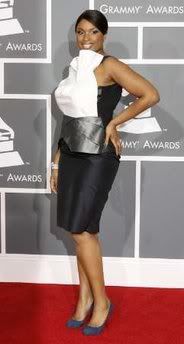 Houston presented Best R&B Album to Jennifer Hudson who would later put her amazing voice on display, but I have to comment on her dress. I do not claim to be a fashion expert by any means, but it looked to me like she had a napkin sewn to the front of her dress.
Next was one of my favorites of the night. Justin Timberlake joined Al Green to perform "Let's Stay Together" along with help from Boyz II Men and Keith Urban.
Here is a great quote I read which described this first class performance, "Green's uplifting vocals - paired with Timberlake's silky voice, Boyz II Men's able harmonies and a superbly improvised guitar solo from Urban - resulted in the type of knockout performance only seen on the Grammy Awards." Here is a link to watch this fantastic moment.
From what I heard, Justin was a last minute fill in for Chris Brown who was supposed to be in that performance. Brown and his girlfriend Rihanna did not attend the Grammy's after Brown was arrested for a domestic disturbance. This domestic abuse incident has been confirmed to have involved Rihanna who also was scheduled to perform at the show. Here is an article on the situation and I am sure more details will continue to be made available. This is a shame because these pop superstars both had relatively clean images prior to this incident.
The next performance was pretty cool too.
Coldplay's Chris Martin started at a piano by himself to play their song "Lost" and then was joined part way through by Jay-Z to perform a smooth rap. After that song was done, Martin left his piano to join the rest of the band to perform the Song of the Year winning "Vida La Vida." Here is a link to watch this quality performance.
There were some interesting combinations paired together for unique performances.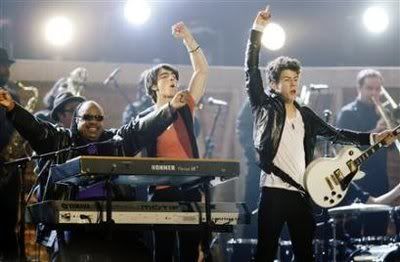 Sixteen-year-old Miley Cyrus joined her friend 19-year-old Taylor Swift for one. Paul McCartney would be joined by Foo Fighters drummer Dave Grohl for a rendition of the Beatles classic "I Saw Her Standing There." The Jonas Brothers were joined by the legendary Stevie Wonder to perform a JoBros song and then a version of Wonder's "Superstition." Radiohead, who has not performed on live U.S. television in about 9 years, was joined by the USC Marching Band on their song "15 Step."
Then there was the "Hip Hop Summit of All Time" which is what it was referred to during the show introductions. That is a joke to me. This included Lil Wayne, T.I., Kanye West and Jay-Z taking the same stage to perform "Swagga Like Us."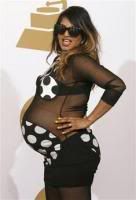 That is a strong representation of Hip Hop today, but a far, far cry from the best of all time. L.L. Cool J was sitting down in the audience for crying out loud and would deserve to be up there before all four of those guys. Speaking of Jay-Z, it was strange that his beautiful wife Beyonce was not in attendance. Another strange part of this performance was that a very pregnant M.I.A. (see picture) performing on her due date for some reason joined those fellows. This was far from the "All Time Hip Hop Summit" and the performance did nothing for me. To see about real old school hip hop, check out my list of the Top Old School Rap Songs of the 80s.
There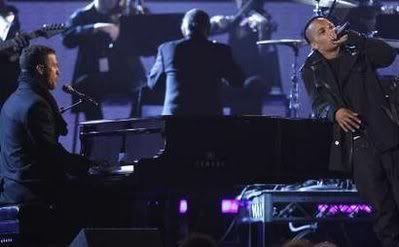 were a few more performances that I really enjoyed. Justin Timberlake returned to the stage with rapper T.I. to perform "Dead and Gone." I am a big fan of Timberlake and this performance was quite similar to Chris Martin with Jay-Z earlier in the evening. Here is a link to watch that one.
The Four Tops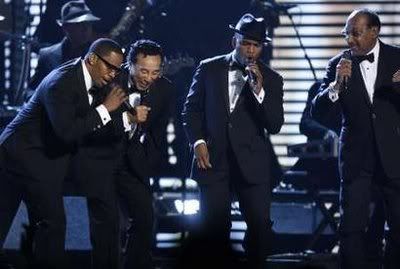 were one of several recipients of Lifetime Achievement Awards. The last living member of the group, Duke Fakir, was joined by the great Smokey Robinson along with relative newcomers Jamie Foxx and Ne-Yo to perform a medley of Four Tops hits. The four did a fantastic job and here is a link to watch this great moment, too.
Neil Diamond
was named MusiCares Person of the Year and performed a crowd-pleasing rendition of "Sweet Caroline" which was very nice. It was very cool to see all of the musicians bouncing along to the song including rap artists, country artists and almost everybody in between. It ended with a standing ovation for Diamond which was also cool. After a video montage honoring those who had passed away from the industry over the past year there was a special tribute to Bo Diddley who died in June. This was a very impressive grouping of guitar greats B.B. King, Buddy Guy, Keith Urban and John Mayer. Very nice.
That's all I have on the performances,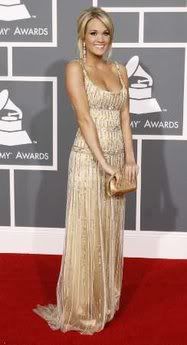 but I thought I should at least throw a couple comments out regarding the fashion.
I am really not a fan of either of their music, but I thought both Carrie Underwood (as usual) and Katy Perry ("I Kissed A Girl and I Liked It") were hot. There were many other hot women, but those two seemed to stand out as far as the musicians go.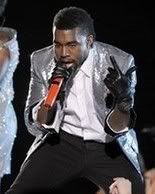 One last fashion comment on Kanye West. Last year, he sported the shutter shades and this year, I thought he looked very 80s especially during one of his performances. See the picture here. The haircut, the jacket, everything had an 80s vibe to me. I am not a big Kanye fan, but you know me, I appreciate the 80s vibe.
That will wrap up this special Grammy issue of Kickin' it Old School. I will get back to my normal 80s topics soon. You can also always click on the Archives in the upper left hand column or use the Google Search Box at the top of the right hand column to find any past issues you may have missed. I appreciate you passing the word and letting others know about Kickin' it. Also, if you are a fan, PLEASE CLICK ON THE FACEBOOK LOGO in the upper right hand column. This will take you to the new Fan Page where I ask you to then click on "Become a Fan". Even if you are not a Facebook member yet, please consider joining and registering as a fan at that page. Peace and much love.

Check this out: This made me chuckle, so thought I would share...
NOTICE TO ALL EMPLOYEES!
All personnel will now be required to look happy while working.
Company-approved supplies will be provided to each employee at little or no cost.
- Workloads getting to you?
- Feeling stressed?
- Too many priorities and assignments?
- No raise?
Here is the new low-cost, company-approved solution to cope with multiple priorities and assignments...
Each employee will be supplied 2 paper clips and rubber bands. (See Fig 1.)
Assemble items as shown in Fig 2.
Apply as shown in Fig 3.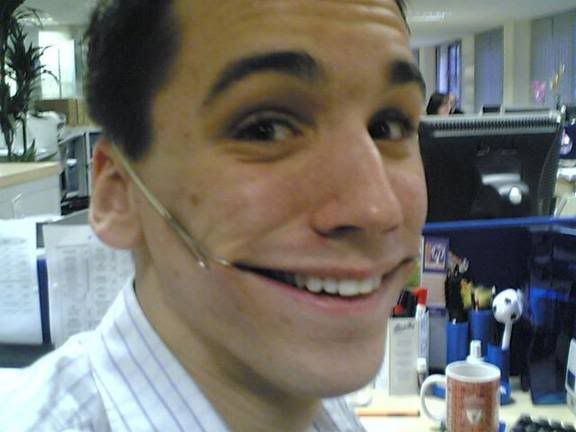 Enjoy your day.
This new office equipment will help you to reach the end of a productive work day with a smile on your face no matter how many tough days you had!

Doing all we can,
The Management

Quote of the day: "There is no feeling, except the extremes of fear and grief, that does not find relief in Music." -George Eliot