I was recently watching the often funny and sometimes disturbing show Family Guy. I have seen every episode since it began in 1999 and this was a past episode I was watching in syndication on one of the several channels that now carry the show. There was a scene in which "Stewie" was lamenting about a girl and writing a song to express his emotions. "Brian" came in to witness it and comments on how unoriginal it was to write a song with a girl's name as the title. Here is the scene for you to watch yourself…
After watching that, it made me start thinking about songs from the 80s with girl names in the titles. I decided that would be a good topic for a top 10 list, but I came up with way more than just 10. I am going to give you my top 25 with links to watch the videos for the top 10. Since many are simply titled after a girl's name, many of these same songs appeared on my popular Top 80s Songs with One Word Titles list. Here is OLD SCHOOL'S TOP 10 SONGS FROM THE 80s WITH GIRLS NAMES IN THE TITLE (+ Bonus 15):
25. "Darling Nikki" (1984) by Prince
24. "Who's Holding Donna Now" (1985) by DeBarge
23. "Veronica" (1989) by Elvis Costello with Paul McCartney
22. "Carrie" (1986) by Europe
21. "Nikita" (1985) by Elton John – This song features backing vocals by George Michael and Nik Kershaw
20. "Elvira" (1981) by Oak Ridge Boys – Cover of the 1966 song written by Dallas Frazier and also recorded in 1970 by Kenny Rogers
19. "Venus" (1986) by Bananarama
18. "Luka" (1987) by Suzanne Vega
17. "Sara" (1985) by Starship
16. "Mony Mony" (original release 1981, live version 1987) by Billy Idol – Cover of the 1968 song by Tommy James & the Shondells
15. "Ah! Leah!" (1981) by Donnie Iris
14. "Joanna" (1983) by Kool & the Gang

13. "Sussudio" (1985) by Phil Collins – Not a common girl's name because it was originally just an improvised lyric that ended up sticking in the final version of the song
12. "Amanda" (1986) by Boston
11. "Gloria" (1982) by Laura Branigan
10. "Janie's Got a Gun" (1989) by Aerosmith [link to video]
9. "Oh Sheila" (1985) by Ready For The World [link to video]
8. "Valerie" (original release 1982, remix in 1987) by Steve Winwood [link to video]
7. "867-5309 (Jenny)" (1982) by Tommy Tutone [link to video] – Link to past issue on the phone number being sold on eBay
6. "Rio" (1982) by Duran Duran [link to video] – Ranks on my Top Duran Duran Songs from the 80s list

5. "Oh Sherrie" (1984) by Steve Perry [link to video]
4. "Come on Eileen" (1982) by Dexy's Midnight Runners [link to video] – Was ranked #1 on VH1's "100 Greatest One Hit Wonders of the 80s" list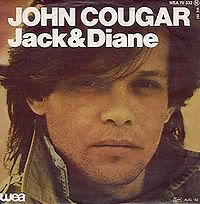 3. "Jack and Diane" (1982) by John Cougar Mellencamp [link to video] – Ranks highly on my Top John Mellencamp Songs list

2.(tie) "Rosanna" (1982) [link to video] & "Pamela" (1988) [link to video] by Toto

1.(tie) "Billie Jean" (1982) [link to video] & "Dirty Diana" (1987) [link to video] by Michael Jackson – Both ranked on my Top Michael Jackson Songs from the 80s list
There's my list. Any songs that you think I missed? If so, please be sure to leave down in the comments section. This list just covers the 80s, but as "Brian" pointed out in that Family Guy episode, girl names are a major source of song subjects/titles now and for as long as you can remember.
That'll put an end to this issue of Kickin' it Old School. Thanks so much for reading. If you are interested in reading more of my 80s related issues, please click there for a summary of those. If you are interested in reading more of my Top 10 lists, please click there for a summary. You can also always click on the Archives in the upper left hand column or use the Google Search Box at the top of the right hand column to find any other issues you may have missed. If you are a fan of Kickin' it, PLEASE CLICK ON THE FACEBOOK LOGO in the upper right hand column. This will take you to the Fan Page where I ask you to then click on "Like". Even if you are not a Facebook member yet, please consider joining and registering as a fan at that page. Let other 80s fans know about it as well! Peace and much love.
Check this out: Here is an interesting ad that I recently saw. It is for a product called the "Boyfriend Body Pillow" and though I can understand the theory behind it, I can't imagine anybody actually purchasing this item. Either way, it is quite amusing and I wanted to share it with you here…
Quote of the day: "I hold it true, whate'er befall; I feel it, when I sorrow most; 'Tis better to have loved and lost, Than never to have loved at all." -Alfred Lord Tennyson