To me personally, there was no greater influence over the 80s decade from a pop culture standpoint than movie maker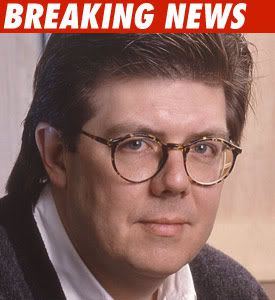 John Hughes. Hughes died suddenly today (August 6, 2009) at the relatively young age of 59. He has not really made a meaningful film contribution in over a decade, but I still mourn his death as much as I did that of Michael Jackson about 6 weeks earlier. I am feeling heartbroken.

John Hughes
was an incredible writer, director and producer who came along at the perfect time and made seemingly perfect movies to a kid growing up in the 80s. If you are a regular reader of Kickin' it Old School (and I hope you are), John Hughes and his iconic films have been referenced often with reverence throughout my pages of 80s memories and nostalgia.
He only directed eight of his films, but has writing credits on 38 of them. In that list are some of the greatest movies of the 80s decade and some of my favorite movies of all time. I thought to honor Hughes that I would give you a Top 10 list of 80s movies that he was responsible for. So I will get right to it, here is OLD SCHOOL'S TOP 10 MOVIES OF THE 80s WRITTEN BY JOHN HUGHES:
10. Uncle Buck (1989) - This was the second to last film that Hughes would direct (the last was 1991's Curly Sue).
9. Pretty in Pink (1986) - One of three Hughes' films to star Molly Ringwald.

8. The Great Outdoors (1988) - One of eight Hughes' films to have John Candy in them.
7. National Lampoon's Vacation (1983) - This was the third film written by Hughes to make it to the screen (after 1982's National Lampoon's Class Reunion and 1983's Mr. Mom).
6. Sixteen Candles (1984) - This was the impressive & hilarious directorial debut for Hughes.

5. Weird Science (1985) - One of four Hughes' films to star Anthony Michael Hall.
4. Planes, Trains & Automobiles (1987) - Read my special Thanksgiving issue on this classic.

3. Ferris Bueller's Day Off (1986) - Read my Preview Review issue on this fantastic film.
2. The Breakfast Club (1985) - This is the film I connect with the most emotionally and is sure to be a future issue of Preview Review to come.
1. National Lampoon's Christmas Vacation (1989) - Probably not on top of most people's lists, but clearly one of my very favorites. Read my special Christmas issue on this hilarious holiday gem.

There's my list. And that does not even include Home Alone which was released in 1990. I plan on watching each and every one of those movies over the coming days and I would highly recommend you do the same. You should not need an excuse, but what better reason to enjoy these classics by this legendary filmmaker.
I would have to say that it is very likely that my 80s obsession and thus this very blog would not exist if it were not for the incredible inspiring films of John Hughes. I obviously did not have the honor of knowing him personally, but I feel like he knew me. I would like to take this opportunity to thank him for all those great films he gave us and offer my condolences to his family. Though he is now gone, his movies will thankfully live on forever. Rest in peace. This picture is what I feel makes the best way to end this issue -fade out with Simple Minds' "Don't You (Forget About Me)" playing...

That's what I have for this issue of Kickin' it Old School. Thanks as always for reading. If you are interested in reading any of my other 80s related issues, please click there for a summary of those. You can also always click on the Archives in the upper left hand column or use the Google Search Box at the top of the right hand column to find any other issues you may have missed. If you are a fan of Kickin' it, PLEASE CLICK ON THE FACEBOOK LOGO in the upper right hand column. This will take you to the Fan Page where I ask you to then click on "Become a Fan". Even if you are not a Facebook member yet, please consider joining and registering as a fan at that page. You can also now follow Old School on Twitter by clicking on the FOLLOW ME ON TWITTER LOGO also in the upper right hand column. This will take you the page and you can just click on the box that says "Follow". Let other 80s fans know about it as well! Peace and much love.
Check this out: With the new G.I. Joe movie being released this week, I came across this humorous chart. If you watched the cartoon like most kids did back in the 80s, you should remember the slogan they would work in to every episode. It went "Now you know and knowing is half the battle." Here is a pie chart representing that sentiment...

Quote of the day: "Life moves pretty fast. If you don't stop and look around once in a while, you could miss it." -Ferris Bueller as played by Matthew Broderick in Ferris Bueller's Day Off (1986) written by John Hughes