Stumbling around the internet, I came across an effort that I felt needed recognition. This guy put together a fairly comprehensive list of all of the

80s songs which include a saxophone solo at some point during the song.
Here is what he says as an introduction on his site…
"At some point in the 80s, popular music started incorporating saxophone solos as some kind of fad. Some of them are fine, but most of them are ridiculous to have in the songs. I have attempted to separate the quality and appropriateness of the solos from what I think of each song as a whole (I still really like most of these songs, even the ones with low grades)."
He goes on to list each song, rate the saxophone solo and include a link to listen to the actual sax solo from each song as well. Quite an impressive effort! Here is the link to this site, so you can see all 67 songs on his list and be able to listen to the sax solo in each of them. I highly recommend you check it out and have fun listening to these solos many of which I never really paid much attention to before.
The list seems to only include songs that have an actual saxophone solo and not just songs that include saxophone in the band. I do not have the expertise to rate the quality or appropriateness of the sax solos in the songs and even if I could, it would be difficult to separate them to judge them separately from many of these songs which I enjoy so much. So I decided just to give you a top 10 list of my favorite songs from his list. My top 10 will not take into account the quality of the solo, but simply allow songs to qualify for the list by having a sax solo. The top 10 will also include links to the video if you want to listen to the whole song.
So with that, here is OLD SCHOOL'S TOP 10 SONGS FROM THE 80s WITH SAX SOLOS IN THEM (+ Bonus 10):
Honorable Mention. Alf Theme Song (Season 3-4) – [link to video]

I thought it was funny that he included this on his list. I am a fan of the 80s TV Theme songs in general evidenced by my popular Favorite TV Theme Songs list. If you have not read that one before, click on the link and enjoy some of my preferred choices. Alf did not make that list, but is still a worthy effort so I give it an honorable mention here.
20. "The Captain of Her Heart" by Double
19. "Lost in Emotion" by Lisa Lisa & Cult Jam
18. "Super Freak" by Rick James
17. "Electric Blue" by Icehouse
16.(tie) "What You Need" by INXS & "Harden My Heart" by Quarterflash
15. "I Wanna Go Back" by Eddie Money

14. "It's Still Rock and Roll to Me" by Billy Joel
13. "Fortress Around Your Heart" by Sting
12. "Never Surrender" by Corey Hart

11. "The Glamorous Life" by Sheila E.
10. "I Can't Go For That (No Can Do)" by Hall & Oates [link to video]
9. "Dancing in the Dark" by Bruce Springsteen [link to video]
8. "Rio" by Duran Duran [link to video]
7. "Who Can It Be Now?" by Men at Work [link to video]
6. "Modern Love" by David Bowie [link to video]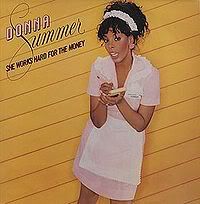 5. "She Works Hard For the Money" by Donna Summer [link to video]
4. "You Belong to the City" by Glenn Frey [link to video]

3. "Dance Hall Days" by Wang Chung [link to video]
2. "True" by Spandau Ballet [link to video]

1. "If You Leave" by O.M.D. [link to video]
There's my list. Remember, I was only using the songs on the sax solos list and my rankings had nothing to do with the saxophone solo itself. In fact, many of the songs on my list received very poor grades for the quality or appropriateness of the saxophone, but I still love them anyways. That is only 20 of the 67 songs on his list, so be sure to go check out the others and see how the sax solos graded out. I thought this was an interesting angle on music from the 80s and I wanted to be sure to share with all of you. Hope you enjoyed it and maybe we will see a sax solo revival in the near future.
That's all for this issue of Kickin' it Old School. Thanks as always for reading. If you are interested in reading any of my other 80s related issues, please click there for a summary of those. If you are interested in reading more of my Top 10 lists, please click there for a summary. You can also always click on the Archives in the upper left hand column or use the Google Search Box at the top of the right hand column to find any other issues you may have missed. If you are a fan of Kickin' it, PLEASE CLICK ON THE FACEBOOK LOGO in the upper right hand column. This will take you to the Fan Page where I ask you to then click on "Become a Fan". Even if you are not a Facebook member yet, please consider joining and registering as a fan at that page. You can also now follow Old School on Twitter by clicking on the FOLLOW ME ON TWITTER LOGO also in the upper right hand column. This will take you the page and you can just click on the box that says "Follow". Trying to send daily 80s tweets out via Twitter, so be sure to follow me there. Let other 80s fans know about it as well! Peace and much love.
Check this out: Here is an interesting photo from my friends over at failblog. This van for Mitchell's Wholesale Provedores sells something entirely different when the door slides open…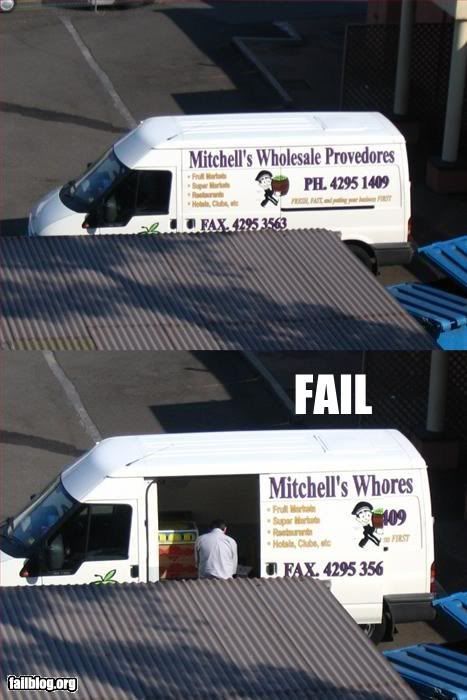 Quote of the day: "Nothing else can quite substitute for a few well-chosen, well-timed, sincere words of praise. They're absolutely free and worth a fortune." – Sam Walton, Founder of Wal-Mart