This is the twenty-first official issue of my 80s Movie Trailer of the Week feature I call "Preview Review." Since this is a special holiday issue, I will include the usual "Check this out" and "Quote of the day" sections at the end (though normally Preview Review issues do not). I apologize for the lack of issues lately, but it has been difficult to find the time. I will try to get a few more up for the holidays.

Last December,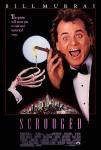 I did special issues on one of my most memorable holiday songs, television specials and movies from the 80s. I did a special issue on my favorite holiday movie, National Lampoon's Christmas Vacation (which is worth going back to check out again) that just happened to be released at the end of my favorite decade. This year, I wanted to pick another of my favorite holiday films from the 80s and I chose the 1988 comedy Scrooged.
Scrooged is an adaptation of the Charles Dickens story A Christmas Carol directed and produced by Richard Donner. It stars the incomparable Bill Murray as "Frank Cross" who has turned into the stereotypical jerk and has forgotten the true meaning of the Christmas season. He is visited by the traditional three ghosts and realizes he needs to change his ways. Here is the original trailer for Scrooged...

Bill Murray plays the "Scrooge" character as only Bill Murray can. The movie culminates with Murray's character making an improvised monologue on live TV imploring the viewers to not make the same mistake he made ("The miracle can happen for you!"). Here is a video including this monologue...

Even in this modernized version, the message still resonates. One of the characters even says the iconic Tiny Tim line of "God bless us, every one." The film closes with everybody singing the song "Put a Little Love in Your Heart" and the song plays during the end credits as well. The song was originally performed by Jackie DeShannon back in 1968, but the Scrooged version is performed by Al Green and Annie Lennox. This new version would surprisingly reach #9 on the Billboard Hot 100 in 1988.
As I included in last year's issue, I wanted to highlight some of the hilarious dialogue featured in the film. Here is OLD SCHOOL'S TOP 5 FAVORITE LINES FROM SCROOGED:

5. "I want to see her nipples." "But this is a CHRISTMAS show." "Well, I'm sure Charles Dickens would have wanted to see her nipples." "You can barely see them nipples." "See? And these guys are REALLY looking."
4. "I can't get the antlers glued to this little guy. We tried Crazy Glue, but it don't work." "Did you try staples?"
3. "I never liked a girl well enough to give her 12 sharp knives."

2. "The bitch hit me with a toaster."
1. "It's Christmas Eve. It's the one night of the year when we all act a little nicer, we smile a little easier, we cheer a little more. For a couple of hours out of the whole year we are the people that we always hoped we would be."
That's all for this holiday issue of Kickin' it Old School. Thanks as always for reading. If you are interested in reading any of my other 80s related issues, please click there for a summary of those. You can also always click on the Archives in the upper left hand column or use the Google Search Box at the top of the right hand column to find any other issues you may have missed. If you are a fan of Kickin' it, PLEASE CLICK ON THE FACEBOOK LOGO in the upper right hand column. This will take you to the Fan Page where I ask you to then click on "Become a Fan". Even if you are not a Facebook member yet, please consider joining and registering as a fan at that page. You can also follow Old School on Twitter by clicking on the FOLLOW ME ON TWITTER LOGO also in the upper right hand column. This will take you the page and you can just click on the box that says "Follow". I am sending daily 80s tweets, so sign up to get those. Let other 80s fans know about it as well! Peace and much love.
Check this out: Someone just sent me this, so I thought it was worth sharing. Read the following before looking at the picture...
Well, there is good news and bad news about my Christmas decorations this year. The good news is that I truly out did myself this year with my decorations. The bad news is that I had to take them down after just 2 days. I had more people come screaming up to my house than ever. Great stories. But two things made me take it down.
First, the cops advised me that it would cause traffic accidents as they almost crashed when they drove by. Second, a 55 year old lady grabbed the 75 pound ladder, almost killed herself putting it against my house and didn't realize it was fake until she climbed to the top (she was not happy). By the way, she was one of many people who attempted to do that. My yard couldn't take it either. I have more than a few tire tracks where people literally drove up my yard.
Kind of feel like I gave in to the man by taking him down but my neighbor did confirm two near miss accidents on the busy street next to my house. I think I made him too real this time. So it was fun while it lasted. See what it looked like below:
Quote of the day: "I will honour Christmas in my heart, and try to keep it all the year. I will live in the Past, the Present, and the Future." -Charles Dickens' A Christmas Carol