There has been a lot of the attention being paid to the film Avatar
which has moved up to #2 (at the time of this posting) on the all-time U.S. domestic gross box office earnings list behind another James Cameron film, 1997's Titanic. I am not a fan of Titanic and, though I have not seen it yet, I don't think I would be a fan of Avatar either. Both films' box office achievement is quite impressive, but I recently saw a list which adjusts box office results for inflation and gives a more accurate comparison.

At the website boxofficemojo.com, they estimate the number of tickets sold and then multiply that by the average box office ticket now which is $7.35 to get the adjusted comparison.

According to the site, adjusting for ticket price inflation is not an exact science and should be used to give you a general idea of what a movie might have made if released in a different year, assuming it sold the same number of tickets. Since these figures are based on average ticket prices they cannot take into effect other factors that may affect a movie's overall popularity and success. Such factors include but are not limited to: increases or decreases in the population, the total number of movies in the marketplace at a given time, economic conditions that may help or hurt the entertainment industry as a whole (e.g., war), the relative price of a movie ticket to other commodities in a given year, competition with other related medium such as the invention and advancements of Television, VHS, DVD, the Internet, etc. Still, this method best compares "apples to apples" when examining the history of box office earnings.
As a result, Avatar which currently ranks #2 on the unadjusted list falls all the way down to #26 when you adjust for inflation.
Titanic which ranks #1 on the unadjusted list falls down to #6. 1939's Gone With the Wind only ranks at #99 on the unadjusted list with just under $200 million, but jumps all the way up to #1 when you adjust for inflation incredibly taking it over $1.4 billion. Here are the Top 5 movies on the list adjusted for inflation:
1. Gone With the Wind (1939) - $1.485 billion
2. Star Wars (1977) - $1.309 billion
3. The Sound of Music (1965) - $1.047 billion
4. E.T.: The Extra-Terrestrial (1982) - $1.043 billion
5. The Ten Commandments (1956) - $963 million
The average movie ticket price in 1939 when Gone With the Wind was originally released was just $0.23!
By 1982 when E.T. was released it was still just $2.94 and by the end of the 80s it would go up another dollar to $3.97 in 1989. By the end of the following decade it would rise to $5.08 in 1999 and, as mentioned before, is now all the way up to $7.35 at the end of 2009.
As noted above, 1982's E.T.: The Extra-Terrestrial is the highest ranking film from the 80s on this list at #4. That includes its re-releases in both 1985 and 2002.
Here are the other films from the 80s to make the Top 100 on the All-Time U.S. Domestic Gross Box Office Earnings Adjusted for Inflation:
12. The Empire Strikes Back (1980) - $721.6 million
14. Return of the Jedi (1983) - $691.3 million
16. Raiders of the Lost Ark (1981) - $647.8 million
32. Ghostbusters (1984) - $519.9 million


40. Beverly Hills Cop (1984) - $493.6 million
49. Batman (1989) - $462.7 million
59. Back to the Future (1985) - $434.0 million
63. Tootsie (1982) - $418.2 million
84. Indiana Jones and the Temple of Doom (1984) - $393.5 million
94. Indiana Jones and the Last Crusade (1989) - $363.2 million
100. Top Gun (1986) - $350.2 million
You can go to boxofficemojo.com to see the rest of the list if you are interested. It seems like common sense to me that movie box office success should be normalized like this or simply ranked by attendance numbers rather than dollars. It really puts the box office achievements in perspective when you recognize that the average cost of a movie now is over $4.00 more (+150%) than in early 80s and $7.00 more (+3095%) than it was back in 1939 when Gone With the Wind was released. Not sure where Avatar will eventually rank on this list, but I think it is only right to put its achievements into proper historical perspective.
That'll do it for this short issue of Kickin' it Old School. Thanks as always for reading. If you are interested in reading any of my other 80s related issues, please click there for a summary of those. You can also always click on the Archives in the upper left hand column or use the Google Search Box at the top of the right hand column to find any other issues you may have missed. If you are a fan of Kickin' it, PLEASE CLICK ON THE FACEBOOK LOGO in the upper right hand column. This will take you to the Fan Page where I ask you to then click on "Become a Fan". Even if you are not a Facebook member yet, please consider joining and registering as a fan at that page. You can also follow Old School on Twitter by clicking on the FOLLOW ME ON TWITTER LOGO also in the upper right hand column. This will take you the page and you can just click on the box that says "Follow". I am sending daily 80s tweets, so sign up to get those. Let other 80s fans know about it as well! Peace and much love.
Check this out: As regular readers know, I always enjoy a humorous or ironic sign. This includes billboards and I was just sent a few that I thought were worth sharing. Not sure if these are real or not, but they are funny either way. Enjoy!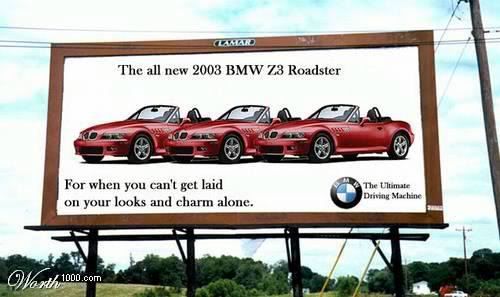 Quote of the day: "When evil men plot, good men must plan. When evil men burn and bomb, good men must build and bind. When evil men shout ugly words of hatred, good men must commit themselves to the glories of love." -Dr. Martin Luther King, Jr.