This is the twenty-third official issue of my 80s Movie Trailer of the Week feature I call "Preview Review." I have decided that these issues (like the Flashback Videos) will not include the usual "Check this out" or "Quote of the day" sections at the end like normal issues of Kickin' it Old School usually do.
With all of the attention being paid to the film Avatar, last month I posted an issue on adjusting box office results for inflation. In that issue, I noted that the film most seen in theaters from the 80s was none other than 1982's E.T.: The Extra-Terrestrial. That distinction also included its re-releases in 1985 and 2002 putting it currently at #4 all-time on the adjusted list (behind only Gone With the Wind, Star Wars and The Sound of Music) for pure attendance. That impressive accomplishment deserves a quick look back, so here is the original trailer for Steven Spielberg's classic E.T.: The Extra-Terrestrial...

I can remember

that my Mom had to make my brother and me go see this movie, but we left the theater loving E.T. We weren't alone because it became a bigger blockbuster than any movie that had preceded it. Roger Ebert wrote, "This is not simply a good movie. It is one of those movies that brush away our cautions and win our hearts." It was a modern fairy tale of sorts.
The film
was nominated for nine Oscars at the 55th Academy Awards, including Best Picture. Gandhi won that award, but even its director, Richard Attenborough, declared, "I was certain that not only would E.T. win, but that it should win. It was inventive, powerful, [and] wonderful." It did win four Academy Awards-Best Original Music Score, Sound, Sound Effects Editing and Visual Effects.

The film is included on many "best of" lists including being voted the 24th greatest film of all time by the American Film Institute, one of the 100 best films ever made by Time magazine and among the top ten of the 50 films you should see by the age of 14 by the British Film Institute.
An extended version of the film, including altered special effects, was released on March 22, 2002. There were certain shots that Spielberg always wished had been better, so those shots were adjusted through CGI. This new release grossed another $35 million domestically and the 20th anniversary DVD set also added to the financial success of the film. I own that DVD set and just last year shared it with my young daughter for the first time. She loved E.T. too and I thoroughly enjoyed getting to do that with her over 25 years after I first was mesmerized myself. As a bonus, here is the trailer for the 2002 special edition release of E.T.: The Extra-Terrestrial...

Here are some interesting bits of trivia regarding E.T.: The Extra-Terrestrial:


- The alien's face was reportedly inspired by the faces of Carl Sandburg, Albert Einstein and Ernest Hemingway.


- Mars, Inc. found E.T. so ugly that the company refused to allow M&M's to be used in the film, believing the creature would frighten children. This allowed the Hershey Company the opportunity to market Reese's Pieces. (The Hershey Company's profits rose 65% due to the film's prominent use of Reese's Pieces.)
- Harrison Ford played the school principal, but his only scene was cut as Spielberg considered his presence would be too distracting. Ford's then wife, Melissa Mathison, wrote the screenplay.
- The script was written on the location of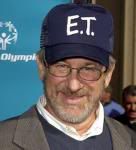 Raiders of the Lost Ark (1981) during filming breaks. Spielberg dictated the story to Melissa Mathison because she was a screenwriter and because she was there to be with her husband at the time, Harrison Ford
- During post-production, Spielberg decided to cut a scene featuring Harrison Ford as the headmaster at Elliott's school because his presence might be too distracting. The scene featured Ford's character reprimanding Elliott for his behavior in science class and warning of the dangers of underage drinking; he is then taken aback as Elliott's chair rises from the floor, while E.T. is levitating his "phone" equipment up the staircase with Gertie.
- Debra Winger not only provided the temp voice for E.T. but also played one of the ghouls in the Halloween sequence. She is wearing a monster mask and a lab coat and carries a poodle.
- Ultimately, E.T.'s voice was provided by Pat Welsh, an elderly woman who lived in Marin County, California. Welsh smoked two packs of cigarettes a day, which gave her voice a quality that sound effects creator Ben Burtt liked. She spent nine-and-a-half hours recording her part, and was paid $380 by Burtt for her services.

- Michael Jackson won a Grammy Award in 1984 for Best Recording for Children for his contributions to the E.T. the Extra-Terrestrial Story Book Album. His song "Someone in the Dark" was included though a court battle between record labels prevented the song from ever going mainstream.
- James Taylor wrote a song intended for use in the movie called "Song For You". The song was ultimately not used in the movie. However, it was eventually recorded in the mid 1980's for release on his That's Why I'm Here album.
- E.T. provided the inspiration for Neil Diamond's song "Heartlight" but no mention is ever made of the movie in the lyrics.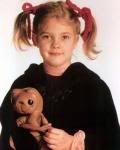 - Drew Barrymore enjoyed her big screen breakout at 7 years of age for playing the adorable little sister "Gertie". Steven Spielberg is her godfather. Barrymore was ranked #5 on VH1's list of the 100 Greatest Kid Stars.
There is just a handful of interesting tidbits about this blockbuster film. E.T. is from the 80s, but really transcends decades as greatness often does. The numbers don't lie in most cases and this is no exception. E.T.: The Extra-Terrestrial is one of the most seen films of all time and I am proud that it originated in my generation yet has been shared with future generations and will with generations to come.
That'll do it for this issue of Kickin' it Old School. Thanks as always for reading. If you are interested in reading any of my other 80s related issues, please click there for a summary of those. If you want to see the past issues of Preview Review, just type that into the Google Search Box at the top of the right hand column and it should give you a list of all of them. You can also always click on the Archives in the upper left hand column or use the Google Search Box at the top of the right hand column to find any other issues you may have missed. If you are a fan of Kickin' it, PLEASE CLICK ON THE FACEBOOK LOGO in the upper right hand column. This will take you to the Fan Page where I ask you to then click on "Become a Fan". Even if you are not a Facebook member yet, please consider joining and registering as a fan at that page. You can also follow Old School on Twitter by clicking on the FOLLOW ME ON TWITTER LOGO also in the upper right hand column. This will take you the page and you can just click on the box that says "Follow". I am sending daily 80s tweets, so sign up to get those. Let other 80s fans know about it as well! Peace and much love.