Interviews are something I have been meaning to make a part of this little blog for some time. If the opportunity presented itself to ask a few questions to someone who contributed to the awesomeness of the 80s, I wanted to share those answers with you right here. Well, lucky for me (and hopefully you), I will get to share a little awesomeness with you.

For this issue, I had the honor of interviewing Deon Estus.

In case you did not already know, he is a singer, bassist and producer who is probably best known for his time playing bass for the legendary 80s band Wham! and then continuing with George Michael on his solo projects.
He had a big solo hit in 1989 as well which I will elaborate on below. Estus learned to play bass from none other than James Jamerson who was the uncredited bassist on most Motown hits of the 60s/70s and regarded as one of the most influential bass players in modern music history. Estus was on tour with Marvin Gaye and working on what would be Gaye's last studio album, 1982's Midnight Love which included his comeback single "Sexual Healing," when he made the decision to join Wham!. To find out more, let's just jump into my interview with Deon Estus...
Q: You were born and raised in Detroit, Michigan. How does a kid from Motown end up hooked up with a British pop band like Wham!?

Deon: I went to Belgium in 1979 with Marvin Gaye. From there I moved to Dublin, Ireland. In 1982, I received a call to go meet George Michael. The rest is history.

Wham! is often recognized as the duo of George Michael and Andrew Ridgeley,
but Deon Estus says he "was considered and made to feel as if he was the third member of Wham!." The band had success earlier in the UK, but it was not until 1984 when they had a hit single with "Wake Me Up Before You Go-Go" and their second album, Make It Big, went to #1 in the U.S. that they took the rest of the planet by storm. That album would also feature hit singles "Careless Whisper," "Freedom" and "Everything She Wants." These four pop gems made me (and pretty much everybody else who listened to the radio) take notice. I think my personal Wham! favorite is 1985's "I'm Your Man" which would appear on the band's final album Music from the Edge of Heaven. Here's the video for that song and take notice of the outstanding bass groove courtesy of Deon Estus who also happens to appear several times as well...

Q: What are your favorites of the Wham! hit songs? Is there a song that never was released as a single or just never became a hit that you have always particularly loved?

Deon: I liked all the Wham! songs that we did. "Blue" is one of my favorites along with "Credit Card Baby."
I also happen to like the song "Blue." In 1985, Wham! was one of the first western musical groups to perform and tour in China. In case you are not familiar with this song which was recorded live during that tour in China, here they are performing it there...
Q: With the incredible success that Wham! had after just 3 albums, it was surprising that the band broke up. Was George Michael just that destined to become a superstar that it was inevitable? Did you know already that you would continue working with George on his solo projects?

Deon: George was definitely already a star. George and myself wanted to go on and do solo careers. Yes, I knew that George and I would always work together.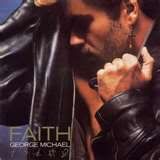 George Michael only went on to sell over 100 million records worldwide and release 5 singles as a solo artist which would hit #1 on the Billboard Hot 100 in the U.S. In 1987, his first solo album, Faith, went 10x Platinum and featured hits like "I Want Your Sex," "Faith," "Father Figure" and "One More Try." Estus was right there contributing to his friend's incredible success. Here, at an April 1987 concert, the two perform a fun cover of Len Barry's 1965 single "1-2-3" which happened to be a cover that Estus had recorded himself on an earlier project...
Q: Other than with George Michael, any other hits that we might be surprised to hear Deon Estus playing on? I heard you worked some with Elton John?

Deon: To name a few- Annie Lennox "Why" (1992) and Tina Turner "Simply the Best" (1989). I worked with Elton John, played bass on the Ice on Fire album (1985).

The biggest hit single from that Elton John album was "Nikita" which not only featured Deon Estus on bass, but also George Michael on backing vocals. The song peaked at #7 on the Billboard Hot 100 and here's the video...

Q: I have liked your hit single "Heaven Help Me" since the first time I heard it on the radio. To be honest, I originally thought it was a new song by George Michael with his contributions to it. Your voices both harmonize together well. Any special memories about your 1989 hit?

Deon: George Michael and I wrote that song together. We do match up well together and our voices are similar in a lot of ways. It's another great song that we are both very proud of.

From his 1989 solo album Spell, "Heaven Help Me" which was co-written and features backing vocals by George Michael made it all the way to #5 on the Billboard Hot 100. It ranks highly on my Most Heartbreaking Songs of the 80s list (a couple spots ahead of "Careless Whisper" coincidentally). Here's the video for "Heaven Help Me" by Deon Estus...
Q: I assume you still keep in touch with George Michael. Do you keep in touch with Andrew Ridgeley too?

Deon: Yes, I have spoken to both George & Andrew and look forward to working with George in the future.

Q: Lastly, I know you are out performing, but what else you are up to lately?

Deon: I am getting ready for my new album which I am very excited about. I'm sure all the fans will like it. Only Love Is Real.
"Only Love Is Real" is the title of the first single from his upcoming album that is hopefully soon to be released. I definitely am looking forward to hearing his new material. Those are only some excerpts from my interview with Deon Estus and you can find out more at his official website www.deonestus.com. It was a real privilege getting to ask Deon some questions. I want to thank him again for making himself available for his fans and being willing to talk about the past. He is certainly one of the top bass players in the world. He certainly made some major contributions to the great decade of the 80s and it is great to hear that he is still going strong.

That's all for this issue of Kickin' it Old School. Thanks as always for reading. If you are interested in reading any of my other 80s related issues, please click there for a summary of those. You can also always click on the Archives in the upper left hand column or use the Google Search Box at the top of the right hand column to find any other issues you may have missed. If you are a fan of Kickin' it, PLEASE CLICK ON THE FACEBOOK LOGO in the upper right hand column. This will take you to the Fan Page where I ask you to then click on the "Like" button. Even if you are not a Facebook member yet, please consider joining and registering as a fan at that page. You can also follow Old School on Twitter by clicking on the FOLLOW ME ON TWITTER LOGO also in the upper right hand column. This will take you the page and you can just click on the box that says "Follow". I am sending daily 80s tweets, so sign up to get those. Let other 80s fans know about it as well! Peace and much love.
Check this out: There is always some funny stuff happening over at www.FunnyOrDie.com. The latest is a parody of the 1989 Bobby Brown hit "Every Little Step" which stars Wayne Brady and Mike Tyson. Bobby actually appears in it himself too. Pretty amusing...

Quote of the day: "And in the end, the love we take will be equal to the love we make." -The Beatles