I am thrilled that interviews are something I am finally really making a part of this little blog of mine! When the opportunity presents itself to ask a few questions to someone who contributed to the awesomeness of the 80s, I want to share those answers with you right here. Again, lucky for me (and hopefully you), I do get to share a little more awesomeness with you.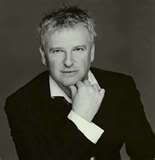 This time that awesomeness is Alan Frew of Glass Tiger. I am lucky to have had the chance to interview one of my favorite voices from mid-80s pop music. Glass Tiger is a Canadian rock band which formed back in 1983, but tasted its first success with the release of their 1986 album The Thin Red Line.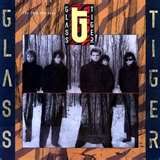 This album introduced us to the outstanding vocals of lead singer Alan Frew and includes three singles which charted in the U.S. and five that charted in Canada. The most prominent and one of my favorite 80s songs is "Don't Forget Me (When I'm Gone)" which reached #2 on the U.S. Billboard Hot 100 and #1 in Canada.
After their third album, 1991's Simple Mission, and a brief Canadian tour in early 1993, the band went on a lengthy hiatus. Frew went on to release two solo albums before the band reformed and began touring again around 2003. Since then, Frew has focused on philanthropy, continued performing and songwriting as well as trying his hand at writing, public speaking and acting. He is still considered one of Canada's favorite entertainers and most recognized celebrities. So let's get on to some selections from my interview with Alan Frew...
Q: How did Glass Tiger form? Why was the band name changed from Tokyo to Glass Tiger? And how were both names originally chosen?
Alan: Glass Tiger formed from the best of two local bands. ONYX (which had Wayne [Parker], Al [Connelly] and myself) and THE END (which had Michael [Hanson] and Sam [Reid]). We changed the name from Tokyo to Glass Tiger to signify the change from local bar band to recording band. Nothing complicated in how names were chosen. Just messing around with words until you find something you like and can all agree upon.
Q: How does a kid born in Scotland end up as the lead singer of a Canadian band?
Alan: Parents move to Canada and decide that for you.

Got into some guitar playing in early 70s and found out that I had a knack for song-writing. Always knew I had a voice so that part was more understandable when some locals asked me to join their band.

Q: After forming the band back in 1983, from your perspective, how has the industry changed over the past 27 years? How do you keep your passion after all of these years?
Alan: The industry isn't an industry anymore. It is self ownership. Self employed. Self promoted. It is multi-directional where almost anyone can have a career as long as they have a laptop and an internet connection. It's a good thing and a bad thing all rolled into one for it allows greatness to be discovered that otherwise would have been overlooked but it allows also mountains of crap to surface disguised as talent.
I keep my passion because I love the craft of communicating. I adapt and re-adapt to change consistently and continuously which allows me a fresh approach to my career each and every day.
Q: "Don't Forget Me (When I'm Gone)" became a huge hit especially in the U.S. and Canada.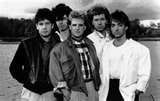 Did you expect that song to have that kind of success? How did that success change things for Glass Tiger going forward?
Alan: I knew it was a great song with all the elements of a "hit" but you are never prepared for it to "go through the roof" as it did, so yes it was still a surprise. It changed the game. It put us in the "big leagues" brought us to the homes of millions all over the world.
We are certainly thankful for that. The song hit #1 on the Canadian charts in March of 1986, but would not even enter the U.S. charts until July. It peaked at #2 in October and spent an impressive 24 weeks on the Billboard Hot 100. The album was produced by Jim Vallance who was the songwriting partner of Bryan Adams. An interesting note on this song is that fellow Canadian Bryan Adams actually sings backing vocals on this track. As I mentioned earlier, it is truly one of my favorite songs of the entire decade, so here's the video for "Don't Forget Me (When I'm Gone)" by Glass Tiger...
Q: Fellow Canadian Bryan Adams sings backing vocals on "Don't Forget Me (When I'm Gone)". Do you feel that had an impact on the success of the song? How was it working with Bryan? Do you still keep in touch with him?

Alan: It had an impact which was more of a novelty than anything else. The song was a great song with or without Bryan so I have no doubt it would have done exactly what it did.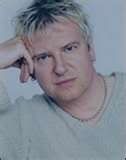 That said, it was a ton of fun to do it with him. We cross paths very seldom but when we do we always "catch up."
Q: Glass Tiger, Bryan Adams, Corey Hart and Loverboy were some of the Canadian bands having the biggest success in the U.S. during the 80s.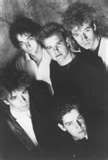 Other than Adams, many of the Canadian bands were able to continue success in Canada but not as much in the U.S. How do you explain the differences between the U.S. and Canadian music markets? To me it would seem that they should not be all that different, yet history has shown they obviously are.

Alan: It's not that they are different. It is just that the industry, the companies, the "machines" behind them are different and were VERY different back then. So for obvious reasons the U.S. "machine" was all about promoting the U.S. bands and music for better or for worse. So many of the other bands fall by the wayside with time.
I am also a big fan of "Someday," their follow-up single to "Don't Forget Me (When I'm Gone)," which would reach #7 on the U.S. Billboard Hot 100 and get its fair share of radio play into 1987. As a reminder, here's the video for "Someday" by Glass Tiger...

Q: What are your personal favorites of the Glass Tiger songs? Are there any lesser known songs that you have always particularly enjoyed? How about from your solo work?

Alan: "Someday" is a great song, well written. I particularly like "My Town" and a song called "This Island Earth." From my solo work songs like "So Blind," "Falling at Your Feet," "That's Life" and "I Believe" stand out for me.
Q: Why did Glass Tiger (at least temporarily) break up?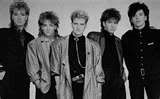 Any new Glass Tiger music planned for the near future?
Alan: Never really broke up. Just went on hiatus allowing me time for solo work. We never seem to be able to get it together on the new music front as a band. But you never know.
"I'm Still Searching" from their 1988 album Diamond Sun was Glass Tiger's last charting song in the U.S. The band still continued to have success through the early 90s in Canada, but would go on hiatus after only three studio albums. To me, Glass Tiger will always remain an important part of 80s pop music.
Q: Some 80s pop superstars "run away" from the 80s and some embrace the success and fans from that decade. How do you personally keep the 80s alive and in perspective?

Alan: It stays alive simply through our music but that's it. The 80s were then, this is now. Looking back is no different than looking at old photographs or yearbooks. You look. You cringe, you laugh.....you move on.
Q: Tell us about your
book The Action Sandwich - A Six Step Recipe to Success By Doing What You're Already Doing.

Alan: It's my take on life, passion, abundance, intention etc. It falls under the term self-help or motivational genre but that's a label that book stores use not me. I do know however that the principles I speak of are the same ones I have been using since my negotiating days in the streets and play yards of Scotland and they have carried me to all of my successes in this life of mine. I make the book fun and interesting to say the least. Very "un-typical" of anything on the shelves next to me.
Q: What else is Alan Frew up to now? Musically and otherwise?
Alan: With the success of my Olympic song "I Believe" recorded by teen sensation Nikki Yanofsky,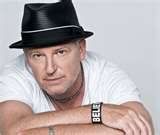 I received offers to sign publishing deals. I accepted one from Ole Publishing and plan to enter another serious writing phase in Nashville and L.A. come 2011. I continue to tour in Canada as a solo performer and public speaker and also with Glass Tiger. I work closely with charities benefiting breast cancer research and survivors and work closely with the men and women of our armed forces and our allies. I've been in Bosnia, Egypt, Israel, the Arctic and Afghanistan twice with them . I have the framework of a new book laid out and still dabble in acting. All is well. Busy as always but "Loving Every Minute of It"...oh, wait! That's Loverboy....
I am so honored that Alan took the time to answer my questions so I could share them with you here. I want to thank Sharon Field-Brennan for helping to coordinate this opportunity for me. Be sure to visit his official website www.alanfrew.com to find out more about Alan and keep up with all of the things he is up to. I remember back in 1986 and 1987 playing my copy of The Thin Red Line album as much as any, so those songs will always mean a lot to me. Alan, I want to express my gratitude for all of the awesome music and especially for revisiting the 80s with us for a little while, too. I certainly won't forget it.

That's all for this special issue of Kickin' it Old School. Thanks as always for reading and hope you are enjoying the interviews. If you are interested in reading any of my other 80s related issues, please click there for a summary of those. You can also always click on the Archives in the upper left hand column or use the Google Search Box at the top of the right hand column to find any other issues you may have missed. If you are a fan of Kickin' it, PLEASE CLICK ON THE FACEBOOK LOGO in the upper right hand column. This will take you to the Fan Page where I ask you to then click on the "Like" button. Even if you are not a Facebook member yet, please consider joining and registering as a fan at that page. You can also follow Old School on Twitter by clicking on the FOLLOW ME ON TWITTER LOGO also in the upper right hand column. This will take you the page and you can just click on the box that says "Follow". I am sending daily 80s tweets, so sign up to get those. Let other 80s fans know about it as well! Peace and much love.
Check this out: Here's a fun song called "The 1980s Rocked" which is written, performed and directed by Kevin Sage. The song features over 100 references from the 80s and is a parody of "Bedrock" by Young Money & Lloyd. For more details you can visit Kevin's website, but for now enjoy the video...
Quote of the day: "The only people with whom you should try to get even are those who have helped you." -John E. Southard