Each holiday season, I do special issues recalling my most memorable Christmas songs, television specials, commercials and movies from the 80s. I've already shared an issue this year on a Christmas song, Christmas commercial and Christmas TV special. Now I will finish this year with a favorite Christmas movie. Over the last two years, I have published holiday movie issues on National Lampoon's Christmas Vacation and Scrooged. That will make this the 34th official issue of my 80s Movie Trailer of the Week which I call "Preview Review." Since this is a special holiday issue, I will include the usual "Check this out" and "Quote of the day" sections at the end, though normally Preview Review issues do not.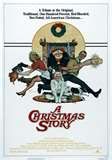 This year, I will cover another cherished holiday classic, 1983's A Christmas Story. The film, directed by Bob Clark, is based on the book In God We Trust, All Others Pay Cash and other short stories by author Jean Shepherd who also happens to be the film's narrator. The movie follows the Parker family as Christmas approaches and primarily revolves around 9-year-old Ralphie's obsession with getting a particular BB gun that year. It is a charming story supported by outstanding acting performances by Peter Billingsley as "Ralphie", Melinda Dillon as "Ralphie's Mom and especially by Darren McGavin as "Ralphie's Dad". Here is the original trailer for A Christmas Story...

Even though the movie was made in the 80s,
it obviously does not take place in the 80s. The film is not specifically about a given year, it is about a particular time in American family life.
The film appears to be set roughly around the tail end of the Great Depression but before the U.S. involvement in World War II. There are references throughout the film that viewers enjoy linking to particular years, and if one connects a reference to a particular year, the movie can be dated as being as early as 1935 or as late as 1947. Though this is well before I was born, the film still resonates strongly with me. I make sure to watch it at least once each December and likely several times thanks to the 24-hour marathon on TBS starting Christmas Eve.
Here are some other bits of trivia about A Christmas Story, which you may find interesting: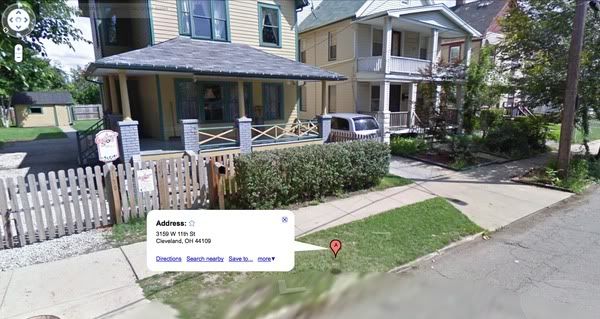 -The real house used during filming can be found at 3159 W 11th Street in Cleveland, Ohio. It is now open to the public for tours and has a museum/gift shop for the film open across the street.
-TNT first aired the 24-hour A Christmas Story marathon in 1997 showing it 12 consecutive times between Christmas Eve and Christmas Day. This continued each year until 2004, when it was moved to TBS.
-Director Bob Clark's success with the teen-sex comedy Porky's in 1982 allowed him the ability to make a movie he wanted to make. Without Porky's there would have been no A Christmas Story.
-Ralphie says that he wants the "Red Ryder BB Gun" 28 times during the movie.
-According to the Daisy Air Rifle manufacturers on
the history of the Red Ryder BB Gun, the gun did exist except for one error in the story: The gun did not have a compass and sundial as mentioned in the movie. According to the historians, writer Jean Shepard confused the Red Ryder gun with another rifle that did have those features. But because the story and screen play were scripted to have the compass and sundial, guns had to be specially made for the movie. The compass and sundial were placed on the opposite side of the stock due to Peter Billingsley being left-handed.
-For the scene when Flick's tongue sticks to the flagpole, a hidden suction tube was used to safely create the illusion that his tongue had frozen to the metal. No tongues were harmed in filming. Looks pretty real if you ask me. Here is the video of that particular scene; I triple-dog-dare you watch it...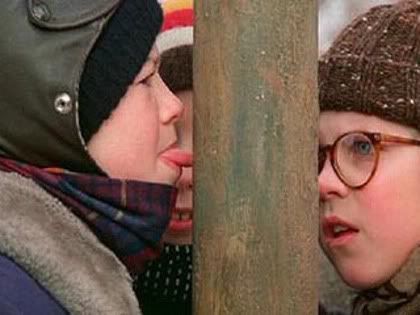 -Prior to being "Flick," Scott Schwartz co-starred opposite of Jackie Gleason and Richard Pryor in 1982's The Toy directed by Richard Donner. Be sure to check out my interview with Scott Schwartz.
-A sequel was actually made in 1994 called My Summer Story.
With the exception of Ralphie's teacher (played by Tedde Moore) and Jean Shepherd as the narrator, it featured an entirely different cast.
-The "major award" leg lamp was actually based on an illuminated Nehi logo.
-The film's setting is a town in Indiana, but was actually filmed in Cleveland, Ohio. The street the Parker's live on is called "Cleveland Street".

-The same kid, Yano Anaya, plays both "Grover Dill" the toady in A Christmas Story and the paperboy who wants his $2 in Better Off Dead. Anaya also plays the young Michael Anthony in the Van Halen video for "Hot For Teacher."
-Jean Shepherd, the narrator and author, makes a cameo as the irate man waiting in line to see Santa at the department store. Bob Clark, the director, makes a cameo as the neighbor Swede who comes over to admire Mr. Parker's major award.
-As an actor,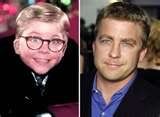 Peter Billingsley is best known as "Ralphie" and also "Messy Marvin" from a long-running series of Hershey's commercials. As an adult, he has gone on to collaborate often with Jon Favreau and Vince Vaughn including directing 2009's Couples Retreat and as Executive Producer on 2008's Iron Man, 2006's The Break-Up and 2008's Four Christmases among others.
-Billingsley has recently written a musical adaptation of A Christmas Story that opened in Seattle during the second week of December 2010 which he hopes will be done in other cities in the future.
-Some of the snow used during the scenes between the kids and the bullies was actually soap flakes and fire fighters foam. When the filmmakers were finished, they reportedly left some locations covered in artificial snow.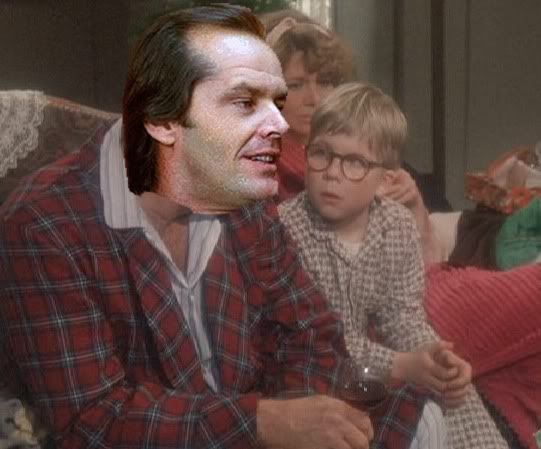 -Jack Nicholson was considered for the role of Ralphie's dad. However, director Bob Clark didn't learn of this until later and the studio didn't want to pay Nicholson''s fee anyway, which would have doubled the budget. Regardless, Clark says that Darren McGavin was still the better choice and was born to play the role. (I whole-heartedly agree!)
-According to Peter Billingsley, the nonsensical ramblings that Ralphie exclaims while beating up Scut Farkus were scripted, word for word.
-A Christmas Story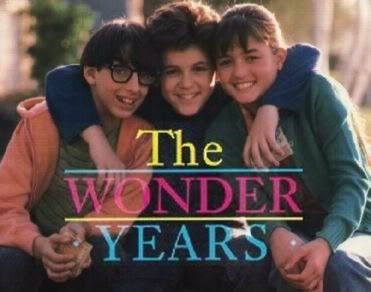 reportedly inspired the creation of The Wonder Years television series. One major similarity is the adult-version of the young character being the narrator. The narrator for The Wonder Years was Daniel Stern.
-When the character of Scut Farkas first appears, the "Wolf" music from Sergei Prokofiev's "Peter and the Wolf" plays in the background. The name "Farkas" is derived from the Hungarian word for "wolf."
-An elaborate fantasy sequence - in which Ralphie joins Flash Gordon to fight Ming the Merciless - was filmed but dropped from the final cut.

As I have done in each of my Christmas Movie issues, I wanted to highlight some of the hilarious dialogue featured in this film. There are so many great lines to choose from, but here is OLD SCHOOL'S TOP 10 FAVORITE LINES FROM A CHRISTMAS STORY (+ Bonus 10):
20. "I want an official Red Ryder, carbine action, two-hundred shot range model air rifle with a compass in the stock and that thing that tells time."
19. "You used up all the glue on purpose!"
18. "My old man's spare tires were actually only tires in the academic sense. They were round, they had once been made of rubber."
17. "Now it is well known throughout the Midwest that the old man is a turkey junkie. A bona fide Gally Turkicanus freak. A few days before Christmas his eyes would begin to gleam with a wild and ravenous light."
16. "We plunged into the cornucopia quivering with desire and the ecstasy of unbridled avarice."
15. "Only one thing in the world could've dragged me away from the soft glow of electric sex gleaming in the window."
14. "Deck the harrs with bawrs of horry, fa ra ra ra ra, ra ra ra ra."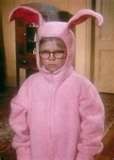 13. "He looks like a deranged Easter Bunny."
12. "In the heat of battle my father wove a tapestry of obscenities that as far as we know is still hanging in space over Lake Michigan."
11. "If we don't hurry, we're gonna miss all the good trees!"
10. "Be sure to drink your Ovaltine. Ovaltine? A crummy commercial? Son of a bitch!"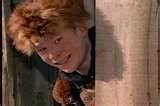 9. "Scut Farkus staring out at us with his yellow eyes. He had yellow eyes! So, help me, God! Yellow eyes!"
8. "Now it was serious. A double-dog-dare. What else was there but a triple dare you? And then, the coup de grace of all dares, the sinister triple-dog-dare."
7. "Some men are Baptists, others Catholics; my father was an Oldsmobile man."
6. "Ohhh, FUUUUUDGE! Only I didn't say fudge. I said THE word, the big one, the queen-mother of dirty words, the F-dash-dash-dash word!"
5. "You'll shoot your eye out."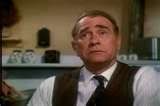 4. "It's a Major Award!"
3. "He worked in profanity the way other artists might work in oils or clay. It was his true medium; a master."
2. "Not a finger!" (pronounced Naddafinga!)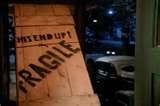 1. "Fra-gee-lay. That must be Italian."
Any of your favorites that I left off my list? Leave them in the comments section below. Be sure to catch the movie at least once during the 24-hour marathon starting Christmas Eve on TBS.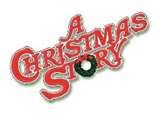 After all of the scenes with hilarious and nostalgic moments, I think my favorite part of the entire film is about 40 seconds long and often overlooked. It takes place after they get home from the Chinese restaurant and the Mom comes down after checking on the sleeping boys. She turns on the radio and with "Silent Night" softly playing, the Mom and Dad have a special moment together sitting by the light of the Christmas tree watching the snow fall outside. As surprising as it may seem, those 40 seconds, which could've easily been edited out, take the film to another level for me personally. They are included in this video clip here, so if you have overlooked it before, here is your opportunity with a link to appreciate this special scene.

What a special movie they made! And I am proud that it was made in the great decade of the 80s. I want to take this moment to wish you and yours the happiest of Christmases. May we have peace on earth and true goodwill to all.
That'll put a wrap on this holiday issue of Kickin' it Old School. Thanks as always for reading. If you are interested in reading any of my other 80s related issues, please click there for a summary of those. You can also always click on the Archives in the upper left hand column or use the Google Search Box at the top of the right hand column to find any other issues you may have missed. If you are a fan of Kickin' it, PLEASE CLICK ON THE FACEBOOK LOGO in the upper right hand column. This will take you to the Fan Page where I ask you to then click on "Become a Fan". Even if you are not a Facebook member yet, please consider joining and registering as a fan at that page. You can also follow @OldSchool80s on Twitter by clicking on the FOLLOW ME ON TWITTER LOGO also in the upper right hand column. This will take you the page and you can just click on the box that says "Follow". I am sending daily 80s tweets, so sign up to get those. Let other 80s fans know about it as well! Peace and much love.
Check this out: This video always puts me in the Christmas spirit. It just missed being an official part of the 80s, but I remember it well enough from the 80s so I am going to count it. John Denver and the Muppets: A Christmas Together was both a 1979 television special as well as the soundtrack album featuring 13 Christmas songs. The most memorable of these songs is "The Twelve Days of Christmas" and here is the video of that performance (Fozzy Bear cracks me up in particular)...

Quote of the day: "Christmas gift suggestions:
To your enemy, forgiveness.
To an opponent, tolerance.
To a friend, your heart.
To a customer, service.
To all, charity.
To every child, a good example.
To yourself, respect." -Oren Arnold