As I say each time, I am so delighted that interviews are now a legitimate part of this little blog of mine! When the opportunity presents itself to ask a few questions to someone who contributed to the awesomeness of the 80s, I will continue to share those answers with you right here. Again, lucky for me (and hopefully you), I do get to share a little more awesomeness with you.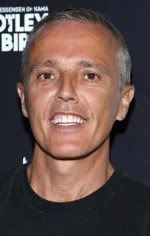 This time that awesomeness is Curt Smith. He is a singer, songwriter and musician best known as half of the duo Tears for Fears. Along with Roland Orzabal, the duo is responsible for one of the most popular albums of the 80s with 1985's Songs from the Big Chair and several hit singles. After their third platinum-selling album in 1989, Smith and Orzabal decided to part ways, but the duo reformed in 2000 for a new studio album which was released in 2004.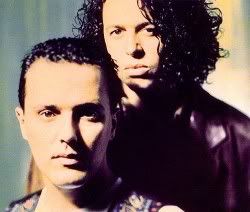 Smith has also maintained his own solo career and continues to collaborate with other artists. You'll get a little insight into his experiences with Tears for Fears in the 80s and what he has been up to since then as we get on to some selections from my interview with Curt Smith…
Q: How did you and Roland Orzabal form Tears for Fears in 1981? How was the band name chosen?
Curt: Roland and I had been in bands together since we were 13 at school in Bath [England]. The name was inspired by a book called Prisoners Of Pain by Arthur Janov [who is the creator of primal therapy].
The band's 1983 debut album, The Hurting, was a huge hit on the UK charts reaching #1 by the end of March that year. It was the third single they released, "Mad World", which yielded them a hit. The single was written by Orzabal, but sung by Smith who has been quoted describing it as "very much a voyeur's song looking out at a mad world from the eyes of a teenager." Here is the original video for "Mad World" by Tears for Fears…
Q: Your second album, Songs from the Big Chair,
really established you in the U.S. and worldwide. When & how did you guys realize that you had made it big time?
Curt: There was no one occasion that comes to mind. Unfortunately, when a band becomes famous most of the time is taken up by touring, interviews and TV/Radio appearances. Between that and the people surrounding you pushing you to make more product, there's not really much time to take it in or enjoy it.
Songs from the Big Chair
was released in February of 1985. The album peaked only at #2 in the UK (but it remained in the Top 10 for over six months and in the Top 40 for over a year). But more importantly, by the end of July, it reached #1 on the U.S. Billboard Album charts and held that position for five weeks. The album's title was inspired by the 1976 television film Sybil about a woman with multiple personality disorder who only feels safe when she is sitting in her analyst's "big chair". The duo felt each of the album's songs had a distinctive personality of its own.
Q: Is it true that "Everybody Wants to Rule the World" was the final track to be recorded and added to the album? That being the case, could you have ever expected it to become one of your biggest hits?
Curt: It was the last song added to SFTBC and we had no idea it would be a hit. In fact, we never know what will be a hit. Going back to an earlier question – we just record what feels right.
In the U.S., the first single released from Songs from the Big Chair was the last recorded as Smith confirmed. "Everybody Wants to Rule the World" would hit #1 on the Billboard Hot 100 by June and this would cause the world to take notice. As was the case on "Mad World", Curt Smith handles lead vocals again on this great song. The album's second single, "Shout" would reach the top of the Billboard Hot 100 in August giving them back-to-back #1 hits. They narrowly missed having three #1 singles in a row when the third release, "Head Over Heals" would peak at #3 on the chart. Can't say it any better than reviewer Stanton Swihart, "It is not only a commercial triumph, it is an artistic tour de force. And in the loping, percolating 'Everybody Wants to Rule the World,' Tears for Fears perfectly captured the zeitgeist of the mid-80s while impossibly managing to also create a dreamy, timeless pop classic. Songs from the Big Chair is one of the finest statements of the decade." Here is the video for "Everybody Wants to Rule the World" by Tears for Fears…
Q: "Everybody Wants to Rule the World"
was used at the end of one of my favorite 80s movie comedies, Real Genius. Do you remember how it ended up in the movie? Are you a fan of the movie?
Curt: They just asked to use it. I actually hadn't seen the film until recently when the actor James Roday (Psych) convinced me to watch it as it's one of his favorites. I can see why. [Director Martha Coolidge (who directed Real Genius as well as an episode of Psych) also mentioned Roday's love of this movie in my interview with her.]
Q: What was the song writing process like for
Tears for Fears? How was it decided who would sing lead on each song?
Curt: It's normally an organic process. Certain songs suit my voice, others suit Roland's. We normally know which is which.
Q: What is your personal favorite of your hit songs?
Curt: "Sowing the Seeds of Love" is probably the most complete song we've done as far as writing AND production working so well together.
In 1989, Tears for Fears followed up the multi-platinum Songs from the Big Chair with The Seeds of Love. The album did not approach the same success as its predecessor, but still was certified platinum and reached #8 on the Billboard Album Chart. The first single from that album was "Sowing the Seeds of Love" which was a top 5 hit in seven countries including peaking at #2 on the U.S. Billboard Hot 100. Many listeners identify a Beatles influence on the sound of this song which Smith identified as their most complete song. Here is the video for "Sowing the Seeds of Love" by Tears for Fears…
"Sowing the Seeds of Love"
would be the last big hit for Tears for Fears in the U.S. The second single from the album, "Woman in Chains" which featured Phil Collins on drums and Oleta Adams sharing vocals, would still make the top 40, but the momentum seemed to be lost. By 1991, Smith and Orzabal decided to go their separate ways, though Orzabal would retain the band name and released two studio albums which were essentially solo projects.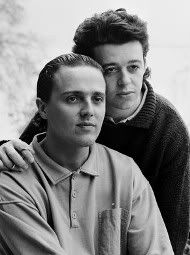 Q: After such huge success, how did it come to the point that Tears for Fears had to break up?
Curt: This has been well-documented elsewhere, but there were two main reasons. One, Roland and I were finding it increasingly difficult to agree with each other about anything. Two, and far more important, I really wasn't dealing well with being famous, especially the lack of a private life. I moved to New York, where I'd met my now-wife Frances and enjoyed the relative anonymity.
After nearly a decade apart, Smith and Orzabal decided to reform Tears for Fears in 2000 and begun work on a new studio album. They had written and recorded the entire album in less than six months, but record company contract issues delayed the release of the album titled Everybody Loves a Happy Ending until September of 2004.
Q: Why did it become the right time to reunite with Orzabal again?
Curt: When Roland and I reunited ten years later, at the suggestion of his manager, enough time had passed for us to work together without the acrimony and tension that had hampered us previously, and Everybody Loves a Happy Ending was the result.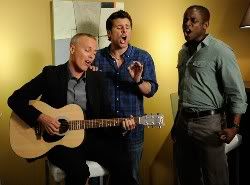 Q: I am a big fan of the TV series Psych. How did your hilarious appearance on the show come about and how was that experience?
Curt: I met James Roday, Tim Omundson and Maggie Lawson [cast members of the show] backstage at a Tears for Fears show in Los Angeles. Roday invited me to guest on the show, and I thought "why not?" It was a ridiculous amount of fun, and I've worked with them again since – on a song for the holiday episode of the show – and they've said they'd like to have me back for an episode this coming season. That would be most amusing.
Back in September of 2010, Smith appeared in an episode of the USA Network television series Psych. To demonstrate how wealthy one of the characters is, he hires Curt Smith to play music at a party and decides to have him continue to play for him the following day when nobody else is even there. In addition, Smith performs a special version of the opening theme song and also appears in a closing sequence. Here is a scene from the episode of Psych titled "Shawn 2.0″ where Smith exhibits some great comic timing in his cameo appearance…
Q: Tears for Fears will be celebrating 30 years in 2011.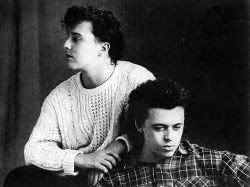 What legacy do you feel the band has left thus far? From your perspective, how has the industry changed over the past 30 years?
Curt: We've never considered "leaving a legacy", all we can do is record the best music we are capable of at a given time and then try to find ways of performing that live. The industry has changed in so many ways since we began it's hard to know where to begin. The most obvious and detrimental change is the "big business" take over of the industry. It was once run by music lovers but is now run by bean-counters. Unfortunately this tends to kill artistic development and originality. On the upside, the internet is now here and has begun to level the playing field somewhat. Hopefully this will result in the demise of major labels and the growth of small independent labels and artists.
Q: I really love the acoustic version of "Everybody Wants to Rule the World" from
your 2000 EP Aeroplane and you sort of performed that in the Psych episode. I have a soft spot for acoustic version of my favorite songs. That leads me to Stripped Down Live with Curt Smith. How did that webcast come about and what can you tell us about it?
Curt: I'd been wanting to do a live music show for some time, and the opportunity presented itself to do so. It was a great deal of fun and we were able, in the first season, to highlight a tremendous range of artists, from fantastic newcomers like The Daylights, Fitz & The Tantrums and Nightmare & The Cat to amazing (and, I think, underappreciated) journeymen like Peter Himmelman and Matthew Sweet. We were also genre-agnostic, which allowed us to feature a singer-songwriter like Carina Round followed by bluesman Chris Pierce. We've decided not to continue with Stripped Down Live, but I will hope to produce and present another live music show in the future.
Q: What leaded you to embrace social media as much as you have? Do you do it for the fans or are there more specific reasons?
Curt: I've never been a big believer in the "celebrities are special" thing, and social media lets me connect directly with fans, friends and fellow musicians in a way that layers of publicists, producers and the like often actively work to hinder.
Twitter in particular is appealing because of its very nature: short bursts of information, made available immediately. I like blogging as well, but it's more challenging because I've got two young kids and don't often have uninterrupted time to compose lengthier missives. I've been encouraged to do some video blogging and more Twitter chats, so you can look for that in 2011.
Smith lives in Los Angeles now with his wife and two daughters. He became an officially naturalized American citizen in 2007. If you follow him at all, you know that, in addition to his love of his family and music, he is a huge fan of Manchester United soccer.
Q: What else is Curt Smith up to nowadays?
Curt: I plan to keep on doing what I've been doing: writing and recording music. I'll keep going with my "social media project" of collaborations with artists I meet online, and I'd like to do more writing for television and film, as I very much like the idea of crafting music to illuminate and enhance onscreen images.
I am very happy that Curt took some time to answer my questions so I could share them with you here. Special thanks to Arlene Wszalek for helping coordinate everything. To find out even more and keep up with everything he has going on, please be sure to visit his official website at www.curtsmithofficial.com as well as the Tears for Fears website at www.tearsforfears.net/ You can also follow him on Twitter as @curtsmith. I want to take this opportunity to again thank Curt Smith particularly for the incredible music he created with Tears for Fears and, even more, for going back to the 80s with us for a little while here as well.
That brings us to the end of another special issue of Kickin' it Old School. Thanks as always for reading and hope you are enjoying the interviews as much as I am. If you want a summary of all of my Back to the 80s Interviews posted thus far, please click on that link. If you are interested in reading any of my other 80s related issues, please click there for a summary of those. You can also always click on the Archives in the upper left hand column or use the Google Search Box at the top of the right hand column to find any other issues you may have missed. If you are a fan of Kickin' it, PLEASE CLICK ON THE FACEBOOK LOGO in the upper right hand column. This will take you to the Fan Page where I ask you to then click on the "Like" button. Even if you are not a Facebook member yet, please consider joining and registering as a fan at that page. You can also follow @OldSchool80s on Twitter by clicking on the FOLLOW ME ON TWITTER LOGO also in the upper right hand column. This will take you the page and you can just click on the box that says "Follow". I am sending daily 80s tweets, so sign up to get those. Let other 80s fans know about it as well! Peace and much love.
Check this out: I often share signs that I find ironic or humorous. Here are several that I thought were worth sharing. I haven't seen these around my neighborhood and hope you don't either. First, is a warning to watch out for buffalos. Second, is a warning to watch out for moose. Third, is a warning to watch out for falling rocks and… buffalos? Fourth, is a warning to… watch out for alligators if you are in a wheelchair?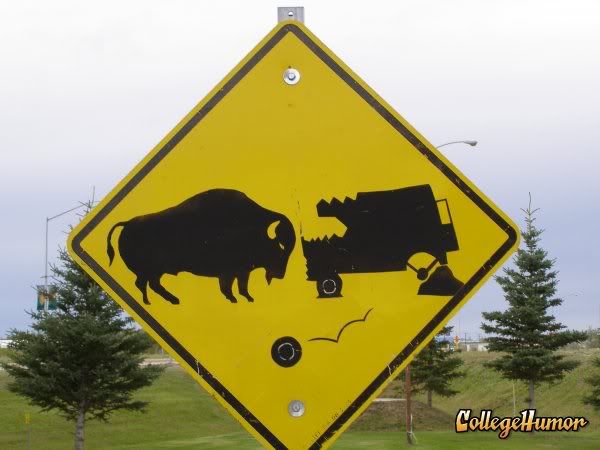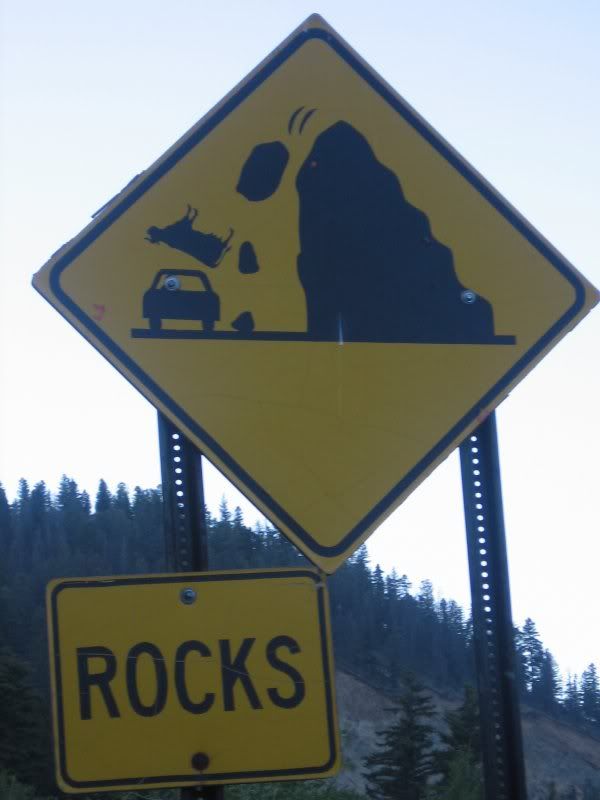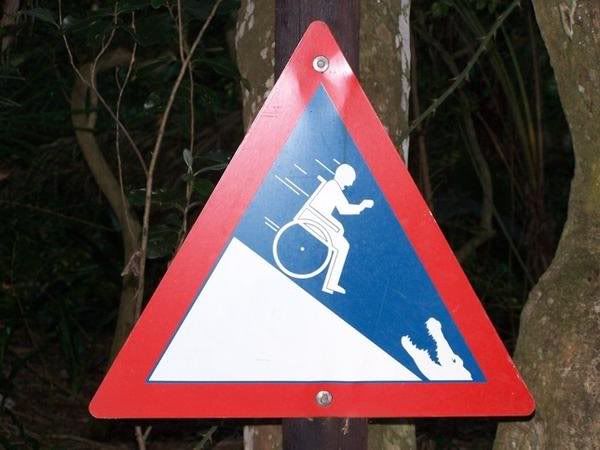 Quote of the day: "Defining myself, as opposed to being defined by others, is one of the most difficult challenges I face." – Carol Moseley-Braun