As I say each time, I am so proud that interviews are now a legitimate part of this little blog of mine! When the opportunity presents itself to ask a few questions to someone who contributed to the awesomeness of the 80s, I will continue to share those answers with you right here. Again, lucky for me (and hopefully you), I do get to share a little more awesomeness with you.
This time that awesomeness is Haviland Morris. She is best known by 80s fans as Jake Ryan's original girlfriend "Caroline Mulford" in 1984's Sixteen Candles.
She had many memorable scenes in that film which were mainly a result of having a little too much to drink at a party. This included getting her hair caught in a door and cutting it with a scissors to get loose and later waking up in a car the next morning with someone she didn't even know. She went on to appear in other films like Who's That Girl (1987), Gremlins 2 (1990) and Home Alone 3 (1997). She has had several television roles as well including shows like Family Ties, One Life to Live, Law & Order, Sex and the City, One Tree Hill and As the World Turns. We will find out much more about the actress, her experiences making Sixteen Candles and what she is up to now as we get on to some selections from my interview with Haviland Morris...
Q: When and how did you get bit by the acting bug?
Haviland: When I was about 8, I saw my first live theater production of Oliver, which just blew me away.
Q: At what point did you decide that acting/performing would become your career?
Haviland: As soon as I knew that such a thing was even possible.
There wasn't the focus on celebrity and the media then that there is now and it didn't even occur to me until embarrassingly late that one could study acting in college, etc. My parents were horrified and tried really hard to disabuse me of the idea, but my Aunt Rosalie convinced them to let me pursue it.
Q: From there, how did you go about pursuing that career?
Haviland: I started out at Northwestern University in the Theater Arts program and then transferred to SUNY-Purchase. While I was there, a manager saw me in a Shakespeare production and signed me, so when I graduated I moved to New York City and started working pretty much right away.

Q: How did it happen that you grew up in Hong Kong? How did that impact your childhood and who you grew up to become as a person or actor?
Haviland: My father manufactured consumer electronics. When he was in the Korean War, he fell in love with that part of the world, so when I was 7, we moved over there and I lived there and Singapore until I came back to the States for college. It's useful for any life pursuit to be exposed to a wide variety of cultures and living situations and to gain flexibility in that way, I think.


Q: How did the role of "Caroline Mulford" in 1984's Sixteen Candles come your way? What were your expectations of the film and role when you first began?
Haviland: Just went to an audition with the rest of the girls. Seemed like it would be a lot of fun - which it was!

Q: Please tell us about having to wear a blonde wig for your role as "Caroline". What were the challenges of wearing that wig, if any? It had to make the scene when they cut your hair out of the door easier when it was only cutting a wig.
Haviland: There is a widely accepted falsehood which is that I am a redhead and had to wear a blonde wig for that movie. In fact, I am really a blonde.
Caroline was a blonde because I was a blonde. For most of the movie, what you are seeing is my real hair (including its real color). Paul Huntley made us a fabulous wig to match my hair so that we could chop it up in the door. Obviously, you couldn't do that without a wig unless you were shooting the movie in sequence and were also 100% sure you were going to get the shot you wanted on the first take. I wore the wig for a scene or two before the actual cutting scene and the primary challenge was that it was Chicago in the summer time and was HOT!

Q: What can you tell us about the great John Hughes and your experience working for him?

Haviland: It was John's first directing job and we all had the time of our lives with him! He created such an amazing and fun atmosphere and it was really like we were all at a big fun party at summer camp for six weeks. He was kind, generous, hilarious -- we improv'd a lot of dialogue and behavior and when it was funny and worked he laughed harder than anyone.

Q: Was making Sixteen Candles overall a fun experience for you? Was the cast close during filming? Did you keep in touch with any of the cast members after?
Haviland: It was the best. We weren't all close -- there were a lot of different "generations" on that movie. Debbie Pollack [Donger's girlfriend Marlene/Lumberjack] and I have kept in touch over the years.


Q: Your scenes were mostly with Michael Schoeffling and Anthony Michael Hall. What can you tell us about either of them and your memories of working with them?
Haviland: They were both terrific -- Michael Schoeffling was a really serious, quiet, nice guy and Michael Hall was great fun -- he and John were a comedy team extraordinaire.

Q: What were your feelings about it when the film was released in 1984? Were you proud of your performance and what you helped create?
Haviland: I
don't really remember -- of course we were all excited that it came out, but it really wasn't such a huge hit... it has kind of morphed into a cult classic and is better known now than it was then. Well, proud? No, it's pretty much universally horrifying to see yourself on film but I thought the movie was great.
Q: What changed for you personally after the success of the film?
Haviland: Absolutely nothing. Contrary to all predictions, I did not work for a year and a half after I finished that movie.

Q: What are your feelings about Sixteen Candles now over 25 years later?
Haviland: I just saw it on the big screen for the re-release on Valentine's Day and I just loved it!!! It made me so happy to see it again and hear all that 80s music and remember how much fun we had. It also made me sad to think of John and how much happier he had been then than in his later years.

Q: At what age did you (or will you) allow your daughter to watch Sixteen Candles?
Haviland: She's 20 now and saw it a few years ago. I actually let my son see it in the re-release, even though he is only 10, so it is completely inappropriate for him. I just felt like he would probably never have the opportunity again to see it on a big screen and it was one of my first movies and I knew that it would appeal to his sense of mischief (he loved it!)


Q: I see that you appeared in a 1986 episode of Family Ties. What was your role in that episode? What do you remember from that experience? What do you remember about working with Michael J. Fox?
Haviland: I played Alex's first date after Ellen (Tracy Pollan) left the show. I was really awful and had the most terrifying hairstyle I have ever seen. Michael J. Fox is one of the nicest, most generous actors ever born.


Q: You were in 1987's Who's That Girl. What do you remember about getting to work with Madonna?
Haviland: I didn't really work with her too much -- I think I had one or two scenes with her. She was a nice, smart girl with a big entourage and a lot of screaming fans on the street.

Q: You played "Marla Bloodstone" in the 1990 sequel Gremlins 2: The New Batch. What can you tell us about director Joe Dante and your experience working with him?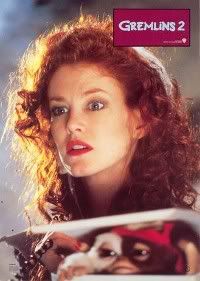 Did you enjoy making that film and what memories do you have of acting with the puppets?
Haviland: I have been really lucky to work with some great, fun directors. And Joe is definitely one of them! There's something really freeing and fun about working on a movie as silly as Gremlins 2. Everyone is working really hard but acknowledges that it isn't brain surgery or solving world peace, so it's very light. So much of working with puppets is actually working with nothing -- screaming/reacting to nothing, etc. And then some interacting with stuffed animals, some robots... we had the greatest puppeteers alive, so it went pretty smoothly.

Q: You were also in the 1997 sequel Home Alone 3. How had Hughes changed (if at all) from the first time you worked with him 13 years earlier?
Haviland: He was definitely a darker, less happy guy. I didn't see much of him during the shoot.

Q: Are there any 80s roles (TV or movies) that you auditioned for and did not get that would be surprising or particularly interesting especially looking back now?
Haviland: Hundreds. I'll never tell. Well, ok, one -- evidently, according to Gretchen Rennell and Bonnie Finnegan, who were the casting directors, I was very close to being cast in Jennifer Beals' part in Flashdance.
I must say, I think they made a very wise decision -- I am one of the very worst dancers on the planet and even with a double, I think it would have been a travesty.

Q: What role do you feel you get remembered most for? Do you still get recognized in public a lot?
Haviland: Yeah, surprisingly enough, I do. Probably Sixteen Candles is the main one, but I am always surprised at what people come up with.

Q: You continue to act, but also have taken on a second career of selling real estate. When and why did you become a realtor? How has your acting career prepared you to excel in this endeavor?
Haviland: I went to real estate school about 3-1/2 years ago. Acting work had slowed down quite a bit and I needed to take something else on. Real estate works because it's incredibly flexible, so I can still act and do homework with my son, etc. It's been great fun and there is no shortage of drama!
And all the people-study of acting is great prep for this work.

Q: What else has Haviland Morris been up to more recently? Both acting and otherwise? Any remaining ambitions or regrets?
Haviland: Well, let's see... right now I have 3 movies in production for release in 2011: Jack and Diane and Burning Blue are in post-production and we are in the middle of shooting Nor'easter. We are touring middle schools for my son for next year, my daughter just moved to L.A. and joined L.A. Ballet, I have a listing on 30th Street to sell and a few customers to find apartments for, the dogs need walking several times a day, one of these days I have to clean out my closet...

I am thrilled that Haviland took some time to answer my questions so I could share them with you here. It was a pleasure getting perspective from someone who worked directly for the late, great John Hughes. Also, I was surprised to find out she was a real blonde and only wore the wig to allow for the haircutting scene, not because she was a redhead. I want to take this opportunity to again thank Haviland Morris for her contributions to 80s pop culture especially in Sixteen Candles and, even more, for reminiscing with us for a little while here as well.

That wraps up another special issue of Kickin' it Old School. Thanks as always for reading and hope you are enjoying the interviews as much as I am. If you want a summary of all of my Back to the 80s Interviews posted thus far, please click on that link. If you are interested in reading any of my other 80s related issues, please click there for a summary of those. You can also always click on the Archives in the upper left hand column or use the Google Search Box at the top of the right hand column to find any other issues you may have missed. If you are a fan of Kickin' it, PLEASE CLICK ON THE FACEBOOK LOGO in the upper right hand column. This will take you to the Fan Page where I ask you to then click on the "Like" button. Even if you are not a Facebook member yet, please consider joining and registering as a fan at that page. You can also follow @OldSchool80s on Twitter by clicking on the FOLLOW ME ON TWITTER LOGO also in the upper right hand column. This will take you the page and you can just click on the box that says "Follow". I am sending daily 80s tweets, so sign up to get those. Let other 80s fans know about it as well! Peace and much love.
Check this out: Here's a little fable that always makes me chuckle, so I thought I would share it here. Hope you enjoy it, too...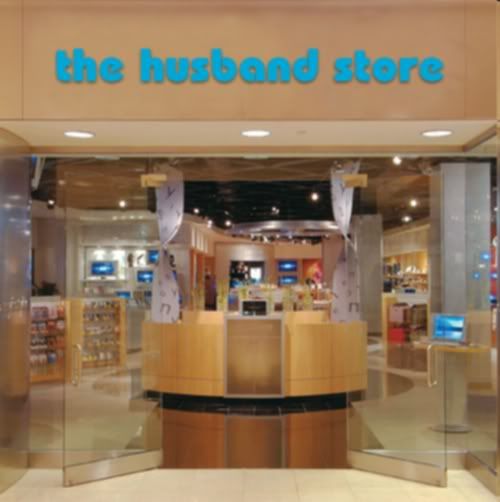 The Husband Store!
A store that sells husbands has just opened in New York City, where a woman may go to choose a husband.
Among the instructions at the entrance is a description of how the store operates. You may visit the store ONLY ONCE !
There are six floors and the attributes of the men increase as the shopper ascends the flights. There is, however, a catch . . . you may choose any man from a particular floor, or you may choose to go up a floor, but you cannot go back down except to exit the building!
--So, a woman goes to the Husband Store to find a husband. On the first floor the sign on the door reads: Floor 1 - These men have jobs and love the Lord.
--The second floor sign reads: Floor 2 - These men have jobs, love the Lord, and love kids.
--The third floor sign reads: Floor 3 - These men have jobs, love the Lord, love kids, and are extremely good looking. "Wow," she thinks, but feels compelled to keep going.
--She goes to the fourth floor and sign reads: Floor 4 - These men have jobs, love the Lord, love kids, are drop-dead good looking and help with the housework. "Oh, mercy me!" she exclaims, "I can hardly stand it!"
--Still, she goes to the fifth floor and sign reads: Floor 5 - These men have jobs, love the Lord, love kids, are drop- dead gorgeous, help with the housework and have a strong romantic streak.
--She is so tempted to stay, but she goes to the sixth floor and the sign reads: Floor 6 - You are visitor 4,363,012 to this floor. There are no men on this floor. This floor exists solely as proof that women are impossible to please. Thank you for shopping at the Husband Store. Watch your step as you exit the building, and have a nice day!
Quote of the day: "Don't be fooled by the calendar. There are only as many days in the year as you make use of." -Charles Richards