This time of year, I do special issues recalling my most memorable holiday songs, television specials, commercials and movies from the 80s. I've already shared an issue this year on a song. Commercials are also legitimate pop culture contributors with Christmas commercials especially so. Past holiday commercial issues include Hershey's Kisses Christmas Bells and Folgers "Peter Comes Home".
This year's holiday commercial is on the E.T. video game for Atari 2600 which may or may not hit home for some since it only ran that one season. It certainly is not as iconic as the last two holiday commercials I covered.

Back in 1982, there were at least two things most kids my age loved... the film E.T.: The Extra-Terrestrial and the Atari 2600 video game system. So an E.T. game for the Atari 2600 seems like it would be a natural and its coming was indeed highly anticipated after Atari had acquired the rights to create it. To say the result was disappointing would be a severe understatement. In fact, the commercials for the game might be the best thing to come out of this surprising debacle.

E.T. (the film) was released in theaters in early June of 1982 and became the biggest blockbuster to date remaining the top box office grossing movie for six straight weeks and holding either the #1 or #2 spot until January. A video game based on this epic film seems like a no-brainer. Warner Communications (Atari's parent company) completed negotiations with
Steven Spielberg and Universal Pictures to acquire the license to produce a video game based on E.T. on July 27th. Howard Scott Warshaw was then commissioned to develop the game, but was given a deadline of September 1st (just five weeks!) in order to meet the production schedule necessary to get it on the market for Christmas. Due to time limitations, Atari decided to skip audience testing for the product which was a necessary but still unwise decision. As one would expect, anticipation for the game was extremely high and it was one of the most sought-after Christmas gifts that season. What resulted is considered to be one of the worst video games ever released as well as one of the biggest commercial failures in video game history.
More on that in a little bit. To help create demand for this video game release, television commercials were created capitalizing on the beloved character from the film. I remember seeing them quite often during that December of 1982 and, though the game did not make my personal list to Santa, it did leave an impression. In case you never saw them or need your memory refreshed, here are two of the commercials for E.T. the Extra-Terrestrial for the Atari 2600...
With commercials like those,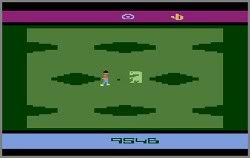 what kid wouldn't want that game? Kids were waiting to eat the game up like it were Reese's Pieces. Sales of the game were initially successful as one would expect, but not nearly to anticipated levels. The game eventually sold 1.5 million copies, but it is reported that between 2.5 and 3.5 million cartridges went unsold. Critics and players alike panned the poor quality game as a disappointment in nearly every aspect. Despite decent sales figures, the quantity of unsold merchandise coupled with the expensive movie license and the large amount of returns made E.T. a financial failure for Atari. It was reported that Atari earned $25 million in sales, but netted a loss of $100 million in the end.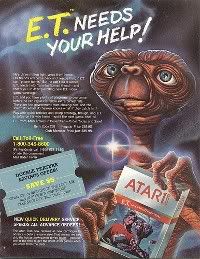 Piling on to this epic failure, E.T. (the game) is blamed as one of the causes of the entire U.S. video game industry crash which began in 1983. Industry revenues that had peaked at around $3.2 billion in 1983 fell to around $100 million by 1985. The game led Atari to report a $536 million loss in 1983 and led to the company being divided and sold in 1984. It certainly cannot all be blamed on this one game, but it surely was a catalyst. As we know, the video game industry was reborn a couple years later with the introduction of the Nintendo Entertainment System (NES).
What happened to all of those unsold copies of E.T. the Extra-Terrestrial for the Atari 2600??? The rumor (and possible urban legend) is that they were buried in a landfill in Alamogordo, New Mexico. In September of 1983, it was reported that between 10 and 20 semi-trailer truckloads of Atari boxes were crushed, encased in cement and buried there. It is speculated that several million of the unsold copies of E.T. were part of this mass burial. This has never been completely verified, but seems reasonable since the game cartridges had to go somewhere. It's not the typical happy story you associate with the holidays, but an interesting side story nonetheless. And it is another chapter of wonderful 80s pop culture history.
That's all for this holiday issue of Kickin' it Old School. Thanks as always for reading. If you are interested in reading any of my other 80s related issues, please click there for a summary of those. You can also always click on the Archives in the upper left hand column or use the Google Search Box at the top of the right hand column to find any other issues you may have missed. If you are a fan of Kickin' it, PLEASE CLICK ON THE FACEBOOK LOGO in the upper right hand column. This will take you to the Fan Page where I ask you to then click on "LIKE". Even if you are not a Facebook member yet, please consider joining and registering as a fan at that page. You can also follow @OldSchool80s on Twitter by clicking on the FOLLOW ME ON TWITTER LOGO also in the upper right hand column. This will take you the page and you can just click on the box that says "Follow". I am sending daily 80s tweets, so sign up to get those. Let other 80s fans know about it as well! Peace and much love.
Check this out: It seems that everywhere you look nowadays people have their noses to their smart phones either texting, reading email, playing games or watching videos. This Christmas card seems fitting and not all that farfetched. It made me chuckle, so thought I would share it here...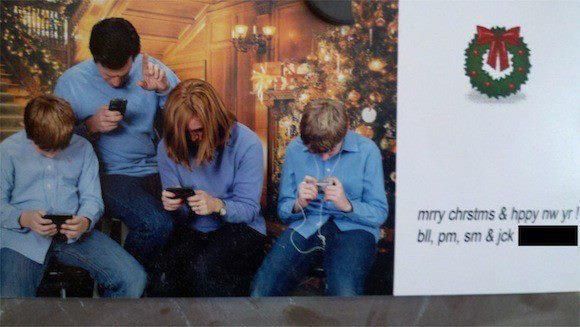 Quote of the day: "And he puzzled and puzzled 'til his puzzler was sore. Then the Grinch thought of something he hadn't before. What if Christmas, he thought, doesn't come from a store? What if Christmas, perhaps, means a little bit more?" -Dr. Seuss from How the Grinch Stole Christmas