Whitney Houston was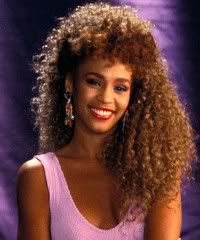 an artist that burst onto the scene in the mid-80s with a voice that was seldom, if ever, heard before. She became a major part of the soundtrack of our lives and her music touched so many people at so many levels. I was deeply saddened to hear of her surprising and tragic death on February 11, 2012 at just the age of 48. I felt the need to give her music a tribute that it so richly deserves, so a Top 10 list is certainly in order. Of course, this list will focus on her 80s music though her career continued to climb well into the 90s and beyond.

Houston released her self-titled debut album in 1985 and it went on to sell over 25 million copies worldwide, going 13x platinum in the U.S. and holding the top spot on the Billboard album chart for 14 weeks. It included three #1 singles and she stretched that out to a record-breaking streak of seven straight #1 singles with the first four released from her second album. Whitney was released in 1987 and would go 9x platinum selling over 22 million worldwide. It goes without saying that her career was off to an incredibly impressive start and took the 80s by storm. She even added a successful Christmas song and the theme song for the 1988 Olympics in for good measure. So without further ado, here are OLD SCHOOL'S TOP 10 WHITNEY HOUSTON SONGS OF THE 80s:

10. "Do You Hear What I Hear?" (1987) from A Very Special Christmas - One of the best renditions ever recorded of this holiday classic. You can find out more about this charity effort with my special issue on the album.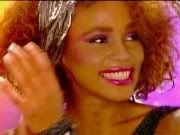 9. "I Wanna Dance With Somebody (Who Loves Me)" (1987) from Whitney - This was one of her seven straight singles to reach #1 on the Billboard Hot 100. It was the second Whitney Houston song written by George Merrill and Shannon Rubicam of Boy Meets Girl and they discussed it a little in my interview with them.
8. "Where Do Broken Hearts Go" (1987) from Whitney - This was the final #1 single in her incredible streak of seven straight. Though the streak was broken, she would hit the top spot again four more times with the next being "I'm Your Baby Tonight" in 1990.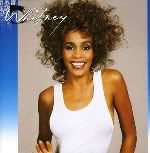 7. "So Emotional" (1987) from Whitney - This was the first #1 single of 1988 and was written by Billy Steinberg and Tom Kelly, who also penned Madonna's "Like a Virgin", Cyndi Lauper's "True Colors", Heart's "Alone" and The Bangles' "Eternal Flame", all of which also reached #1 on the charts.
6. "You Give Good Love" (1985) from Whitney Houston - This was the first single released from her debut album in February and achieved unexpected crossover pop success peaking at #3 on the Billboard Hot 100 near the end of July.
5. "Saving All My Love For You" (1985) from Whitney Houston - Many do not know that this is actually a cover version of this song originally recorded by Marilyn McCoo and Billy Davis, Jr. It became Houston's first #1 single on October 26, 1985 and won her the Grammy for Best Female Pop Vocal Performance as well.
4. "How Will I Know" (1985) from Whitney Houston -
This song was also written by George Merrill and Shannon Rubicam of Boy Meets Girl and was originally intended for Janet Jackson. You can find out a little more in my interview with them. It reached #1 on February 15, 1986 and held the top spot for two weeks.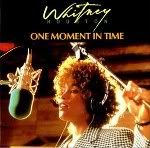 3. "One Moment in Time" (1988) from Olympics '88: The Album - This song was written by Albert Hammond and John Bettis and, with Houston's vocal, they don't get much more inspirational than this. Released in August, it was not surprisingly a worldwide hit going on to peak at #5 on the Billboard Hot 100 chart in November of 1988.
2. "Didn't We Almost Have It All" (1987) from Whitney - This was her fifth consecutive #1 single reaching the top spot on September 26, 1987 and staying there for two weeks. The single achieved this success despite not having an official music video. It was widely speculated that the song is about Houston's relationship with then NFL star Randall Cunningham.
1. "The Greatest Love of All" (1985) from Whitney Houston - This was actually a cover of a George Benson song from 1977 which ranks highly on my Top Cover Songs of the 80s list. It was the fourth hit single and third #1 when it reached the top spot on May 17, 1986 and held there for three weeks. To me, this song epitomizes the power, spirit and soul in Whitney Houston's music.

There's my list. It pretty much includes all of her big hits from the decade, but if there any 80s songs that you feel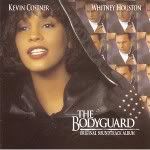 I have overlooked or if you'd rank any differently, please leave that in the comments section below or on Facebook. This does not even include The Bodyguard soundtrack which might be considered her greatest success. That 1992 soundtrack has gone on to be one of the best-selling albums of all time being certified 17x platinum and selling over 44 million copies worldwide. It included her iconic version of "I Will Always Love You" which held the #1 spot on the charts for 14 weeks. This has helped Houston to her rank as currently the 15th all-time best-selling musical artist in the world.
Though she undoubtedly was no longer what she used to be, the world lost an amazing voice and remarkable artist. At least we have these wonderful songs to always remember her by and I will remember the good. As I said earlier, she was a part of the soundtrack of our lives. Our thoughts and prayers are with her family and friends. Rest in peace, Whitney Houston.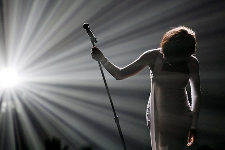 That does it for this issue of Kickin' it Old School. Thanks so much for reading. If you are interested in reading more of my Top 10 lists, please click there for a summary. If you are interested in reading any of my other 80s related issues, please click there for a summary of those. You can also always click on the Archives in the upper left hand column or use the Google Search Box at the top of the right hand column to find any other issues you may have missed. If you are a fan of Kickin' it, PLEASE CLICK ON THE FACEBOOK LOGO in the upper right hand column. This will take you to the Fan Page where I ask you to then click on the "Like" button. Even if you are not a Facebook member yet, please consider joining and registering as a fan at that page. You can also follow @OldSchool80s on Twitter by clicking on the FOLLOW ME ON TWITTER LOGO also in the upper right hand column. This will take you the page and you can just click on the box that says "Follow". I am sending daily 80s tweets, so sign up to get those. Let other 80s fans know about it as well! Peace and much love.
Check this Out: Though it did not happen in the 80s, Whitney Houston's 1991 rendition of the National Anthem prior to Super Bowl XXV is one of the best and most stirring of all time. It was performed on January 27, 1991 just 10 days into the Persian Gulf War. Due to the overwhelming response of the patriotic nation, it was released as a single with all proceeds going to charity. The single was re-released again in 2001 after the September 11th attacks with proceeds once again going to charity. Here is that inspiring performance...

Quote of the day: "To live in the hearts we leave behind is not to die." -Thomas Campbell