In my continuing mission to celebrate the awesomeness of the 80s, I want to shine a deserving light on some work being done in this decade but with a connection to the 80s. Now I don't claim to be a professional book reviewer, but I do feel qualified to share my opinions on a book and allow you to decide whether it's right for you. I do not anticipate partaking in any negative reviews. I only intend on sharing my recommendations which I feel that you may appreciate as much as I do. I have been pleased with the response so far and hope for that to continue.

Before most of us ever heard of Motley Crue or Poison or Guns N' Roses, they were rocking it out on Hollywood's Sunset Strip in places like the Whisky or the Roxy or the Troubadour. By the 80s, among other things, the Sunset Strip became almost a subculture and the center of the glam rock and hair metal universe. And, at the end of the decade, Amy Asbury was there to witness it herself.
She documented much of what was going on around her in journals for her school newspaper. Amy saved those journals and decided to share her experiences with us in her memoir, The Sunset Strip Diaries, which I recently had the chance to read.
As one might expect, I was attracted to her book to read her first-hand account of the music scene happening on the Strip during the late-80s when she was there. I wanted to read about Bret Michaels and Axl Rose and Tommy Lee and Riki Rachtman. The Sunset Strip Diaries gives you some of that as well as a personal recounting of the revelry, indulgence and debauchery that was so prolific with the rock and roll lifestyle at that time. Reading her book, you certainly get Asbury's unique perspective on the later years of the glam rock and hair metal era, but there's more. As the book's synopsis reads, "It is not just a fascinating look into an amusing time in pop culture, but also details the mindset of a young woman trying to find confidence and self-worth in a life full of pain and chaos."
The Sunset Strip Diaries describes the factors that led the author to seek refuge in the club scene on the Strip in West Hollywood. She does this in a very real, candid and sometimes intense manner which allows the reader to really connect on a personal level. Asbury takes you along on her thrilling, and sometimes chilling, journey to rediscover normal and, if you're like me, you cheer for her to find it. All the while, you get peppered with genuine stories about partying and rocking out on the Sunset Strip during the late-80s into the early-90s. If I had to pick one work to describe this book it would be "authentic". You get it all; the good and the bad whether you're ready or not. And it's difficult to put down because you want more stories and you want to find out what happens next and hope that everything is going to turn out alright. That's the best endorsement that I can give The Sunset Strip Diaries and its courageous author. [If you're ready to give it a read, you can scroll to the bottom for links to purchase the book now.]
Speaking of the author, I also had the opportunity for an interview with Amy Asbury,
the author of The Sunset Strip Diaries. After reading her first book, I had so many questions for her. Her memoir chronicles some of the awesomeness of the 80s, so I say that (among other reasons) makes her pretty awesome herself. Here are some selections from my interview with Amy Asbury...
Q: Why did you decide to write The Sunset Strip Diaries? How long did it take to get it published? What reaction have you received since it has been published?
Amy: I had journals from my teen years in a box- when I was writing them back 20 years ago, I knew they would be a book one day. But as I matured, I thought, "These stories are too personal- I could never put them out to the world."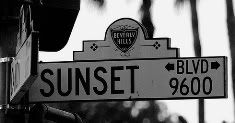 Then I got breast cancer three and a half years ago (at age 35) and, as they say, sometimes it takes thinking you are going to die to start living. After going through strong chemo, losing my hair and all of that, suddenly I thought, "What am I waiting for?" Nothing really scared me after that- I was more brave. I took out the journals and typed up the rest of the story while going through chemo. I thought, I could die and these stories would never be told. Who cares what people think? It didn't take long to get it published- it took about a year. The reaction I have had has been great. A lot of people absolutely love it and appreciate the honesty- but there are some people who think I was a total jerk in the book and they can't believe I behaved the way I did. I tell them, "You're right! I was a total jerk." I am not disagreeing! *laughs*
Q: Was it a painful experience or was it therapeutic and/or cathartic?
Were you ever hesitant about sharing so much and letting people in at such a personal level? Did you ever consider not sharing so much personal experience and focus more on what was going on around you?
Amy: It was both painful and cathartic at the same time. I considered not sharing so much, but when you're doing a memoir, you have to go big or go home; you have to be honest about your life. Well, that's how I feel anyway. It's funny, I have heard the opposite also: That I was only talking about what was going on around me and not enough about how I felt about it (once I got to Hollywood). I guess people see it in different ways.

Q: Who do you feel will enjoy reading this book and why?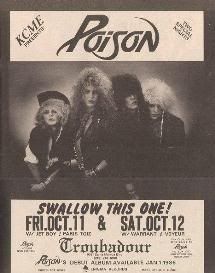 Amy: I think anyone who had a tough time being a teenager will like it, or anyone who wants to be entertained reading about a life completely different from theirs. And there is a certain part of the population who like the 80s hair bands- I did a lot of name dropping, so that should be fun for them.

Q: Give us a quick description of Hollywood and the Sunset Strip area during the late-80s and early-90s which is when most of your book takes place. It sounds like it was not only a rockin' excessively good time, but was also quite chaotic and even dangerous. This line seems to capture it for me, "things like that were just normal in that town".
Amy: Yes- a lot of very bizarre things happened every time I was there. It was a huge street party underneath the backlit marquees of the Hollywood clubs. Violent, colorful, glittery, aggressive, over the top.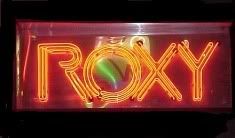 Eight by ten pieces of neon paper were stapled to every phone pole and littered the ground like huge chunks of confetti in hot pink, acid green, lemon yellow and bright turquoise blue. Fights were breaking out, people were making out, rock stars would wander by... It was a freak show combined with a rock video combined with a beauty pageant. I had never laid eyes on so many creative, extraordinary people doing so many strange and crazy things.

Q: Who were some of the biggest bands that 80s fans will recognize that you saw live back then and partied with? Any that you saw before they hit it big? Any bands you saw that you are surprised that never did make it big time that should have or could have?
Amy: I saw a lot of 80s band members randomly partying around town: the guys from Guns n Roses, Motley Crue (There is a crazy story about Tommy Lee and Pamela Anderson in the sequel, Confetti Covered Quicksand),
the guys in Poison- either my friends were dating them or I ran into them at The Rainbow. I saw the guys from Sugar Ray all over the place back then (they were called the Shrinky Dinx) and I partied a lot with Buckcherry, who were called Slamhound back then. As far as who should have made it big time: Swingin' Thing and Glamour Punks- both of who just played a reunion show at The Roxy this June, with another great band called Blackboard Jungle. And they still had it- they sounded awesome.

Q: Sounds like Riki Rachtman (and his girlfriend) were crucial in your infusion to the Strip. I remember him as he became a MTV personality (around 1990 I think) on Headbangers Ball. What can you tell us about Rachtman?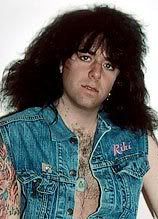 Also, what were your feelings about Headbangers Ball back in the day?
Amy: He was a scene maker initially- the person who dictated what was cool and what wasn't, the person who led the flock, the host of the party. He reminds me of Steve Rubell from Studio 54, he was kind of handpicking a scene and making it into something big. I liked that he was bringing the rock scene, my scene, to MTV. I wasn't really too into Headbangers Ball though because it was too heavy for me; I think I was more about the party, a little fickle maybe.

Q: What was your preferred brand of hair spray? Aqua Net? How high would you get your hair back then?
Amy: You know what? I actually didn't have big hair! I had long straight hair- I was before my time! *laughs* I stopped the hairspray around age 14- but when I did use hairspray it was Aqua Net all the way, baby.

Q: It sounds like you had at least one Motley Crue poster on your wall growing up. Am I right? What other posters were on your wall back in the 80s?
Amy: Of course! Well let's see, I had a Ratt poster too, and my sister had tons of Poison, Cinderella and Bon Jovi posters- she had dibs on them so I couldn't put up their pictures! She used to make out with her life-size Bon Jovi poster.

Q: You obviously loved the hair bands back then (after you got over Wham! breaking up). Do you still like that same music today or music from the 80s in general?
Amy: I am not into the rock stuff anymore really- but I still love my general 80s music! All of it! Duran Duran, the Go-Go's, Cyndi Lauper, Whitney Houston, New Edition, Bruce Springsteen- I love all of those old songs. I even love the one hit wonders.
Q: You did a sequel to The Sunset Strip Diaries called Confetti Covered Quicksand. What can we expect from the sequel? Do we find out how you pull off becoming normal?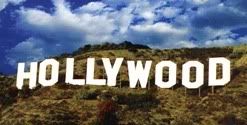 Amy: YES! You find out how I pull off becoming normal, but before you do, you hear even wilder stories than in The Sunset Strip Diaries. You go with me to the VIP rooms of the 90s L.A. clubs, you go with me to Aspen, the coke capital of the universe, and you listen to me name drop about twenty more 80s/90s stars' names (I am so obnoxious). It is a completely wild book, all true. It is also out on Amazon and Barnes and Noble.com now.

Q: What's next for Amy Asbury? More novels? Will future work have any connections to 80s pop culture?
Amy: I am coming out with a book called Valley Girl: Childhood in the 80s, this September.

Here's a teaser blurb: Pop some pink bubblegum and turn up the boom box: It's time to visit the 1980s.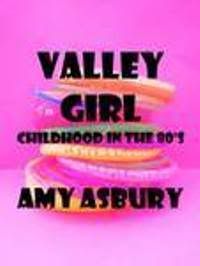 Crazy cartoons, wacky food, crackhead-like candy and the most important decision of a pre-teen's life: new wave or heavy metal? Jelly shoes or checkerboard Vans?

Growing up in California's San Fernando Valley in the 80s was chock full of sunshine and skateboards, but author Amy Asbury takes us through the lesser known issues such as creepy pervs in cars and overly sultry sixth graders. Amongst these lively essays are the questions of 80s pop culture: Why did Simon LeBon's sexy stare work straight through the TV? Why did Cabbage Patch Kids start to run out of good names like Jennifer and start coming out with names like Bertha and Edna? Why did we love camel-toe inducing designer jeans? Why did the bass of "Billie Jean" make us stop in our tracks like a dog hearing a silent whistle? Why did a boy's entire social life depend solely on his kickball skills?

Read about fights with neighborhood kids, taking down bullies and trying to fit in with the cool chicks. Slumber party games, crushes, scary teachers, rivals, finding one's talent (double joints, rolling tongue or wonky eye tricks), looking at boobs in the Sears catalog and forays into capitalism by way of lopsided homemade carnivals and melty sno-cone stands.
Jump into the salty waves at Zuma beach, eat your 30-scooped zoo sundae at Farrell's Ice Cream Parlor, and get yourself down to the Northridge mall: It's time to dive into the world of the Valley Girl.

Sounds like we'll be doing another review closer to when that new book releases! I can't wait for that one, but in the meantime you can read Amy's first two books. If you want more information on Amy and her books, be sure to visit her website www.sunsetstripdiaries.blogspot.com/ or if you are already convinced you want to order The Sunset Strip Diaries, then here are some direct links below that will allow you to do so at a very reasonable price. For the record, I have no direct affiliation with Amy Asbury other than our mutual admiration of 80s pop culture, but I was captivated with her memoir and wanted to be sure to share it with all of you. Hope you are inclined to support it, too.
Amazon Kindle: www.amazon.com/The-Sunset-Strip-Diar ies-ebook/dp/B004H1U3IW/
Amazon paperback: www.amazon.com/Sunset-Strip-Diaries- Amy-Asbury/dp/B004HLC6GY/
Barnes & Noble Nook: www.barnesandnoble.com/w/the-sunset-strip-di aries-amy-asbury/10296700 37?ean=9780615439877

That's all for this special issue of Kickin' it Old School. Hope you are enjoying the book reviews. Thanks as always for reading. If you want a summary of all of my Back to the 80s Interviews posted thus far, please click on that link. Be sure you haven't missed any of them. If you are interested in reading any of my other 80s related issues, please click there for a summary of those. You can also always click on the Archives in the upper left hand column or use the Google Search Box at the top of the right hand column to find any other issues you may have missed. If you are a fan of Kickin' it, PLEASE CLICK ON THE FACEBOOK LOGO in the upper right hand column. This will take you to the Fan Page where I ask you to then click on the "Like" button. You can also follow @OldSchool80s on Twitter by clicking on the FOLLOW ME ON TWITTER LOGO also in the upper right hand column. This will take you the page and you can just click on the box that says "Follow". I am sending daily 80s tweets, so sign up to get those. Let other 80s fans know about us as well! Peace and much love.
Quote of the day: "Rock and Roll: Music for the neck downwards." -Keith Richards
Check this out: I came across this poster which I thought was perfect to share here since it pays tribute to all of the clubs and bands that made the Sunset Strip what it was in the 80s. Unfortunately, I could not find what artist to credit for this incredible piece of work. Either way, hope you enjoy it...