In my continuing mission to celebrate the awesomeness of the 80s, I want to shine a deserving light on some work being done in this decade but with a connection to the 80s. Now I don't claim to be a professional book reviewer, but I do feel qualified to share my opinions on a book and allow you to decide whether it's right for you. I do not anticipate partaking in any negative reviews. I only intend on sharing my recommendations which I feel that you may appreciate as much as I do. I have been pleased with the response so far and hope for that to continue.

Did you ever wonder how all of those Hair Metal bands of the 80s became so popular so quickly back then? Do you think it could've been because they followed a super-secret manual that provided them with the pathway to fame and fortune? Is it possible that this manual provided such advice as "Embrace spandex" or "All lead singers should look like a chick from behind" or "The album's cover shot is always more important than its content" or "Each music video must contain one slow-motion split kick off the drum platform"? A manual as such does seem like a reasonable explanation or at least as good as any other.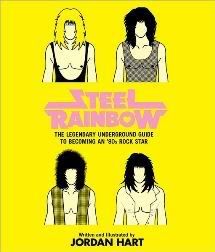 I recently had the pleasure of reading Steel Rainbow: The Legendary Underground Guide to Becoming an 80s Rock Star in which author Jordan Hart proposes and recreates just such a manual. The book is a satirical look at some of the outlandishness and absurdity that came with the popularity explosion for the hair metal genre. Each chapter entertains you with rules on how to dress, how to act, how to write music, how to perform music, how to behave on tour or in music videos and more. Each rule seems silly until you remember at least one hair metal band (usually many) that successfully employed that technique or instruction. You might chuckle when you read through each page, but then you remember the video for Poison's "Talk Dirty To Me" and then you might chuckle even harder because dozens of them are demonstrated right there alone . Steel Rainbow will definitely make you ask the question, "What were we/they thinking?" more than a few times. Could this manual be the actual driving force behind the popularity achieved by such bands as Poison, Cinderella, W.A.S.P., Stryper, Hanoi Rocks or Europe among countless others?
In addition to Hart's keen observations regarding the commonalities shared by numerous glam rock bands, he also provides the unique and amusing illustrations that grace many of the pages. Steel Rainbow reminds me a little bit of the Blue Man Group's "How to be a MegaStar Tour" which included their humorous Rock Concert Instruction Manual (if not familiar, look it up on YouTube), but far more detailed and taken to a whole other level. Every stereotype you'd expect is accounted for as well as several more less obvious that you might not have recognized before. If you lived through the Hair Metal Era, you will likely agree with me that Steel Rainbow is parody at its finest. In case you couldn't tell, I highly recommend it to you all. This book will definitely find a home on our coffee table for a good long time to come. It is quite the conversation starter which will take you back to the 80s and certainly often evoke the question, "What were they thinking?"
If you've heard enough and are ready to add Steel Rainbow: The Legendary Underground Guide to Becoming an 80s Rock Star to your own coffee table, then you can scroll down towards the bottom for links to purchase it or visit www.steel-rainbow.com. I also had the opportunity for an interview with author and illustrator Jordan Hart. Residing in Milwaukee, Wisconsin, Hart is the creator and writer/editor of the website 10percentnerd.com and you can find out more about him and Steel Rainbow first-hand. Since his new book spoofs some of the awesomeness of the 80s, I say that makes him pretty awesome himself.
Here are some selections from my interview with Jordan Hart...
Q: Is this your first book? Other than writer now, what is your regular job? Did you grow up in the 80s?

Jordan: Steel Rainbow is my first book. I'm a self-employed graphic designer (which allowed me to create all of the illustrations and the book's logo) and writer/editor for the 10% Nerd website. And yes, I am a child of the 80s.

Q: What gave you the idea for and when did you begin writing Steel Rainbow? What was your writing process? How long did it take for you to write the whole thing? How long did it take to get published?

Jordan: My dad was a huge rock fan, so when I was a kid I grew up listening to his Van Halen, Led Zeppelin, AC/DC and Queen albums. Back then, Hair Metal dominated rock radio stations, so I became familiar with all of the genre's bands like Motley Crue, Whitesnake, The Scorpions and so on.
When I was in college, I would occasionally fire up some Van Halen or Motley Crue, which everyone thought I was doing to be funny. Little did they know, I actually loved those bands. It was at that point that I realized a guidebook to becoming an 80s rock star would be hilarious, since everyone seemed to laugh whenever the music was played.
That original idea came in January 2006, but I never had time to write the book when I was in school. Once I graduated, I worked as a young Art Director in advertising, which resulted in long hours every day. The idea was always in the back of my mind, but I never had time to get to it. Finally, in February 2011, I decided it was time to write it and see what happens.
Steel Rainbow took me about five months to complete. The illustrations actually took more time to create than the text. In May 2011, I created a 64-page preview book and mailed it to a couple of publishers. Two months later, it had interest from Globe Peqout Press and after a couple of weeks they made me an offer.
Q: What inspired the book's title, Steel Rainbow?

Jordan: When I originally came up with the idea in 2006, the book was named "Steel Diva: the Guide to Becoming an 80s Rock Star". I kept this as the title when I began to write the book in February 2011. "Steel" is probably the most common word associated with 80s rock, so I knew I had to have it in the title for people to instantly know it's a book about Hair Metal.
Strangely, a few weeks after I began writing, Lifetime premiered a show about women's bodybuilding titled Steel Divas. I couldn't believe it. No one had used the name for five years, and then when finally I started writing the book it was taken. I was kind of mad at myself for waiting so long.
A month later, I changed the name to Steel Rainbow because the word "Rainbow" has some weird coincidences with my birthday. I share my birthday with rock legend Ronnie James Dio, who got his big break as the vocalist of the band Rainbow. Secondly, the Greenpeace ship "Rainbow Warrior" was sabotaged and sunken on my birthday in the 80s. Pretty weird.
I was having so much trouble trying to find a word to replace "Diva" for the longest time, so I just went with "Rainbow". I also thought it sounded like a great band name from the period.
Q: Who do you feel will enjoy reading this book and why?

Jordan: I think anyone who has seen an 80s music video or heard an 80s Hair Metal song will enjoy reading Steel Rainbow.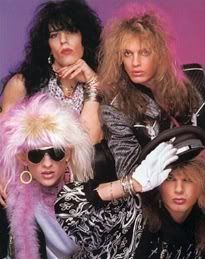 The people who actually lived through the period, bought the albums and went to shows will probably like it the most. I tried to write it in a matter that anyone could understand, even if they knew nothing about the genre.
However, from what I've been told so far, musicians are really connecting with Steel Rainbow because of the musical references throughout and instrumental techniques chapter.
Q: The book almost seems like a "roast" of glam rock and hair metal. As they often say, "we only roast those that we love." Is it your intention that this book parodies those rock bands as a playful tribute and not as mean-spirited ridicule? Were you worried about offending the fans of that era of rock bands?
Jordan: I wrote Steel Rainbow as a playful tribute to Hair Metal. I mean, towards the late 80s a lot of the antics and music got kind of over-the-top and not particularly to my taste, but I never intended this to be a mean-spirited book.
It's like when you look back at an old picture from 20 years ago with your friends and say "What the hell were we wearing?" or "Why did I ever think that haircut looked good?" That's the feeling I wanted Steel Rainbow to give readers; to maybe bring back memories of how they were in the 80s and laugh at themselves.

Q: There are many rock fans who look at the glam rock and hair metal bands with no respect and diminish their talent and achievements. What are your thoughts in that regard? Then the hardcore fans of hair metal hold deep resentment to the grunge movement which put an effective end to their run. Any thoughts in that regard as well?
Jordan: I think Van Halen is one of the greatest American rock bands in history. When I look at the period, Van Halen, Motley Crue, Whitesnake and The Scorpions were the real deal. Their music has aged and they've become legends of rock and roll.
That being said, I think America's other greatest band was Nirvana. As much as I thought I loved Hair Metal, the first time I heard "Smells Like Teen Spirit" my mind was blown and I was hooked on Grunge. I think everyone knew change was coming and was inevitable. Glam Rock had run its course and it was time for something new. I think both periods are important to rock history and true fans of rock and roll appreciate things from both of them.
Q: Do you have a couple pages from the book which are your personal favorites? If so, which are they and why?

Jordan: So hard to pick. Personally, I think the full-page illustrations from the book are my favorites... I had a blast creating those. Otherwise, I really like the "Guitarists: Pick Two" and "Lead Singer Solo Ideas" rules. They crack me up whenever I read them.

Q: The illustrations are great and really help the book come alive! Did you do those all yourself?
Jordan: Yep, I did all of the illustrations myself. I graduated from the Milwaukee Institute of Art & Design with a degree in Communication Design, so creating the illustrations was the easy part for me, writing was the hard part. I'm a graphic designer by trade, so I had to brush up my grammar skills big time before I started writing.
Q: Would you want guys from the bands you parody to read your book? What do you think the guys from Poison, Motley Crue, Whitesnake, Cinderella and even Bon Jovi or Van Halen would say about Steel Rainbow if they read it?

Jordan: I hope that if those guys read it, they get a good laugh. Again, it's supposed to be a lighthearted joke, not mean-spirited attack. Out of all the bands, Van Halen and Motley Crue shouldn't be offended. They really didn't get too crazy with all of the outfits and antics. They both cared more about making good music than putting on a show, which is why they are the two legends to come out of the period, in my opinion. Other, less-legendary bands might get offended by the content, but I hope they can realize it's just a joke.

Q: I read that your favorite song to this day is "Panama" by Van Halen.
I assume that means that you're a big fan of Eddie Van Halen's guitar work. Who are some of your favorite 80s guitarists and your favorite examples of what makes them great?
Jordan: My all-time favorite guitarist is Jimi Hendrix, but Eddie Van Halen is my extremely close second. My dad and I used to air guitar the hell out of "Eruption" when it came on the radio in the 80s. I think the way he revolutionized the guitar in the late 70s can only be outdone by the advancements Hendrix made in the 60s. Those two guys changed guitar playing forever. His playing is so fast, so all over the place, and so original that Eddie Van Halen is one of the greatest living guitarists to me. Other than Eddie, from the period, I'm a big of Mick Mars from the Crue and Rudolf Schenker from The Scorpions.
Q: You've mentioned some already, but which were your favorite hair metal/glam rock bands from the 80s and why? Do you still like that same music today or music from the 80s in general?

Jordan: If I'd have to put them in order, I'd go: Van Halen, Motley Crue, Whitesnake, The Scorpions. Those are about the only four bands I still listen to from the period. They're the best of the best in my opinion. For some reason, I love "Lick it Up" by Kiss. The song is so ridiculous it just cracks me up every time I hear it. And no disrespect to Kiss, they're one of the greatest rock bands in history.
These days I listen to all genres of music across the spectrum. On a normal day, my playlist could go from Merle Haggard to Skrillex to ZZ Top to Broken Bells. I'm all over the place. Even though rock is my favorite, I enjoy all types of musical expression.

Q: Are there any rock concerts that you wish you could go back in time and see live in person?
Jordan: If I could go back in time, I'd want to see Hendrix in 1968, Led Zeppelin in 1973 and Van Halen in 1982. That would be amazing.
Q: Speaking of going back in time, what's the story about your picture in front of the Delorean?


Jordan: The DeLorean has been my dream car since childhood. I thought it was fitting to use it in my "About the Author" photo because of that and, even more so, because Steel Rainbow is about the 80s. I had to drive about 54 miles to find the closet DeLorean. I spent a few hours shooting with it; it was amazing and worth the drive.
Q: Tell us a little about your website 10percentnerd.com. Do you consider yourself a nerd and do you consider "nerd" to be a negative description?
Jordan: I am a HUGE nerd, but most people would never know that about me. It's like some big secret. When I was a kid, all I listened to was rock music, but all I read were comic books. When I was younger, I always dreamed of being a comic book artist. Things changed, but I still love comic books. In addition, I'm a huge video gamer. Basically everything on the site is something I think is awesome, and stuff I think secret nerds like myself, aka 10% nerds, would like too.

Q: What's next for Jordan Hart?
Jordan: This is a good question. Hopefully a sequel... and meeting David Lee Roth in person!
I think we'd all like that. You can find out more you can visit the official website at www.steel-rainbow.com and follow Jordan on Twitter at @Jordan_Hart or if you are already convinced you want to order Steel Rainbow, then below are some direct links below that will allow you to do so at a very reasonable price. For the record, I have no direct affiliation with Jordan Hart other than our state of residence and a mutual admiration of 80s pop culture, but I was so impressed with his work and wanted to be sure to share it with all of you. Hope you are inclined to support it, too.
Amazon paperback: www.amazon.com/Steel-Rainbow-Legenda ry-Underground-ecoming/dp /0762780738/

Barnes & Noble: www.barnesandnoble.com/w/steel-rainbow-jorda n-hart/1111322885?ean=978 0762780730

That's all for this special issue of Kickin' it Old School. Thanks as always for reading and hope these book recommendations are enjoyable. If you want a summary of all of my Back to the 80s Interviews posted thus far, please click on that link. Be sure you haven't missed any of them. If you are interested in reading any of my other 80s related issues, please click there for a summary of those. You can also always click on the Archives in the upper left hand column or use the Google Search Box at the top of the right hand column to find any other issues you may have missed. If you are a fan of Kickin' it, PLEASE CLICK ON THE FACEBOOK LOGO in the upper right hand column. This will take you to the Fan Page where I ask you to then click on the "Like" button. You can also follow @OldSchool80s on Twitter by clicking on the FOLLOW ME ON TWITTER LOGO also in the upper right hand column. This will take you the page and you can just click on the box that says "Follow". I am sending daily 80s tweets, so sign up to get those. If you're on Google+, you can find us there, too. Let other 80s fans know about us as well! Peace and much love.
Quote of the day: "We believed that anything that was worth doing was worth overdoing." -Steven Tyler
+Bonus Quote of the day:
"When I die, sprinkle my ashes over the 80s." -David Lee Roth