As I feel the need to say each time, I am so pleased that interviews continue to be a legitimate part of this little blog of mine! When the opportunity presents itself to ask a few questions to someone who contributed to the awesomeness of the 80s, I will continue to share those answers with you right here. Again, lucky for me (and hopefully you), I do get to share a little more awesomeness with you.
This time that awesomeness is Michael Des Barres. As an actor, singer and songwriter, he certainly left his mark on the 80s. Many may remember him best as the villainous "Murdoc" on MacGyver among his many acting roles, but he also co-wrote a memorable 80s hit song and fronted the band The Power Station replacing Robert Palmer after he left. He is still a very active musician and actor, but you will find out a little more about his 80s work as we get on to some selections from my interview with Michael Des Barres...
Q: Which came first, the music or the acting? Do you love one more than the other?
Michael: I went to drama school first to act. But the wicked blues and rock and roll grabbed me and wouldn't let go. What does a poor boy do, but to sing for a rock and roll band? I simply want to express myself in every way I can!
Q: We'll jump right to when you co-wrote the 1984 hit "Obsession" with Holly Knight. The two of you originally recorded it as a duet in 1983, but it became a big hit for Animotion the following year. First, how did you end up working with Holly Knight? What can you tell us about Knight and your experience working with her?
Michael: Holly and I were both signed to legendary Mike Chapman's label. He put us together and we wrote "Obsession". Holly is a brilliant writer. Challenging and very gifted.
Holly Knight is a very accomplished songwriter with additional 80s credits including "Love is a Battlefield" (Pat Benatar), "Never" (Heart), "The Warrior" (Scandal), "The Best" (Tina Turner) and "Love Touch" (Rod Stewart) among many more.
Q: Please take us back to when the song was written. Any back story about how that song was conceived and written? What inspired the lyrics? How did it all come together?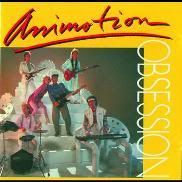 Michael: I wrote the lyrics in literally ten minutes. It was one of those wonderful moments as an artist you are so grateful for. I was newly sober so essentially the lyrics were about being under the grip of narcotics.
"Obsession" was originally written and recorded by Holly Knight and Michael Des Barres, but it received very little attention until it was covered by Animotion and released in late 1984. The Animotion single was quite distinctive and would make it all the way to #6 on the Billboard Hot 100 as well as #3 on the dance chart in 1985. I always fondly remember the song from its use as the theme for the WWF Saturday Night's Main Event. Here is the video for "Obsession" by Animotion (written by Michael Des Barres & Holly Knight)...

Q: Did you have any feeling that this song was going to be something special when you wrote it? What were your feelings about the Animotion version when you first heard it back then? What are your feelings about the song now nearly 30 years later?
Michael: I'm infatuated with every song I write... until the next one. The lyric for "Obsession" is a poem of longing and addiction. My interpretation of the song has very little to do with Animotion's version. However, I enjoy their interpretation a lot... as does my accountant.
Q: Then in 1985, after Robert Palmer withdrew from The Power Station, you were chosen to take his place for their summer tour. First, do you know why Palmer decided to leave the group before completing that tour? Second, how did you end up being the one chosen to take his place?
Michael: Robert Palmer did not want to appear before 20,000 screaming topless girls! I did. John and Andy [Taylor] had seen me when Chequered Past opened for Duran Duran.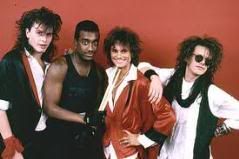 Des Barres, who had previously fronted the bands Silverhead and Detective, formed Chequered Past in 1982. In 1984, the band opened for Duran Duran during The Sing Blue Silver Tour in the U.S. which is apparently when Des Barres left an impression on those Taylor boys. The Power Station was a supergroup that formed in 1984 during a Duran Duran hiatus and included Robert Palmer on vocals along with Andy Taylor and John Taylor from Duran Duran and Tony Thompson from Chic. They had a big hit in 1985 with the single "Some Like It Hot" and again with a cover of T-Rex's "Get It On (Bang a Gong)". After this success,
the band decided to headline a 1985 summer tour in America with Paul Young, Nik Kershaw and OMD. Robert Palmer had other ideas leaving the band to take advantage of the attention and refocus on his solo career. This worked for him because his 1985 solo album Riptide was a huge success including the hits "Addicted to Love" and "I Didn't Mean to Turn You On", but left the rest of The Power Station hanging. Des Barres was recruited to take Palmer's place on the summer tour which included an extra special performance in Philadelphia (at Live Aid).
Q: What can you tell us about Andy Taylor and your experiences working with him?
Michael: Andy is a much underrated guitar player. He is incredibly talented and rocks like f**k. I adored him.
Q: Did you know any of The Power Station songs previously or did you have to learn them all very quickly?
Michael: I had ten days to learn 25 songs while also flying back and forth from London to New York. My first real gig with them was Live Aid.

Q: Please tell us about performing with The Power Station at Live Aid in Philadelphia for that iconic event. What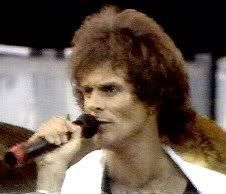 songs did you perform that day? What do you remember about that performance in front of that huge crowd and being broadcast all over the world? How was the experience of just being part of that amazing day?

Michael: We played "Murderess" and "Get It On (Bang a Gong)". It was a beautiful day... surrounded by rock's elite. I kept asking myself, "How did I get here?" The answer is I was ready and blessed. Since we all stayed in the same hotel that night was as degenerate as your readers can imagine.
The now-iconic charity event Live Aid took place on July 13, 1985 with amazing performances taking place both at London's Wembley Stadium and Philadelphia's JFK Stadium. In addition to those in attendance, the event was broadcast across 150 nations with an estimated global audience of 1.9 billion. Here is a video of The Power Station's performance at Live Aid in Philadelphia featuring Michael Des Barres on lead vocals...

Des Barres' friendship with actor Don Johnson led to the band's guest appearance on a 1985 episode of the TV drama Miami Vice. Similarly,
his friendship with producer Joel Silver led to The Power Station writing a song called "We Fight for Love" for the Arnold Schwarzenegger action film Commando (1985). A previously unreleased live version of "Dancing in the Street," recorded at the Hartford Civic Center in 1985 and sung by Des Barres was later included on a greatest hits compilation. The Power Station folded late in 1985, as its members turned to other projects. Des Barres released a second solo album in 1986 titled Somebody Up There Likes Me.
Q: In 1987, you first appeared as "Murdoc" on MacGyver which would become a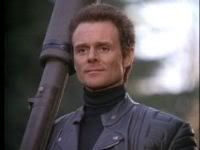 recurring role for you. How did you end up getting cast on the show? Was he always intended to be a recurring character or did that happen later?
Michael: I auditioned after The Power Station tour. I don't think it was intended to be a recurring character, but MacGyver fans enjoyed my performance and the producers brought me back to try and kill him again and again and again!
"Murdoc" was introduced in season 2, episode 18 originally airing in March of 1987. Des Barres went on to be featured in seven episodes over the final six seasons of MacGyver (not including flashbacks). He became MacGyver's most frequent opponent on the show with each appearance ending in another apparently certain death which he somehow survives to return again in a later episode. Here is a fan video including some highlights of Des Barres playing the "Murdoc" character on MacGyver...

Q: How much did you enjoy reprising your "Murdoc" character each time on the show? What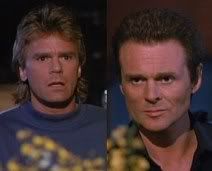 can you tell us about working with Richard Dean Anderson?
Michael: I adored playing "Murdoc". I was able to learn stunt-driving and how to use weapons. Richard was a prince and we did some good work. The most interesting thing about the experience is how Murdocs's vibe has endured with the fans.
Q: You seem to play a bad guy really well. Why do you think that is?
Michael: I have consistently been cast as a murderous villain. I think it's because of my cheekbones!
Des Barres is probably best remembered for his character on MacGyver, but he made many other appearances on television shows. Just in the 80s these included: Hart to Hart (1980), Cagney & Lacey (1983), St. Elsewhere (1985), My Sister Sam (1986), Sledge Hammer! (1987), ALF (1988), again on Miami Vice (1988) and 21 Jump Street (1989). He also appeared in many films.
Q: You played "Alex" in the 1989 film Pink Cadillac which starred Clint Eastwood. What can you tell us about your experience working with Clint Eastwood?
Michael: Clint was fantastic. He works fast which I prefer rather than laboring over a scene. My first night on location, having heard I was a musician, he showed me a documentary on Thelonius Monk. He loves jazz.

Q: I read that you have been completely sober since 1981 and that you actually created the "RAD - Rock Against Drugs" program. What was your mission with RAD? Who did you recruit to help get the message out?
Michael: "Rock Against Drugs" was a result of me quitting narcotics. I just wanted people to know that they had a choice. Ozzy [Osbourne], Billy Idol, Jon Bon Jovi, Steve Jones and many more participated in the campaign. I pray that the burden of addiction can be removed from those suffering its insidious hold on their souls.
Here is an example of a public service announcement from the "Rock Against Drugs" campaign in the late-80s...

Q: Please tell us a little about where your career has taken you since the 80s. How have your priorities or goals changed over the years? What are some of y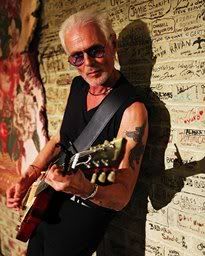 our proudest professional accomplishments?
Michael: I'm proud to still be here on this beautiful, challenged planet. I play rock and roll because I love it. It remains life's blood to me.
Q: Please tell us about The Michael Des Barres Band and your new album Carnaby Street. How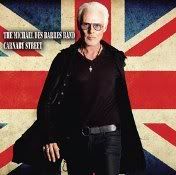 much fun are you having with this latest project?
Michael: Whatever I'm doing at that moment is the most fun and the most rewarding. I seldom look back, only when I'm asked to. I'm in a kick ass band and I live to play live. Our album is everything I wanted it to be.
Q: What else is Michael Des Barres up to nowadays? Musically, acting and otherwise? What can we expect in the future?

Michael: My autobiography will be out soon along with a documentary on my mad life. Obviously there are many more stories to tell, so be sure to check that out. I only hope that you guys enjoy our joyful work on this album and thank you so much for your interest. Love everyone now.
That autobiography sounds like it will be a must-read. I am very honored that Michael was able to take some time to answer my questions so I could share them with you here. Special thanks go out to Billy James for helping to coordinate it all. You can find out more and keep up with Michael at his official website www.desbarres.com where you will also find details on how to purchase Carnaby Street. I want to take this opportunity to again thank Michael Des Barres for his contributions to 80s pop culture in so many ways and, even more, for going back to the 80s with us here for a little while as well.

That'll do it for another special issue of Kickin' it Old School. Thanks as always for reading and hope you are enjoying the interviews as much as I am. If you want a summary of all of my Back to the 80s Interviews posted thus far, please click on that link. Be sure you haven't missed any of them. If you are interested in reading any of my other 80s related issues, please click there for a summary of those. You can also always click on the Archives in the upper left hand column or use the Google Search Box at the top of the right hand column to find any other issues you may have missed. If you are a fan of Kickin' it, PLEASE CLICK ON THE FACEBOOK LOGO in the upper right hand column. This will take you to the Fan Page where I ask you to then click on the "Like" button. You can also follow @OldSchool80s on Twitter by clicking on the FOLLOW ME ON TWITTER LOGO also in the upper right hand column. This will take you the page and you can just click on the box that says "Follow". I am sending daily 80s tweets, so sign up to get those. You can also hook up with us on Google+. Please leave comments so we know you're out there and let other 80s fans know about us as well! Peace and much love.
Check this out: You should know by now that I always enjoy a good Star Wars reference to "These aren't the droids you're looking for" and this one also combines that with Lionel Richie's 1984 hit song "Hello". Made me chuckle, so wanted to share it with you here...

Quote of the day: "You go through stages where you wonder whether you are Christ, or just looking for him." -David Bowie