In my continuing mission to celebrate the awesomeness of the 80s, I want to shine a deserving light on some work being done in this decade but with a connection to the 80s. Now I don't claim to be a professional book reviewer, but I do feel qualified to share my opinions on a book and allow you to decide whether it's right for you. No negative reviews. I only intend on sharing my recommendations which I feel that you may appreciate as much as I do. I have been pleased with the response so far and appreciate your feedback (as do the authors).

Have you ever had one of those reminiscing sessions where one memory triggers another memory which triggers another memory and this can literally go on for hours? It might start when somebody says, "Do you remember watching The Dukes of Hazzard on Friday nights as a kid?" and then someone else says, "Oh yeah, I always wanted to marry Daisy Duke and to drive the General Lee when I grew up."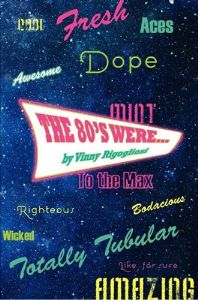 Then someone else says, "Poor ol' Roscoe P. Coltrane could never catch those Duke boys" and you say, "Does anybody remember Roscoe's dog's name?" and everybody yells, "Flash" at the same time. Then somebody else says, "I remember watching Dallas right after The Dukes of Hazzard" and everybody automatically thinks, "Who shot J.R.?"
Well, I recently had the pleasure of reading a book titled The 80s Were... which was just like having one of those reminiscing sessions with author Vinny Rigogliosi. The book is divided up into chapters including: Cartoons, TV Shows, Movies, Music, Video Games/Toys, Style and Headline News each including many of the predictable and even some of the more obscure highlights from the decade. As I read each chapter, it felt to me like we could've been sitting in a bar with the author recalling the good old days taking turns reminding each other of our favorite 80s memories. By the end of the book, I felt like we knew each other or were kindred spirits at the very least. Rigogliosi shares his memories of what the 80s were in a very casual and conversational style which is easy to read. If you're looking for an enjoyable walk down memory lane, I certainly recommend picking up The 80s Were... and revel in the hundreds of reminders of why the decade was so awesome.
In the author's own words: This book is dedicated to anyone who has ever worn Z-Cavariccis, listened to A Flock of Seagulls and watched the A-Team. We grew up in a generation of big hair and high top Reeboks. A generation where bell bottoms were out and acid wash was in. The music was loud, sitcoms were funny and Saturday morning cartoons were amazing. We all remember getting scolded (or worse) by our teachers and not suing them over it. Our time wasn't spent on the internet, but out in malls and in parking lots. We got into fights at school but made the best friends we ever had from them. I hope that all of you will enjoy reading about my little blast from the past as much as I have enjoyed writing about it. Our past is what has made us who we are today and has molded us into the men and women we've become.
If you've heard enough and are ready to take a walk down memory lane with The 80s Were..., then you can scroll down towards the bottom for a link to purchase it. As I have done with past book reviews,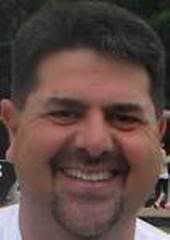 I had the opportunity for an interview with author Vinny Rigogliosi. I admire the native New Yorker, not only for sharing his 80s memories, but for how he went about doing it. His book documents some of the awesomeness of the 80s, so I say that makes him pretty awesome himself. Here are some selections from my interview with Vinny Rigogliosi...
Q: Is this your first book? Tell us a little about yourself and what got you to this point.
Vinny: Yes, this is my first book. I have always enjoyed writing and always thought that I had a pretty good grasp of the English language but never had the idea to write my own book. I am an electrician by trade and have been doing that for 15 years. I also own my own home inspection business going on two years now. I never thought about writing a book before because nothing ever really interested me until my wife and I started reminiscing about "the good ol' days". I am married with three kids ages 7, 5 and 9 months. All boys. I graduated high school in 1988 which makes me 42 years old.
Q: What inspired you to begin writing The 80s Were...?
Vinny: As I said before, my wife and I like to reminisce about the past and one night (in a drunken stupor), of course after the kids were asleep, we were listening to our local radio station and they had a segment on 80s music. That's all we needed. We laughed all night as we remembered high school and other things we used to do as kids. She then jokingly insisted that I write a book about it. I obliged after another shot of tequila and we started planning the book. I woke up the next morning, popped a couple of aspirin and looked at my scribble from the night before. I thought about it and decided that I actually could do this. I created an outline and The 80s Were... was born. I had no real agenda when writing the book except to have fun while I was doing it. I never thought it would get published at the time.

Q: What was your writing process? How long did it take for you to write the whole thing? Did you ever experience any writer's block or were there any obstacles you had to overcome to complete the book?
Vinny: The night my wife and I gave birth to The 80s Were... was a Saturday night. They had the same 80s segment every Saturday from 8pm until midnight (and still do). I wrote every Saturday while listening to the radio and my favorite music.
I never wrote any other time. It probably took me about 2 years to complete. It was so easy to write because I enjoyed the subject matter. I wrote the whole thing by hand because I write faster than I type and can complete a thought much easier by writing it out. I still have the original manuscript with scribbles, cross-outs, notes in the margins, and all sorts of post-its all over the place. Some of it was done out of memory but most of it was research. You have to be accurate. Not once did I come across writers block. The only obstacle I encountered was how to present the chapters. At first, the name of the book was going to be "Gag Me With A Spoon - the complete guide to everything 80s". My wife thought it would be looked at as a Valley Girl thing so I changed it to "Remember Yesterday" but that was a lyric from Skid Row so I finally came up with "The 80s Were...". The chapters were originally going to be in chronological order by year (example Chapter 1 - 1980), but that would have meant incorporating everything from that year like movies, music, and so on so I decided to focus the chapters about movies, music and so on. It was my best decision during the process.
Q: How difficult was it to get published and how long did that take?
Vinny: It was extremely difficult to get published. Since my name isn't Tom Clancy, I didn't have publishing houses knocking down my door. I wrote over 50 or 60 publishers and agents to try and get published but no one wanted to take a chance on an unknown author during these economic times. At least that's what they said. The book is written very casually and, as far as the critics are concerned, not very "correct". This proved to be to my advantage. If a big publisher took it on, they would have ripped it apart to their liking and I probably would not have recognized my own book. I decided to self-publish the book for three main reasons. One was to make sure the book stayed the way I wrote it, two was to keep the rights to the book and three was to be in control of marketing. This also proved to be to my advantage. It has been published now for just over a year and a half.
Q: Who do you feel will enjoy reading The 80s Were... and why?
Vinny: The best part about the timing of when the book was published is that we are going through a huge 80s retro movement. This means that even 20-somethings are now enjoying the 80s. This book is relevant not only to the people that the book naturally appeals to age-wise, it's relevant to the youth of today as well. We know that 30 and 40-somethings are interested in the book. The bonus is that the younger generation is reading the book because they see the media storm that is the 80s. Timing is everything.

Q: I know you document many in the book, but what are some of your favorite personal memories from the 80s decade?
Vinny: While the book is not really about me, I did add some personal touch to it so that people could identify with me as a person and not a writer. That being said, my favorite year was 1986. I live in New York and that was the year of the Giants and the Mets. I am a big fan of both teams. I was a junior at Valley Stream Central High Sschool in Long Island. I made great friends there and still keep in touch with many of them (although mostly on Facebook). I am a hair band fan and I saw Bon Jovi and Cinderella that year at Madison Square Garden. I had a mullet (oops), wore Levis 501 jeans, a concert tee shirt, high top Reeboks, denim jacket with a Motley Crue patch on the back, and my brush in my back pocket. What the hell was I thinking?
Q: Favorite 80s Saturday Morning cartoon?
Vinny: Being a guy, my favorite cartoons were
ThunderCats and He-Man and the Masters of the Universe. I enjoyed The Smurfs unadmittedly and loved Tom and Jerry as well as The Bugs Bunny/Road Runner Show. Dick Dastardly was my favorite villain and Hong Kong Phooey was my favorite hero.
Q: Favorite 80s Prime-time TV shows?
Vinny: Sitcoms were so funny in the 80s. My favorites were Cheers, Silver Spoons, Mork & Mindy and The Greatest American Hero. Hill Street Blues was my favorite cop show and The Love Boat and Fantasy Island were my favorite bed-time shows. I also loved Family Ties and The Wonder Years. There were so many more I watched. Charles In Charge, Gimme A Break, The Facts of Life... it really is endless.

Q: What posters did you have hanging on your bedroom walls in the 80s?
Vinny: Wow, posters. As I said before, I was a hair band fan. I had KISS, Crue, Ratt and Guns N' Roses posters.
That was above my headboard. In front of my bed (and in full view of me) was a Heather Thomas poster where she was in a pink bikini in a hot tub. Next to her were Heather Locklear, Farrah Fawcett and Cheryl Tiegs. My mom really didn't like those too much.

Q: You may have answered this with your poster choices, but hottest girl from 80s Movie or TV show?
Vinny: The girls of the 80s really played an integral part in my "growing up". The first one that comes to mind is Daisy Duke [Catherine Bach]. Short shorts and high heels. What else could a 12-year-old boy ask for? That was TV. My "hottest" movie girl was Kim Basinger. 9 1/2 Weeks did it for me. I did, however, have a huge crush on Lea Thompson, Justine Bateman and Nicole Eggert. I'm sure there were more. After all, I was 12 years old.
Q: First album you purchased? Do you still listen mostly to 80s music today? Any bands that you did not love so much back then that you've grown to love more now?
Vinny: The very first album I purchased was Kiss Destroyer [1976]. I was a huge KISS fan growing up.
I had most of their albums. I even had The Elder (a much underrated album). I still do listen to mostly 80s music today although I am a fan of Stone Temple Pilots and Green Day. I like all types of music. I grew up on Doo-wop from my parents. I mostly listened to metal in the 80s but today I find myself listening to every genre of music from the 80s. The music they play on the radio from the 80s is mostly new wave or pop. Occasionally you hear Whitesnake, Skid Row, Ratt, Poison or Def Leppard but it's mostly pop. If it's 80s, I love it!!
Q: Which 80s fashion statement you participated in yourself back then are you most embarrassed about looking back now?
Vinny: If it was 80s fashion, it was bad. I regrettably had a mullet.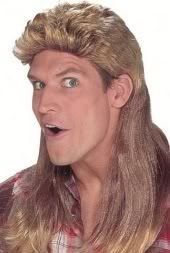 It was a football thing for me. Long hair flowing from under my helmet. Don't ask. I had a pair of parachute pants that I am not too proud of either. I never indulged in spandex. I did not have a "Choose Life" sweatshirt or different color converse sneakers. Oh my God, I did have a purple suit with a half-length jacket. I wore it with a white shirt and a skinny black leather tie. I can't believe I just told you that. The sad part is that when I put it on and looked in the mirror, I thought I looked good. We all did!!

Q: You mentioned that there is a possibility we will see The 80s Were... in concert venues all over the world with a concert promoter interested? Please tell us more about that.
Vinny: Gabe Reed Productions contacted me very recently about possibly carrying and selling The 80s Were... at the concerts that they promote. They just came back from overseas with The All-Star Band that featured members of KISS, Skid Row, Guns N' Roses, Def Leppard and more. The talks have moved to contract negotiations and I couldn't be more excited. Mr. Reed has an idea to get LiveNation to license the book and to sell it as official concert merchandise on tour with all of the 80s bands that he represents. It would be sold with the tee shirts and other merchandise. We'll see what happens. No promises. If nothing else, it is very flattering and by far the most exciting thing that has ever happened to me to date.
Q: What's next for Vinny Rigogliosi?
Vinny: What's next? Let's see. I am thinking about two projects. One is a book about other decades like The 90s Were... or The 70s Were... I wrote this book in a format where I can do any decade I want and keep the exact same chapters in the same order. The other is a more politically motivated book called "It's Our Fault". Billy Joel wrote the song "We Didn't Start the Fire" where he hints that the world was in bad shape before our decade. I disagree (somewhat). Without giving too much away, our generation is the first to raise our kids differently than the way we were raised and rely on technology to communicate. Because of this, kids are generally anti-social and obese. Amongst other things, we don't play with our kids, moms now have to work and we have no time for anyone but us. And it is all our fault. Enough said. I am also concentrating on building my home inspection business as well as really enjoying my career as an electrician.
You can keep up with Vinny on his The 80s Were... Facebook page at www.facebook.com/#!/pages/The-80s-Were /170856632961341 and if you are already convinced you want to order The 80s Were, then there is a direct link below that will allow you to do so at a very reasonable price. Just for the record, I have no direct affiliation with Vinny Rigogliosi other than our mutual admiration for 80s pop culture, but thought his book would be enjoyed by many of you and wanted to be sure to make you all aware of it. Hope you are inclined to support it, too.
Amazon paperback: http://www.amazon.com/The-80s-Were-Vinny-Ri gogliosi/dp/1432766325/" title="http://www.amazon.com/The-80s-Were-Vinny-Ri gogliosi/dp/1432766325/" target="_blank"http://www.amazon.com/The-80s...
That's all for this special issue of Kickin' it Old School. Thanks as always for reading and hope these book recommendations are enjoyable. If you want a summary of all of my Back to the 80s Interviews posted thus far, please click on that link. Be sure you haven't missed any of them. If you are interested in reading any of my other 80s related issues, please click there for a summary of those. You can also always click on the Archives in the upper left hand column or use the Google Search Box at the top of the right hand column to find any other issues you may have missed. If you are a fan of Kickin' it, PLEASE CLICK ON THE FACEBOOK LOGO in the upper right hand column. This will take you to the Fan Page where I ask you to then click on the "Like" button. You can also follow @OldSchool80s on Twitter by clicking on the FOLLOW ME ON TWITTER LOGO also in the upper right hand column. This will take you the page and you can just click on the box that says "Follow". I am sending daily 80s tweets, so sign up to get those. If you're on Google+, you can find us there, too. Let other 80s fans know about us as well! Peace and much love.
Quote of the day: "Life is what happens to you while you're busy making other plans." -John Lennon from "Beautiful Boy"